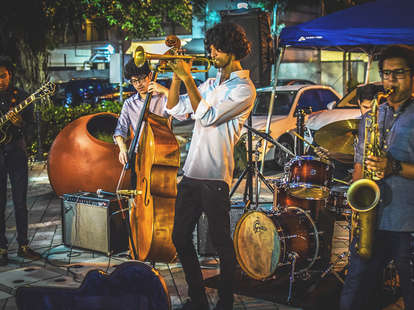 Viernes Culturales
Viernes Culturales
It's impossible to live in or visit Miami and not experience Cuban culture. We have a whole neighborhood dedicated to it, which we've even named Little Havana. The city goes through Cuban coffee like a champ. We birthed Pitbull and gave Camila Cabello a home. We roast pigs for Christmas. The list goes on and on.
Cuba's influence in Miami dates back to the 1950s and '60s, when Fidel Castro came to power and Cubans started fleeing to South Florida for a better life. Fast-forward to 2018, and it's so ingrained in our city that it feels like it's been there since the beginning.
From our food and music, what we wear, our buildings, and even how we drink our coffee, Cuba's history touches every part of Magic City. Here are some of the best places to find it.
It's pronounced croh-ket-tah and they are the pastries that give Miami life. We love them so much that we will wake up at 5:30am and brave West Kendall traffic to buy a box of 25 of them to butter up our coworkers -- because you can't hate the person who brings croquetas from Islas Canarias. Since the early '70s, this bakery-restaurant has been famous for its deep-fried béchamel and smoked ham treats, which cost just over $1 each. Beef, chicken, and fish croquetas are also available, but the real Miamians know it's all about the jamón.
Cuban culture in Miami isn't restricted to Little Havana. In fact, you can find Cuban restaurants, and their traditional "Cubano" sandwiches, in almost every neighborhood. The one with the best is actually Enriquetas, a hole-in-the-wall diner/cafeteria in Wynwood that you'd probably miss, if not for the throngs of people clamoring to get to its lunch counter for a cafecito. Cubanos typically consist of two pieces of flaky Cuban bread stuffed with roast pork, ham, Swiss cheese, pickles, and mustard, but at Enriquetas, they give it a "preparada" twist and throw croquetas inside the sandwich, too.

The beautiful thing about chain restaurants is that they're reliable, and here in Miami, we have a handful of Cuban chains that are reliably worth revisiting time and again. The top three are definitely La Carreta, Sergio's, and Versailles. Start your weekend with a Cuban breakfast and a morning cafecito for under $7 at any of La Carreta's nine Miami-area locations, and hit one of eight Sergio's restaurants for everything from vaca frita empanadas and flan to "Skinny Menu" ropa vieja and pan con bistec. Versailles is both a Calle Ocho landmark and (according to its slogan, Jeb Bush, and every Miami-set reality show, ever) "The World's Most Famous Cuban Restaurant." In true Miami fashion, it's an over-the-top experience: Expect authentic Cuban food in huge portions; decor comprised of golden chandeliers, a wall of mirrors, and a colorful rooster statue; and if there's breaking news in Cuba, TV crews gathering locals' reactions. The Calle Ocho location is the original, but you'll find smaller Cafe Versailles locations in airports and sports arenas around South Florida -- the same goes for Sergio's and La Carreta, too.
BEST CUBAN PASTIME: PLAYING DOMINOES AT DOMINO PARK
Domino games at Maximo Gomez Park (or "Domino Park," as the locals know it) are no joke. The viejos who frequent it are masters of their craft, and they will spend an entire Saturday there playing dominoes, smoking Cuban cigars, and talking about life and politics. The park itself, which sits on Calle Ocho (8th Street) and is named for the Cuban revolutionary commander, is a popular hangout for Cuban veterans and families. While prospective domino players can try to break into the lineup, be forewarned -- you'll be hard-pressed to convince these experts to call it quits.
Americans may have burgers, but the Cuban people have fritas. And nine times out of 10, fritas always win. Family-owned El Mago de las Fritas, which literally translates to "the fritas magician," serves the best in town. These Cuban-style burgers usually come on a Cuban roll and are stuffed with ground beef-and-chorizo patties, fried potato sticks, onions, and ketchup. Go to El Mago and you can get it three different ways: traditional, with double meat, or with a fried egg on top. The best part? They start at just $3.50 and are topped with the restaurant's famous potato "heavenly wisps."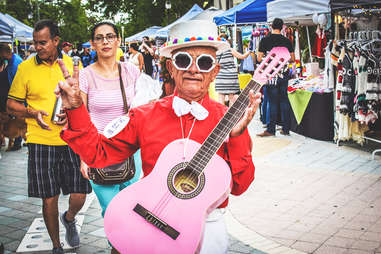 On the last Friday of every month, Calle Ocho invites the people of "the 305" to do what Little Havana residents do every day: eat Cuban food, smoke Cuban cigars, dance to Cuban music, play dominoes, and generally enjoy the area's Cuban vibes. It runs from 7pm to 11pm and is completely free. Different from a normal day in Little Havana (which is also never boring), Viernes Culturales shuts down the part of Calle Ocho between 13th and 17th Avenues, and offers free neighborhood history tours, plus Cuban art exhibits, live music, and theater.
Cuban cigars are an art form. There are plenty of knockoffs in Miami, but the real ones are hand-rolled by locals who grew up learning the craft from their fathers and grandfathers in Cuba. To make sure each cigar is perfect, these cigar "masters" only focus on one type of cigar and spend their whole career rolling just that. For the real deal, go to Calle Ocho's El Titan de Bronze and stay awhile. Not only does the shop roll and sell six types of authentic Cuban-style cigars that you can't get anywhere else, it also doubles as a place to hang out.
Ball & Chain is everything tourists probably picture when they think about Little Havana. There are mojitos, cocktails with pastelitos in them, salsa dancers, a full Cuban menu, guys wearing guayaberas and fedoras, and a backyard area with a bandshell that's shaped like a pineapple. The iconic Ball & Chain -- which has been around longer than Little Havana itself -- may have changed a lot during its 80-plus-year history, but it's always been about the music. Back in its heyday, greats like Billie Holiday, Duke Ellington, Count Basie, and Louis Armstrong all performed there. As the neighborhood became more Cuban, so did the restaurant and lounge. Ball & Chain still hosts live Latin and jazz music every weekend, and when the sun goes down, it's one of the best parties in town.
When superstar duo Gloria and Emilio Estefan decided to open a fancy Cuban spot in the chi-chi Miami Design District, it turned out to be... exactly what you'd expect from two people with Grammys in their living room. At Estefan Kitchen, you get dinner and a show. There's blue and purple mood lighting, glittering pillars, mirrored walls, a live pianist, singers behind the bar, and, if you happen to be there at the right time, dancers casually performing in between tables of customers. A flashy place like this has the makings of a tourist trap, but the food -- all recipes inspired by the duo's Cuban upbringing -- is actually on point. Try the chicken vaca frita, 24-hour-marinated roasted lechón asado, mojitos, and for a twist on flan, the natilla (a Cuban-style vanilla bean pudding), and you won't be disappointed.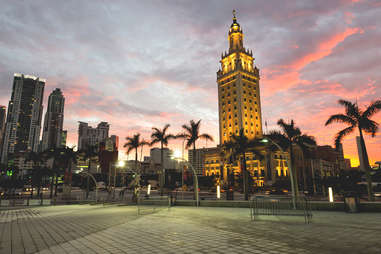 Dubbed the "Ellis Island of the South," the Freedom Tower building was first opened in 1925 as the headquarters for the Miami Daily NewsandMetropolis, but it's most known for its role during the Cold War-era Cuban exodus to South Florida. Located downtown, this 17-story tower housed the Cuban Assistance Center from 1962 to 1974, where refugees went for sanctioned relief and help with finding health care, housing, other family members, jobs, and education. Today, this symbol of hope and freedom is part of Miami Dade College, the largest Hispanic-serving institution of higher education in the US. It currently houses the college's Museum of Art + Design, which showcases works that speak to Cuban history and its effect on South Florida.
BEST CAJA CHINA: YOUR CUBAN RELATIVE/FRIEND'S BACKYARD
Christmas? Caja China. Thanksgiving? Caja China. Family reunion? Caja China. Because you feel like it? Caja China. This food tradition came to Miami with Cuban refugees during the 1950s, and because it's so delicious, it stuck. Caja China is as magical as it sounds: it's a Cuban-style pig roast where a whole pig is brined in a mojo sauce and cooked on hot coals in an aluminum-and-wood box in the ground. It takes at least four hours to roast, and the waiting period doubles as a party with mojitos, dancing, Cuban music, and everyone who's ever been to any of your family parties, ever. The best roasted pork you'll ever taste is at a Caja China in a Cuban friend or relative's backyard, but if you don't have one, the lechón asado from La Esquina del Lechon Pork & Steak House is a close second.