Miami is a city growing by leaps and bounds and no neighborhood has seen more progress than Brickell. Just south of Miami's downtown area, Brickell was once the epicenter of banking for the city, serving as a hub for multiple South American banks, with not much happening in the evening. All that has changed and Brickell is now a vibrant, ever-changing area filled with shopping, dining, and partying options. Carlos Grotwold, assistant director of food and beverage for East Miami Hotel, lives and works in Brickell. "It's a lifestyle. It's a vibe," says Grotwold.
Grotwold, who oversees trendy spots like restaurant Quinto La Huella and rooftop bar, Sugar, says that the area has become a place for people to see and be seen—and to party. "There are so many great restaurants, and many have turned into a party place. The price of real estate is so high that restaurants have to crank up the music and offer bottle service."
That includes places like David Grutman's Komodo, London's Sexy Fish, and Asian/Cuban hotspot Ch'i within walking distance of each other. But don't think Brickell only has a party vibe. The neighborhood also has wonderful coffee shops, world-class shopping, plenty of rooftops to watch the sunset, and a waterfront promenade for jogging or walking your dog. From great food to outside time, here are the best things to do in Brickell:
Indulge in retail therapy
If you're looking to spend the day—and your paycheck—somewhere, then look no further than Brickell City Centre. This massive center houses over five million square feet of shops, restaurants, food halls, a cinema, and a hotel so you could literally spend an entire weekend there (but please venture out). Work up an appetite at shops like Kendra Scott, Coach, Lululemon, and Zara. The Centre is also home to an Apple store and a Nike store.
If you're hungry, there are multiple options, including Casa Tua Cucina, an Italian-themed restaurant, food hall, and market. Grab a beer at Est. 33 Thai Craft Brewery & Kitchen, which is the first American outpost of the creators of Thailand's Singha beer. If you're looking for a high-energy experience, Ch'i offers everything from a casual lunch in the restaurant's garden to late-night bottle service until 3 am on weekends. For a taste of Uruguay, Quinto La Huella offers wood-fired meats and freshly caught fish with a fifth-floor view of Brickell below.
Catch the latest films—and dinner
The CMX Brickell City Center Theater is where you can watch first-run movies while enjoying dinner and cocktails at your seat. The theater also offers a lounge where you can meet your friends for pre-show libations.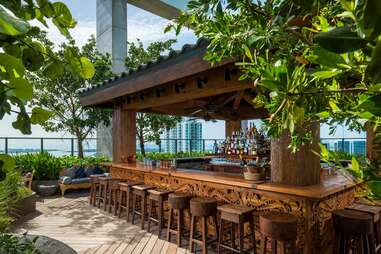 Take in the sunset and the city lights
Brickell's skyline is impressive from the streets—but it's even more spectacular with a bird's eye view. If you can't spring for a penthouse condo, Brickell has some gorgeous rooftop bars and lounges where you can take in the views with a drink in your hand. Rising 40 stories above Brickell, Sugar at the East Miami Hotel offers a casual setting in the daytime, where you can sip rose and nosh on bao buns and sushi rolls. After 6 pm, Sugar turns into a 21-and-over lounge that offers live DJ sets, smart cocktails, and amazing views. Rosa Sky, located on the 22nd floor of the AC & Element Hotel Miami, serves cocktails and tapas in a party vibe created by a light show and some of Miami's best DJs.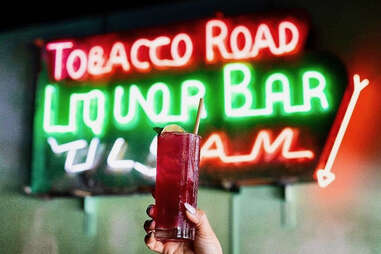 Experience Miami's oldest bar (sort of)
For over 100 years, Tobacco Road was the place to go to get a drink and listen to live music. The greatest Blues acts of all time—from B.B. King to John Lee Hooker—played the 'Road, which closed in 2014. Last year, Miami restaurateur Matt Kuscher and Tobacco Road owner Patrick Gleber revived the classic bar as a popup concept. Though the original Tobacco Road is no more, this new iteration, located just a few doors down from the original site, is a loving tribute. Sip on some unique cocktails you won't find anywhere else (like the "This Ain't the Real Tobacco Road," a potent punch) or order from the "shot and a beer" menu. Don't forget to take a selfie with the iconic Tobacco Road sign—it's sure to rack up the Insta "likes".
Enjoy the waterfront
If you need a break from Brickell's tall buildings, amazing water views are only a few blocks from wherever you stand. The Wharf Miami is a waterfront entertainment complex that features multiple food options served by some of Miami's favorite restaurants like Spris Artisan Pizza, La Santa Taqueria, and Sake Room Sushi. There are also multiple bars and entertainment. Open Thursday through Sunday, the Wharf is dog and family-friendly by day, turning into an al fresco party by night. Look out for special parties—past themes have included circus, Harry Potter, Oktoberfest, Halloween, and Christmas.
If you want something more relaxing, take a walk along Brickell's waterfront, which offers a walking path along Biscayne Bay. Here, you can jog, take your dog for a walk, or sit down with an iced coffee and watch the fishing boats and mega yachts cruising along the Bay.
Learn about the area's history
Looking at all the construction of giant, shining glass high rises you might forget for a minute that Brickell is over 100 years old—which is considered ancient in South Florida. For a deep dive into Miami's history, visit the Dade Heritage Trust, located in the 1905 original office of Dr. James Jackson, Miami's first physician. Here, you can visit the rotating exhibits, enjoy the lush garden, and sign up for a guided or self-guided walking tour of Miami.
Enjoy some of the best dining in the city
Brickell has something to sate every appetite when it comes to dining. B Bistro + Bakery offers freshly baked breads and pastries, amazing soups, and hearty salads, while a taste of authentic Neapolitan pizza can be found at Stanzione 87.
In the evening, take things up a notch at one of Brickell's high-end eateries. Nightlife guru, David Grutman's Komodo is a large, high-energy restaurant that specializes in Peking duck, sushi, and wagyu dumplings and Gekko, the restaurant he runs with rapper Bad Bunny, boasts a similar sceney vibe but with Japanese steakhouse-type fare. London's Sexy Fish is an under-the-sea fantasy filled with Damian Hirst art, a giant aquarium wall, and a lifelike mermaid greeting you in the bathroom. The food and cocktails are over-the-top (think seafood towers and a dessert served inside a giant clamshell).
If your tastes run to old-school dining, Il Gabbiano offers Italian classics in an elegant setting, and Edge Steak and Bar at the Four Seasons Miami is a perennial favorite with locals and visitors alike. If you're seeking an exclusive, one-of-a-kind experience, chef Kevin Cory's Naoe is an intimate omakase experience on Brickell Key. Each evening, Cory serves only a handful of guests the finest seafood flown in from Japan. The restaurant has strict rules—no children are allowed, dietary restrictions are to be requested 10 days in advance—but the meal will be your most treasured Brickell memory.
Laine Doss is a food and travel writer based in Miami. She is the food and spirits editor for Miami New Times and has been featured on Cooking Channel's Eat Street and Food Network'sGreat Food Truck Race. A native New Yorker, when she's not running a marathon, she's traveling the world in search of the perfect cocktail.