To many Americans, the Everglades are mostly a place where Horatio Crane goes to find his latest, poorly-disposed body. And while the 'Glades are, we'd guess, a fairly wise place to get rid of unwanted human evidence, they're also one of the most majestic natural landscapes in the world, a slow-moving river of grass that sustains a whopping nine different ecosystems. Beyond that, the Everglades are a rugged, untamed wilderness that few have mastered, and a crucial component to sustaining life in South Florida.
The Everglades is a UNESCO world heritage site and America's third largest national park—behind Death Valley and Yellowstone—covering over 1.5 million acres. Though the totality of the Everglades is constantly being encroached upon, the land set aside as a national park is a wonderland of mangrove swamps, cypress forests, and sawgrass prairies, and makes a perfect playground for those looking for a quick escape from the city.
Be warned, the Everglades isn't for everyone, but those who've lived here a while know how to make the most of this rare and delicate environment, whether by exploring nature or meeting some of the Hiaasen-esque characters who call it home. So come with us on a journey down the Tamiami Trail and find the best things to do in Everglades National Park, and the rest of the Florida Everglades.
At first glance, "biking through Shark Valley" sounds like some kind of poetic euphemism for taking a Citi Bike through South Beach on a Saturday night. But it is, in fact, the odd South Florida scenic bike ride through pristine nature, a 15-mile paved trail through sawgrass, tropical hardwoods, and deep, black water. Better yet, it's not hard to find, with a clearly-marked turnoff to the visitors center about 25 miles west of the Turnpike on US-41. If you didn't bring your own ride, you can rent one from Everglades Bicycle Tours. And if you're not into stuff like "exercise" you can kick back on a tram tour along the entire trail.
The name has nothing to do with marine wildlife you might find in the area, but refers to the Shark River Slough, the primary water source for the Everglades. So now that you know Jaws won't be popping out from the mangroves—though alligators theoretically could—you can take your time along the trail. Stop at viewpoints like the Bobcat Boardwalk, which extends back from the Visitor Center. Or the idyllic Otter Cave Hammock Trail, which meanders over footbridges past slow-moving streams. About halfway, you'll find an observation tower, a perfect stop to climb up and survey the vast wilderness around you. Just be warned that on weekends, especially during the dry season in November-April, the morning entrance line can be long and the trails can get crowded. So best to go during the week or suck it up and visit during the summer wet season.
Hike through diverse ecosystems
Are there alligators and pythons all over the Everglades? Yes. But be reminded you're in a 1.5 million acre ecosystem where there are also bears, and panthers, and..well, a lot of humans. Put your fears aside, lace up your mud boots, and head out hiking through the most unique biological communities in America. The easiest strolls are at the Royal Palm Visitors Center, where the .8-mile Anhinga Trail meanders along a pleasant boardwalk, over black water and through tall grass. Not far away, the Gumbo Limbo trail is an immersion in the trees of the same name, and feels almost like walking through a zoo's tropical biodome. But it's outdoors.
Other family-friendly trails can be found at Pine Island, a number of short hikes take visitors over pavement and boardwalks, through mahogany forest, sawgrass marsh, and gumbo limbo trees. None of them are more than a mile long, so you can literally explore it all in a morning before it gets too hot.
At the Flamingo campground, you'll be closer to the water so hop on the two-mile Bayshore Loop Trail, where views of Florida Bay peek from behind mangroves. For something a little more challenging, jump on the Coastal Prairie Trail, a 7.5-mile path once used by cotton farmers and fishermen, lined with buttonwood trees. The journey ends at Clubhouse Beach, an isolated stretch of sand at the end of the Everglades you'll rarely have to share.
Just remember, what the Everglades lacks in elevation it more than makes up for in humidity and mosquitoes. So while your glutes might not get a workout, hiking can still be painfully hard. Pack plenty of water and even more bug spray, and don't be afraid to use either.
The scenic highlight of your drive through the Everglades will be the Big Cypress National Preserve, where during the rainy season a canopy of Big Cypress trees covers the Tamiami Trail. Egrets and herons soar through the sky creating an old Florida wonderland, giving you a rare look into the untamed landscape people once faced down here.
You'll also likely see some alligators sunning themselves by the side of the road along US-41, and while it might be tempting to slow down and take a picture, remember: There are probably people driving behind you, and no one ever accused a Florida driver of being "courteous." Your best bet at gator viewing is at the Big Cypress Visitor Center, where outside you'll find a boardwalk next to a large canal where gators congregate for sunning and your voyeuristic pursuits. Keep your arms and legs on the boardwalk at all times and you won't have a problem. Also, don't throw your sandwich at them.
County Road 93 has often been called the loneliest road in Florida. It's a 23-mile stretch of gravel and pavement cutting through the heart of the Everglades, with nothing but bears, alligators, and birds to keep you company. Turn onto the paved section coming from Miami, and a little over seven miles in you'll see a red mailbox on the left, near a collection of old motorcycles and a Lucky Strike sign. This is the home of Lucky Cole, Florida photographer and host to curious travelers through the Everglades.
The locally-famous photog isn't running a store or photoshop, but rather a funky gathering place to sip beer and wine on weekend jaunts into the swamp. At Lucky Cole's Biker Speakeasy, you'll find a collection of weekending locals, Everglades lifers, and pretty much anyone else who enjoys venturing this far out. He's only open on weekends, and you'll need to check his Facebook page to make sure someone's home lest he be out on a shoot.
Pack a picnic for the Gator Hook Trail
At the other end of Loop Road you'll see a sign for the Gator Hook picnic area. While the picnic shelters aren't much more than a shady place to enjoy the aura of the river of grass, they also lead to a short-but-challenging trek out into the Everglades.
The Gator Hook Trail is a five-mile journey that begins on an old logging tram on an elevated limestone bed. During summer (aka rainy season) the trail then drops into the thick of the Everglades, offering the rare chance for you to hike through the murky, mysterious waters like pioneers of old. During dryer months, you can travel the Gator Hook and stay relatively dry, and explore one of the more untamed stretches of the Big Cypress Preserve. None of this requires a park entrance fee and can easily be done in half a day from Miami.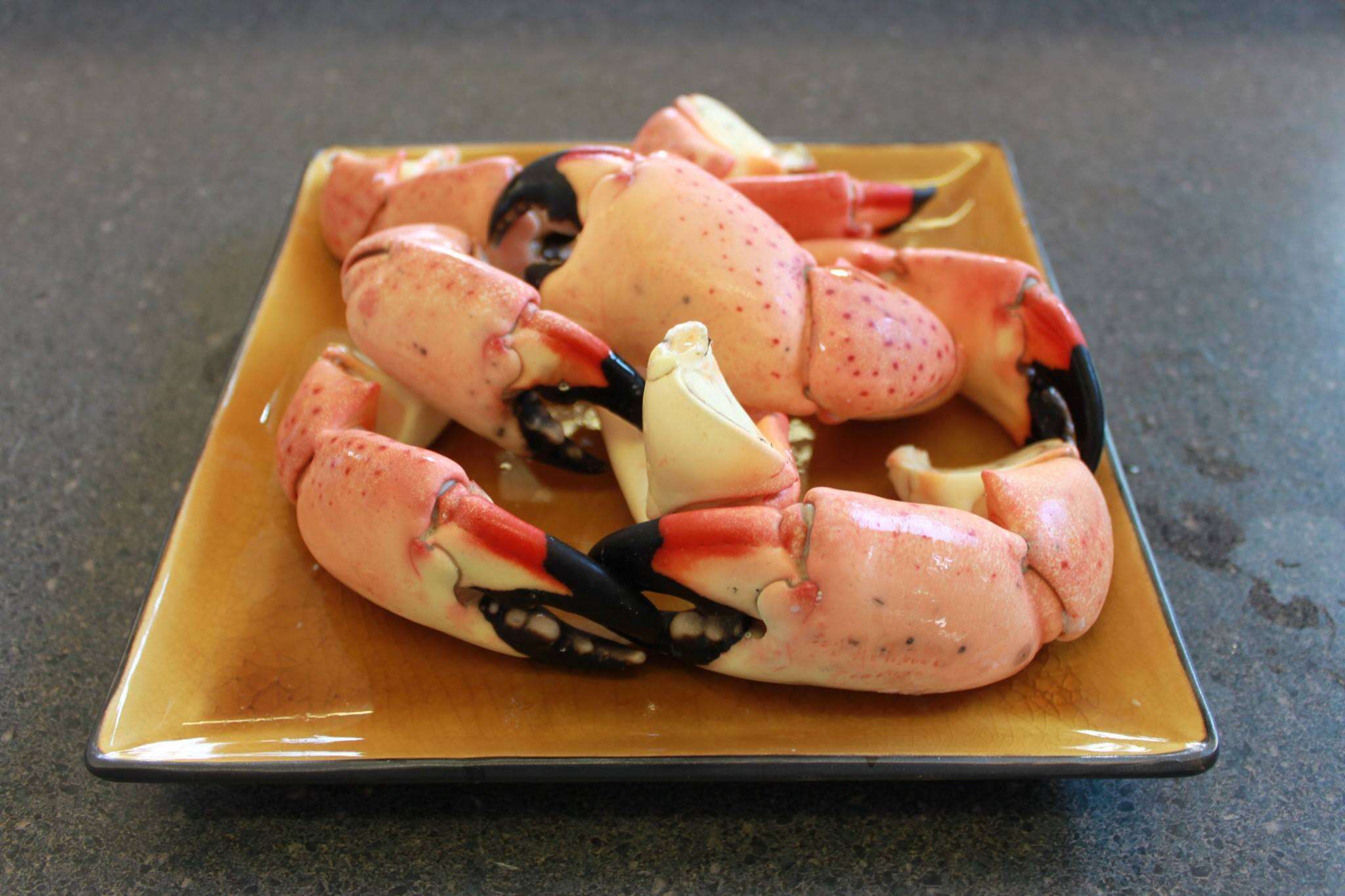 Eat stone crabs in Everglades City
Everglades City is one of the great Florida oddities. It's a town of fewer than 500 at the end of the Everglades that was nearly all indicted in the late-1970s as part of the marijuana trade. The city makes a more legitimate living now, serving as the stone crab fishing capital of the state. Instead of dropping a fortune on claws in Miami, opt instead for a seaside lunch in Everglades City, where you'll get stone crabs fresh out of the water with a waterfront canal view. Grimm's Stone Crab, Triad Seafood Market, and City Seafood are all good bets. Pro-tip: start up a conversation with a local. You'll be guaranteed a great old Florida story.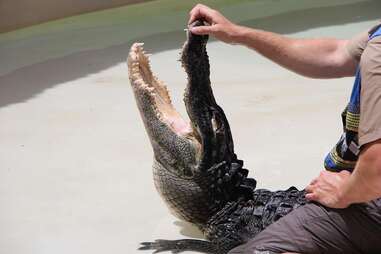 Catch an alligator wrestling show
The first sign you've arrived in the Everglades will be the abundance of roadside billboards beckoning you to stop and watch an alligator wrestling show. Though the shows are mostly the same, the best place to stop is the Miccosukee Indian Village. Stopping here not only helps support the tribe somewhere other than the casino, it's also an only-in-the-Everglades experience that makes for fantastic photo-ops
The dead giveaway you've found the spot is the giant statue of a man in Miccosukee attire wrestling an alligator alongside the highway. If you don't like taking your eyes off the odometer, it's about 36 miles down US-41 on the south side of the road. Step inside and learn about the Miccosukee culture of basket weaving, doll making, and patchwork before getting to the main event. The alligator shows are a sight to behold, and sometimes you'll get a chance to take your picture with a baby alligator afterwards. Just don't try and wrestle it. (NOTE: The village's alligator shows are still temporarily suspended, but the gift shop is still open Wednesday-Sunday).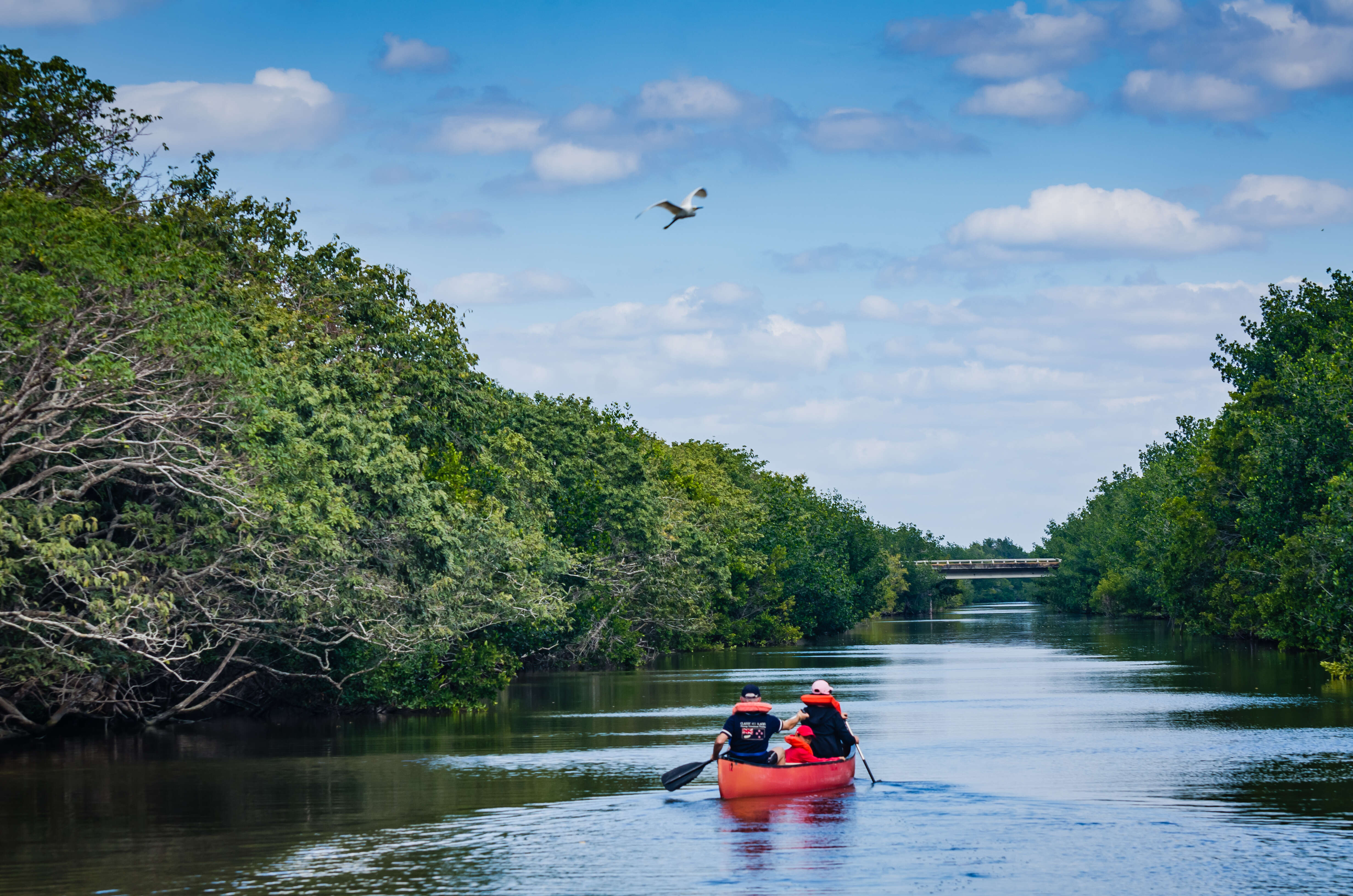 Snorkel or paddle in the Everglades' other national park
Few people know that the Everglades ecosystem extends not just through its namesake national park, but also onto the shores of Biscayne Bay and Biscayne National Park. The marine sanctuary just off the South Florida coast contains a pristine coral reef, and the snorkeling here is as good—if not better—than diving pretty much anywhere else in the country. You can only access the waters by boat, with tours leaving from the Dante Fascell Visitors Center east of Homestead.
Once aboard, you can visit this park that's over 90% water by simply dipping your head underwater and looking down. You'll see a colorful world of tropical fish and majestic coral, all protected in a precious marine sanctuary. It's a far cry from the swamps of the mainland, but a seldom-visited tropical paradise nonetheless.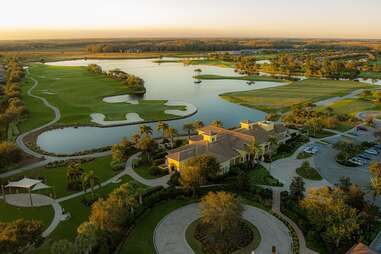 About 15 years ago, Domino's Pizza founder Tom Monaghan had a vision of developing the Notre Dame of the South, moving Ave Maria University from its original home in Ypsilanti, Michigan. His Promised Land for this grand academic institution? The middle of an unforgiving swamp about 25 miles east of Naples, not far from the thriving metropolis of Immokalee.
The result was a fully-accredited law school with an enrollment of about 500. It sits in an eerily clean, cookie-cutter development surrounding a 120-foot cathedral, like a 12th-century Italian village with 21st century Florida suburban architecture. It's part Truman Show, part Joel Osteen, and altogether surreal. Though everyone you meet is friendly, you still get the feeling if you stay there too long you'll never be able to leave. But it's worth a stop for a bite, a drink and a few very bizarre photos
Spend the night staring at the stars
Big Cypress National Preserve was the first National Park Service unit to gain official International Dark Sky Place recognition east of Colorado, and is only the second in Florida. And if you're not scared of noises from nighttime critters you'll also enjoy the brightest stars in the state. Meteor showers are an especially blessed event here, where the roads lining the park make a perfect place to park, lay on your hood, and stare into space.
Driving into the Everglades, you'll be inundated with roadside billboards offering airboat rides. While they're all worthwhile, don't jump the gun and take the first one you see. Instead, head all the way to Everglades City to Jungle Erv's for the best rides in the state. Everglades City, as you may remember, has a bit of a nefarious past as a marijuana smuggling hotbed. The fine people of the town have paid their debt to society, and now use their intimate knowledge of the black water back channels to offer the most complete airboat rides on the water.
Though your captains may not tell you much about their past (unless you take them for beers at the Camellia Street Grill after) they will take you through magical mangrove canopies, going full throttle over mirror-flat water. They'll also take you to see wild boars and alligators who devour Cheetos, telling stories about old Florida along the way. Jungle Erv's rides may not be the closest, but they're 100% worth the extra hour in the car, both for the water they go through and the people who guide you along.
Sign up here for our daily Miami email and be the first to get all the food/drink/fun in town.
Matt Meltzer is a Miami-based contributor for Thrillist, a veteran of the United States Marine Corps, former pageant judge in the Miss Florida America system, and past contributor to Cosmopolitan magazine. Matt graduated with a BBA from University of Miami and holds a master's in journalism from the University of Florida. He currently lives in Miami with his Betta fish, Bob.