Why Jacksonville Is Low-Key Florida's Best Beach Town
Hit the beach without battling crowds.
Jacksonville Beach Surfers

| Rob Wilson/Shutterstock
Jacksonville Beach Surfers

| Rob Wilson/Shutterstock
Florida beach vacations are as much a part of American travel tradition as middle school field trips to Washington DC. These trips can be jaunts to the sugar sand beaches on the Panhandle or rage-all-night trips to South Florida. Glorious as they are, the one thing they all have in common is there are a lot of other people also going there.
And then there's Jacksonville. Despite having 20 miles of fairly uncrowded beaches, it somehow gets forgotten in the beach vacation discussion. Whatever the reason, somehow the lower 48's largest city by land mass still flies under the radar.
People from Jacksonville self-deprecatingly talk down their city, in between chanting "DUUUUVAL" and flashing their VyStar cards with low-key civic pride. That's because Jacksonvillians' modesty is by design. As a local artist once told me, "I'm not mad people think it sucks. If we played it up, it'd be like Austin."
They know that anyone who spends some time in the Bold New City of the South will realize it's every bit the easy living coastal paradise Florida is supposed to be. It combines tranquil, wide open beach life with big city amenities like eclectic restaurants and walkable neighborhoods—and does it all at a price that never gives you sticker shock. Venture up I-95 and you'll be surprised with all the fun things to do in Jacksonville, and may too hope that the secret never gets out.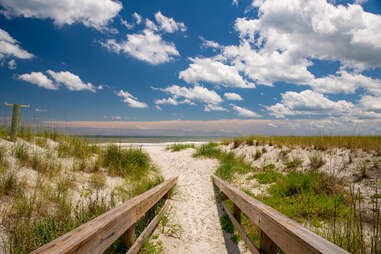 Relax in beach towns that feel like beach towns
You might think, "Why would I drive six hours up I-95 to go to the beach when I literally have one 20 minutes away?" But the beaches in Jacksonville feel more like a laid-back beach vacation than Miami's American Riviera. They're wide and uncrowded, much like everything in this city, and the flat sand lends itself wonderfully to long walks, games of beer ball, or even beach football.
Jacksonville was the birthplace of Salt Life, and that sun-bleached, tattooed surfer ethos is everywhere among the people who populate the coastal enclaves of Atlantic, Neptune, and Jacksonville Beaches. The surf breaks aren't exactly Hawaii on the First Coast, but they're enough that a sunrise stroll brings surfers and sunrise yogis like you're on the other end of I-10. If you want to try surfing yourself, there's no shortage of surf shops who'll give you a lesson.
While they're not empty, Jacksonville's beach towns remain quiet and slow-paced, where you can wander from a coffee shop or cafe onto the sand, meander along the wide open beach, then kick back at a waterside bar like Hoptinger or Lemon Bar and not fight half the city for drinks. Parking isn't easy, but it's not impossible either. Same goes for traffic.
Venture outside the beach town and you'll find some stretches of sand with wholly unusual landscapes too. Boneyard Beach is an eerie tree graveyard on the shores of Nassau Sound, where whitewashed oak and cedar trees that died when tidal shifts brought saltwater to their roots create a surreal surfside forest. A little south of the city, you'll find Guana River Preserve, where massive coastal dunes sit along golden sand for a beach that feels like it dropped here from Africa.
Cool neighborhoods make the sprawling city walkable
Calling a city of over 800 square miles "walkable" might sound a little like calling Manhattan "chill," but within Jacksonville's neighborhoods you'll find diverse little enclaves that don't really require having a car. The most popular is the Riverside/Avondale district, which sits a mile or so south of downtown. Its residential streets are lined with charming old homes and oak trees draped in Spanish moss. Beyond them you can peruse the bars along King Street, posting up for craft beers at the penny top bar at Kickbacks, hitting the sunny patio at Park Place, or dancing at the LOFT.
Walk a few blocks the other way and you'll find yourself in Five Points, home to one of the best rooftop restaurants in the state, Black Sheep. Turn the corner on to Park Street and you'll pass narrow storefronts filled with vintage shops, pizza places, and another Hoptinger, this one with a panoramic top-floor bar.
Downtown sits not far away, walkable if you're feeling strong and the weather is nice. It's home to the Florida Theatre, an old art-deco gem that hosts touring comedians and indie bands. The margaritas and craft mezcal cocktails across the street at Dos Gatos are a pre-show must. You can also visit the coolest candy store in Florida at Sweet Pete's, a soda fountain set in a historic home.
Art in Jacksonville thrives because the city is still affordable, and you'll find it in highest supply at the Cork Arts District. It's 80,000 square feet of converted warehouse space packed with artists making everything from witty topical sketch art to sculptures made from bottle caps. Not far away, you can peep into the Home Depot of thrift shops Eco Relics, a treasure trove of antique furniture and reclaimed wood that'll make any hipster home designer wish they had a U-Haul to take the whole place home.
Get out on the river
Jacksonville sits along one of the narrower sections of the St. Johns River (the city was originally called Cowford because cowboys could cross the river easily) creating ample opportunities for boating, fishing, paddleboarding, and kayaking.
If you're not up for getting on the water, you can still get some riverside exercise along the Northbank Riverwalk, which runs two miles from Riverside up into downtown. The jogging and biking path is kind of a city social spot for younger, fit residents, who congregate around the exercise equipment along the trail.
Immerse yourself in the downtown sports scene
Like most cities with one big league sports team, Jacksonville is Jaguars-obsessed. Travel to Duval on a Sunday in the fall and you'll find the city completely overtaken by teal, black, and gold. TIAA Stadium sits in the city's sports district just south of downtown. It's removed enough from the urban core that it can have expansive tailgate lots, but close enough you can walk to the stadium if you're staying downtown. Before heading to the stadium, you'll want to grab a beer at Intuition Ale Works, a sun-splashed brewery that doubles as the de facto pre-game meeting place.
A block from Intuition sits one of the best ballparks in the minor leagues at 121 Financial Ballpark. The brick facade incorporates a historic church that sits on the property, and the open concourse allows fans to watch the Marlins AA affiliate Jumbo Shrimp even when getting up for a beer. On Thursdays, the Shrimp host $2 beer night, which turns into a big outfield party for most of Jacksonville's twentysomethings.
Fantastic food hides in culinary pockets
While the Michelin Guide has so far eschewed Florida's fourth city, that doesn't mean there aren't restaurants here that could rate a star. Foremost among them is Orsay, an Avondale bistro from award-winning chef Jon Insetta where French traditions come fused with Southern specialties for Jacksonville's most indulgent dining.
In San Marco, Jacksonville's dining and drinking destination for the bourgeoisie, Taverna is a long-standing upscale Italian spot that's big for special occasions and dates. It's also next door to a fantastic whiskey and wine bar called The Grape & Grain Exchange. Further down San Marco you'll find Town Hall from James Beard Award-nominee Tom Gray. He also runs the equally fabulous Prati Italia at the St. Johns Town Center.
The stretch of Riverside's Stockton Street between College and Myra could make a case as the food block of Florida. It begins with Foo Dog Curry Traders, a hip fast-casual joint with a menu of global curries from the Himalayas to the Caribbean. Two doors away is Bold Bean, the city's top coffee shop that serves exquisitely roasted coffee and rich chocolate pastries to WFHers and creative types. The block ends with 13 Gypsies, a self-proclaimed "peasant kitchen" with an eclectic menu offering everything from Mongolian beef skewers to Roman-style gnocchi.
Downtown, Indochine is the city's Asian food stalwart, and for good reason. Pad thai, curries, and lemongrass coconut tom kha gai highlight a long menu of southeast Asian specialties. Downtown's other highlight is bellwether, Insetta's fast-casual spot with an approachable menu of Asian-inspired gourmet salads, burgers, and sandwiches.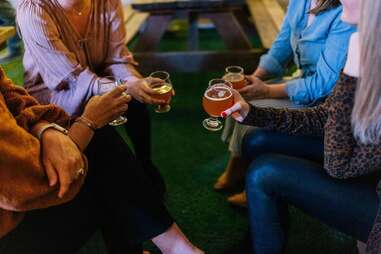 Local beers refresh on the water and in the city
Jacksonville's beers rarely make it outside the city, which is why visiting its breweries can prove such a unique experience. The most popular is probably Bold City, best known for its easy drinking Duval Light and Mad Manatee IPA. Wicked Barley sits right on the water, where boaters tie up on weekends for long afternoons of Left Leg Lager. Engine 15 in Jax Beach made its name as a fixture at Jags tailgates in their classic fire engine, though the brewery is a great stop if you're on your way to or from the beaches. If you feel a little overwhelmed by the selections, jump on a Go Tuk'n brewery tour, where a witty driver takes you to a handful of the city's best spots in a breezy motorized Tuk Tuk.
Matt Meltzer is a Miami-based contributor for Thrillist, a veteran of the United States Marine Corps, former pageant judge in the Miss Florida America system, and past contributor to Cosmopolitan magazine. Matt graduated with a BBA from University of Miami and holds a master's in journalism from the University of Florida. He currently lives in Miami with his Betta fish, Bob.