Look Past Disney World and Find a Nature-Lover's Paradise in Orlando
There's way more to the city than just roller coasters and Mickey Mouse.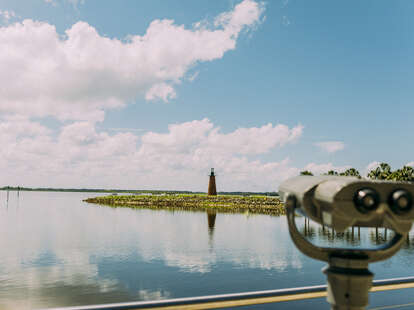 Photo courtesy of Kissimmee Lakefront Park
Photo courtesy of Kissimmee Lakefront Park
When Americans head to Orlando, Florida, there's a good chance they have one destination in mind: the dazzling domain of Mickey and his cohorts. But those in the know have a different set of animals in mind as they enter the heart of Central Florida: not the bipedal mice of Walt Disney World, but gators, black bears, and a whole lot of birds.
Renowned for centuries as a treasure trove of biodiversity, the Sunshine State is packed full of all sorts of fascinating creatures both large and small, with Greater Orlando being a particularly underrated and stunning destination for nature lovers. From lush wildlife preserves to alligator-filled lakes, the wild heart of Florida is perfect for a flora and fauna-filled foray into one of the most fascinating outdoor adventure destinations in all of the Lower 48.
For any Miami residents heading up to Orlando, the bulk of the journey will take place on US 441—and while a road trip can be completed in just under three and a half hours, it's not the only option for traversing the two cities. The Sunshine State recently had its inaugural Brightline Train journey from Miami to MCO, expanding Florida's sole private passenger rail with future plans to reach downtown Tampa. While the journey takes roughly the same amount of time as driving, the Brightline offers the added benefit of not having to contend with Florida's famously chaotic drivers.
Whichever mode of transportation you choose, you're in for a treasure trove of outdoor adventure—no crowds, animatronic mice, or pricey tickets required.
Travel time:
Three and a half hours from Miami, Florida
If you don't do anything else: Set sail across the Sunshine State's sprawling lakes
Perched just a few hundred feet above sea level at its highest point, the interior of Florida is freckled with glittering lakes and tangled swamps—and all of this abundant water has given rise to an incredible marine ecotourism scene, with Wild Florida providing the perfect introduction to the incredible creatures that dwell in the murky waters of Metro Orlando.
Upon arrival, visitors are welcome to peruse the rare crocodilians housed within the Gator Park, while the drive-thru Safari Park is equipped with giraffes, American bison, zebras, and a wealth of other species from across the globe—but no journey is complete without booking an airboat tour, a thrilling expedition that brings guests into the tangled depths of the surrounding swamp to search for wading birds and gators in their natural habitat.
After a high-speed journey in search of alligators, Toho Riverboat Adventures offers a relaxed tour that highlights a much more cuddly local animal: the domestic goat. Jetting off from St Cloud's Lakefront Marina, this leisurely cruise showcases classic Floridian avifauna ranging from snail kites to limpkins, ultimately culminating in a stop at Goat Island to feed the friendly flock from the comfort of the ship.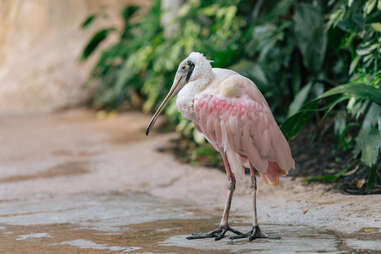 Fill the weekend with:
Things to do outdoors in Orlando
Amid the scaly reptiles and water-dwelling mammals found across Central Florida's lakes, there's a massive array of avian species for birdwatchers to marvel at as well. Just south of Orlando proper, the city of Kissimmee offers a wealth of top-tier sites to explore, with the aptly-named Kissimmee Lakefront Park serving as a top destination. Tricolored herons, glossy ibises, and snowy egrets are just a few of the native shorebirds that thrive around here, while fortunate visitors can catch a glimpse of ospreys, red-shouldered hawks, and even the occasional bald eagle scanning the shores for prey.
After an adventure along the shores of Kissimmee, visitors can head 30 minutes south to discover one of the region's top destinations for birdwatching: the sprawling Nature Conservancy's Disney Wilderness Preserve. Established in 1993, the site is home to species like wood storks, sandhill cranes, and even Florida scrub-jays, each one thriving within thousands of acres of native Sunshine State habitat. While Central Florida is packed full of native birds, visitors can spot a wealth of dazzling non-native species during a tour of Discovery Cove. Equipped with a 100-foot free-flight aviary, guests can spot elegant international birds like the blue-bellied roller and Nicobar pigeon perched high in the treetops, then head to the Grand Reef for a leisurely paddle with the resident sting rays.
Local art and museums in Orlando
On a sunny day, Bok Tower Gardens masterfully blends art and ecotourism, serving as one of the most picturesque attractions in Florida's Polk County. Standing at a stately 205 feet, Bok Tower serves as the crown jewel of the site, equipped with elaborate artistic flourishes and a fully-functional 60-bell carillon—and after a few minutes spent admiring its beauty, the surrounding grounds are packed full of all sorts of fascinating avifauna, with wood ducks, painted buntings, and cedar waxwings being just a few of the animals that may make an appearance for visiting birders.
Meanwhile, if the weather isn't cooperating, the Orlando Museum of Art is renowned for its incredibly well-curated Art of the Ancient Americas wing, while the The Charles Hosmer Morse Museum of American Art serves as a treasure trove for jewelry aficionados, equipped with a massive collection of pieces crafted by acclaimed artist Louis Comfort Tiffany.
Eat, drink, and sleep:
Restaurants and bars in Orlando
Orlando's spectacular theme parks draw visitors from all across the planet, and this influx of international talent has given rise to a particularly diverse array of drinking and dining venues over the years. In the eastern reaches of Orlando, Oh! Que Bueno offers hearty Colombian dishes like bandeja paisa and cazuela de mariscos in a cozy setting, while Taste of Punjab is a top spot for lamb biryani—yet when it comes to classic Southern dining, Big John's Rockin' BBQ is a can't-miss destination thanks to their incredible brisket to the tune of live music.
Where to stay in Orlando
While Central Florida is brimming with luxury hotels and resorts, few properties integrate high-end amenities and ecotourism opportunities as well as the Omni Orlando Resort at ChampionsGate. During a stay, guests are welcome to book an eco-tour with Captain Eric Gilhart, a Florida Master Naturalist that's well versed in the wildlife of the surrounding region. During the two-hour tour, guests are taken along the property's grandiose golf courses, with Captain Eric at the ready to point out the many avian and reptilian species that thrive along its manicured lawns.
Jared Ranahan is a freelance writer focusing on travel, wildlife, and food & beverage.