If you're a person who doesn't like the freezing cold, your options for a winter getaway in the continental United States are limited… unless you live in the Southeast. While it can get cold anywhere north of central Florida, in general, winters here are pretty mild compared to, say, our friends in the Northeast, who we KNOW have frigid weather (because all they do is complain about it). So the next time you're searching for a long-weekend destination during the winter months, look close to home. These five cities have so much to do that, even if the weather does turn cooler, you won't have time to get all "Northeast" about it.
THE ROMANTIC MOUNTAIN RETREAT
Asheville, North Carolina
In terms of mountain towns, Asheville has it all. The winters are mild (but it gets a handful of snow days), the area boasts 25+ breweries, and there's a reliable live music scene. Located up in the Blue Ridge Mountains -- a 3.5-hour drive from Atlanta -- it's the ideal place to rent a mountain home and spend chilly days taking in the incredible views and drinking red wine by a fire either with friends, family, or that Bumble date that seemed like a good time. You'll want to eat everything here; get Spanish tapas at Cúrate, whole-hog barbecue at Buxton Hall, seasonal American dishes at The Market Place, and cake at the city's dessert-only restaurant, French Broad Chocolate Lounge. Burn it all off like the locals do: by doing something active outside. You'll find skiing and snowboarding at Wolf Ridge (30 minutes away) and miles of hiking and biking trails at Pisgah National Forest and the Blue Ridge Parkway. If your idea of a vacation means not voluntarily exercising, then pop into one of downtown Asheville's more than 20 art galleries; wander through its shop-lined, pedestrian-friendly streets, or tour the Biltmore Estate, which has a delicious winery and looks like a fairytale castle when it's covered in snow.
Where to stay: If you can spring for it, stay at The Inn on Biltmore Estate, where rooms this time of year start at $259-$379/night, depending on the weekend. Otherwise, do a mountain weekend the right way and find a cabin on Airbnb.
FOR THE CURRENT (OR ASPIRING) COUNTRY CLUB SET
Greensboro, Georgia
For a long-weekend "splurge" trip, drive 85 miles east of Atlanta to rural Greensboro and you'll uncover a Southern treat: Reynolds Lake Oconee. This 12,000-acre private club and luxury getaway boasts six golf courses; 374 miles of shoreline; six delicious restaurants and bars; a world-class spa; everything from fishing, archery, and shooting clays, to (if it's not too cold out) boat rentals, kayaks, and water bicycles; plus 21 miles of hiking, biking, and nature trails. Chocolate lovers shouldn't miss the nightly s'mores by the lake, and golf lovers should check out the Reynolds Kingdom of Golf, a facility that combines professional golf instruction and technology to improve your game. Just 20 minutes away, walkable downtown Greensboro is like a real life Stars Hollow with cute home goods boutiques, bars, and mom-and-pop restaurants. The exception to that is its historic stone jail, which, should you tour it, will make you REALLY glad you weren't a criminal in Greensboro in the 1800s.
Where to stay:The Ritz-Carlton (starting at $332/night) is the only hotel within Reynolds Lake Oconee and is built like a cozy mountain lodge, with lots of fireplaces. Coming with a group? Opt into Reynolds' vacation rental program and split anything from a two-bedroom condo to a four-bedroom mansion on the lake or golf course.
LIFE AT THE BEACH (WITHOUT BEACH TOWN PRICES)
Jacksonville, Florida
Jacksonville used to get a bad rap because it was, well, not much to look at. But now, Florida's largest city is actually a cool place to be. Location-wise, you can't get much better: It's 45 minutes to historic St. Augustine, a half-hour to posh Ponte Vedra Beach and the chill vibes of Jacksonville Beach, and just over a two-hour drive from Orlando, making it an easy Florida getaway. In terms of things to do, Jacksonville is an outdoorsman's dream. It's home to 40 miles of Intracoastal Waterway, where you'll find locals fishing and paddleboarding; it's a hot spot for golf (you can tee off at the famous 17th hole island green at TPC Sawgrass); and you can hike Blackrock Trail to the water or Big Pine Trail to the marsh at Big Talbot Island State Park. On Saturdays, don't miss the weekly Riverside Arts Market, where you'll find live music, lots of locals, and Jacksonville artists selling their handcrafted jewelry, crafts, and more. The city has a reliably good restaurant scene now (both Orsay and Town Hall were started by James Beard Award-nominated chefs), and sexy nightlife options (try Latin dancing at Cuba Libre) that won't break the bank. The best part? Because of its past reputation, it hasn't been overrun by snowbirds… yet.
Where to stay: The Hotel Indigo is a modern, affordable, and well-equipped hotel in the upscale neighborhood of Tapestry Park. It might not be in the heart of the city, but it's just a 15-20 minute drive from downtown and the beach, and despite its fancy neighborhood, you can snag rooms in the mid $100s/night.
FOR THE PARTY-HOPPER
Miami, Florida
What Miami winters lack in snow, they make up for with enviable warm weather, top-notch events, and selfies from the beach that make your friends around the rest of the country angry. "Winter" (emphasis on the quotations) is the best time for a long weekend in Miami, whether you're coming from out of town or are in dire need of a staycation. February specifically is packed with some of the biggest events of the year: The Miami International Boat Show and Miami Yacht Show (February 14-18) bring everything from small power boats and sailboats to some of the largest superyachts in the world. The Coconut Grove Arts Festival, which also happens on Presidents' Day weekend, takes over the Coconut Grove neighborhood with live music, food trucks, stand after stand of handcrafted art, and more. If you're a real foodie, don't miss the South Beach Wine & Food Festival on February 20-24, which brings together tasting pavilions, celebrity appearances, special dinners, parties, concerts, and of course… food by every chef you need to know in America.
The last two weeks of March is another prime time for events, starting with seats to world-class tennis at the Miami Open (March 18-31). If you want the type of party that only a Miami EDM festival can provide, there's Miami Music Week, which culminates with Ultra Music Festival (March 29-31) featuring headliners such as The Chainsmokers, deadmau5, and Afrojack. Also, since South Florida is one of the few parts of the US where you can be outside in shorts and a t-shirt this time of year, plan to spend as much time in the sun as possible. Walk up and down Ocean Drive, hit the beach at Lummus Park, then cap your day with a nice meal at Miami's famous Joe's Stone Crab or Smith & Wollensky. All those events we just mentioned come with plenty of afterparties, too, so if you're craving a taste of the nightlife, head to any bar or club on Miami Beach and you'll probably find one.
Where to stay: The Gates Hotel South Beach puts you near all the action for a reasonable price (rooms from $300/night for event weekends or $200/night for other winter weekends -- a steal this time of year). Visit its restaurant, Agaveros Cantina, to try the elote fritter that won a challenge on Food Network's Beat Bobby Flay.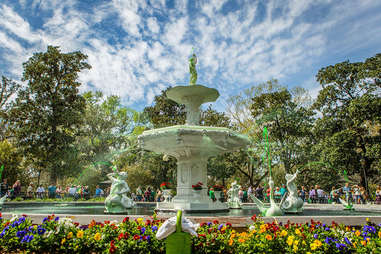 HISTORIC CHARM & LUCK OF THE IRISH
Savannah, Georgia
This might be controversial, but Savannah is one of the prettiest towns in America. Located a four-hour drive from Atlanta and Orlando, it's bursting with courtyards and historic homes, the cobblestone streets are lined with towering oak trees, and the Savannah River gives it waterfront appeal. Whether you're there with a significant other or friends, spend your days wandering down its picturesque streets, take a nighttime ghost tour (Savannah is actually dubbed one of the most haunted cities in America), ride the free trolley around downtown before hopping aboard one of the many trolley-based history tours, or do as Tom Hanks would do and eat a box of chocolates on a bench in Chippewa Square. (Yes, that's where the famous Forrest Gump scene was actually filmed.) The food and drink situation is out-of-control good, so wait in the long line outside Mrs. Wilkes' Dining Room for her famous Southern comfort food, get South African curry at Zunzi's, and drink beer at Kevin Barry's, the city's iconic Irish pub. Speaking of Irish, did you know Savannah hosts one of the biggest St. Patrick's Day festivals in the country? The water in the city's fountains gets dyed green, there's a daytime parade, late-night parties, bar-goers spilling out onto the streets, live bands, traditional Irish ceremonies, and a lot of people-watching. We think its success has something to do with the Historic District's lack of open container laws… another reason Savannah is a go-to for a good time.
Where to stay: Book at the Bohemian Hotel Savannah Riverfront for water views (rooms start in the low $200s/night), or, for something right in the heart of town, there's the romantic Marshall House bed & breakfast (starting at $155/night). At both hotels, expect to pay double the rate for St. Patrick's Day weekend.