The Best Neighborhoods to Visit in Miami
What to eat, drink, and do in all of Miami's coolest neighborhoods.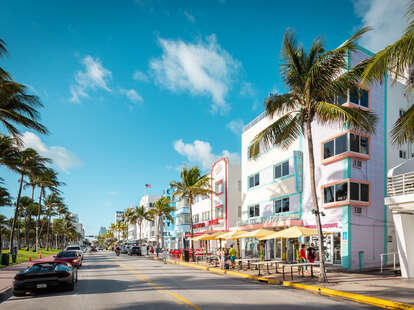 Ocean Drive

| Dmitry Tkachenko Photo/Shutterstock
Ocean Drive

| Dmitry Tkachenko Photo/Shutterstock
It wasn't too long ago that visiting Miami meant landing at MIA, jumping in a cab to South Beach, and never really giving anything between the tarmac and the sand a second thought. While the beach will always be our city's biggest draw, the rest of the city has grown up over the past couple of decades.
Vibrant neighborhoods filled with top-notch restaurants, intriguing art, and chic hotels can now be found all over Miami—so if you stick to the beach during your visit, you're going to miss some of the best stuff. To avoid that, here's a guide to all the best neighborhoods to visit in Miami (and the coolest things to eat, drink, and do while you're there).
Miami's financial district is the most densely populated neighborhood south of Manhattan, where glass-and-steel highrises tower over streets bustling with young professionals, lively bars, and international restaurants.
Where to stay: If you're just looking for a place to rest your head, the Hampton Inn and Suites sits in prime location near Mary Brickell Village, with a fantastic bar downstairs. The AC & Element offers a chic lifestyle hotel with one of the city's best rooftop bars at Rosa Sky. The Brickell outpost of citizenM offers minimalistic rooms and common areas that are an art lover's paradise. For something a little more upscale, the East Hotel stands over the world class shopping of Brickell City Centre and has a fantastic rooftop bar at Sugar. For the ultimate waterfront experience, book a room at the Mandarin Oriental on Brickell Key and enjoy a view of either Biscayne Bay or the Brickell skyline.
Things to do: Brickell is American urban living at its apex, best experienced in the shops at Brickell City Centre. It's filled with everything from fancy CMX movie theaters to a Saks Fifth Ave with a full Italian food hall, as well as retail outlets ranging from Apple to Guisseppe Zanotti. Once you've completed your retail therapy, take a walk around Brickell Key, an island at the end of SE 8th Street. The 1.25 mile loop takes you along the water with views out to Key Biscayne, the cruise ships of PortMiami, and the downtown Brickell skyline.
Best restaurants: Brickell is best known for expense account dining and restaurants that are more scene than substance. But dig a little deeper and you can find some true gems hidden among the glitz. Stanzione 87 puts out the best Neapolitan pizzas in Miami and occupies an intimate space with a killer Italian wine list. In Brickell City Centre, EST. 33 makes its own beer onsite, which pairs perfectly with its menu of Thai barbecue. For casual Mexican, tuck into Coyo for tacos many call Miami's best. And no trip to Brickell is complete without a meal at La Mar, a Peruvian import on Brickell Key where every outdoor table looks back over the bay at the Brickell skyline.
Best bars and nightlife: With condo towers teeming with young professionals, Brickell is the city's best neighborhood to meet locals while you're out. Blackbird Ordinary is one of the neighborhood's best spots, where craft cocktails, live music, and board games converge. You can catch stellar views of the city from Sugar on the 40th floor of the East hotel, with 270-degree panorama from the Everglades to the Atlantic. For a less-crowded rooftop, head to Rosa Sky, whose main floor feels like a giant porch overlooking the city. You can also catch sports alongside Miami's best bar food at Batch Gastropub. Or watch people boat up along the Miami River at American Social.
Coconut Grove
This lush, waterside artists' enclave has gone from college bar central to the city's top outdoor dining destination over the past decade.
Where to stay: Coconut Grove hotels were once the exclusive domain of 1980s elite, and if you read Hotel Scarface you know the insanity that once ruled these rooms. The Mutiny is still there, and though it's calmed down considerably, it still offers fantastic access to pretty much everything. The newly restored Mayfair Hotel offers a setting that continues the neighborhood's jungle immersion, and boasts a fantastic Bahamian rooftop bar at Sipsip. The Mr. C offers a top-floor cocktail lounge with views almost as famous as its bellinis.
What to do: Despite all its shiny new bars and restaurants, Coconut Grove is still a reminder of a time when Miami boat days were more about Mahi than models. As such, you can catch a bunch of deep sea fishing charters from the marina. And you can also take a snorkeling and/or diving tour down in Biscayne National Park, 90% of which is underwater. On land, hit the Barnacle Historic State Park and learn about early Miami pioneers and what life was like before bug spray and air conditioning. You can also grab a bike and head down Old Cutler Road, one of Miami's most scenic rides that takes you past coral walls under a canopy of Banyan trees.
Where to eat: Once upon a time, Coconut Grove was a wasteland of chain restaurants and college bars that didn't exactly invite charming al fresco dinners. Today, it's a culinary hotspot, boasting two Michelin-starred restaurants at Los Felix and Ariete. Beyond the big names, you'll find Miami's top menu of burgers and craft beer at LoKal, which sits just down the street from the breezy outdoor cafe at Green Street. You can try a full slate of plant-based Chinese food at Planta Queen. Eat under the stars on the verdant parkside patio at Glass and Vine. Or try Miami's mainstay Indian restaurant Bombay Darbar, whose interior harkens back to the aforementioned '80s heyday.
Best bars and nightlife: While the Grove shed its image as a mecca of fake IDs and cheap beer, that doesn't mean it's a nightlife desert now. The grown-up Grove boasts Miami's best gin bar at Botanico, and a seaside happy hour institution at Monty's. For a more upscale seaside cocktail, post up at the Bayshore Club, and get in a round of giant chess while you're there. You can get a sense of what the old Grove was like by stopping in for a beer at Barracuda, though the selection now is much better than it used to be. Grab a pitcher of beer and free order of wings at Flannigan's (or Loggerheads if you wanna impress the locals), a South Florida seafood chain whose souvenir plastic cups are a kitchen cabinet staple for anyone who's lived in Miami.
Midtown/Design District
Miami's highest concentration of high-end retail abuts blocks of Michelin-starred restaurants. All just across the street from a sea of condos, hotels, and fantastic local restaurants.
Where to stay: The Design District doesn't really offer much in the way of lodging, which is why grabbing a room at the Hyde Midtown a couple of blocks south is always your best move. It's centrally located to Midtown's shops and the Design District, and boasts a twinkling rooftop Japanese restaurant, Salvaje. The Hampton Inn and Suites is only a couple of blocks south on Biscayne Boulevard, and while not quite as convenient as Hyde, is considerably more affordable. AC just opened up a new location on 34th and Biscayne, bringing its sleek lifestyle brand just a few blocks from both the Design District and Midtown.
Where to Eat: Students of Miami's culinary history might trace the origins of its approachable, chef-driven dining scene to Michael's Genuine. The flagship of Michael Schwartz's restaurant empire is still going strong and remains a hotpot despite the big names that opened up around it. Two-Michelin-starred L'atelier de Joel Robuchon is tasting menu dining at its finest. Just downstairs, you'll find another Michelin star at the vegetable forward Le Jardinier. Rounding out the top-tier eateries in the neighborhood is Korean steakhouse Cote, where a sampling of fine meats is grilled right on your table aside a bevy of traditional pickled sides. Midtown can also go casual, where Enriqueta's makes what many consider Miami's best Cuban sandwich. And Ol'Days provides fresh pastries and coffee that draw lines on weekends.
Best bars and nightlife: While midtown and the Design District do their best work before midnight, the bars here can still hold their own. Lagniappe is Miami's most celebrated wine bar, where you can pick up a bottle and some charcuterie in the wine shop, then post up on the mismatched furniture outside and drink under the evening sky. Tap 42 boasts, as the name might imply, 42 different beers on tap, with a menu of late-night bar food that never fails to satisfy. If you're in the mood for a caipirinha or mojito, Sugarcane's tropical patio is the best place to drink them. For craft cocktails, the funky Sylvester offers an oddball décor that's almost as eclectic as its crowd, and drinks you'll unlikely find elsewhere in Miami.
South of Fifth
The southern end of South Beach is also its best neighborhood, where a peaceful park, calming beach, and blocks upon blocks of walkable restaurants sit in the shadow of luxury condos.
Where to stay: South of Fifth, or SoFi as locals call it, was a little slower on the tourism uptake then the rest of South Beach. That means the neighborhood isn't teeming with hotels like the hectic streets further north, so you can kick back on your balcony at the Marriott Stanton and breathe in a beach with far fewer crowds. The Life House is a comfortable boutique option with small rooms and the beach's best tacos at its surprising lobby bar. The Balfour is another great boutique option, where art-inspired rooms and hallways give way to the street's top hotel restaurant at Mehzcla.
What to do: The beach South of Fifth is about as relaxing as South Beach sand gets, where the shoreline is mostly filled with locals, families, and a smattering of tourists. If you're planning a beach day, do it here, as it's the only spot in this area one might consider "calm." Once you've finished sunning yourself, take a stroll around South Pointe Park, and take in the views of the Atlantic, Fisher Island, and the sunset over the Miami skyline. You can also wander over to the Miami Beach Marina, where fishing charters and jetski rentals await. You'll even find a little bit of history in SoFi, as the Jewish Museum of Florida sits inside what was once the beach's only synagogue and tells the story of how Miami Beach went from excluding Jews to becoming a retirement playground for Jewish people.
Best restaurants: Miami's most famous restaurant sits South of Fifth at Joe's Stone Crab, only a couple of blocks from what is probably the city's second most famous restaurant, Prime 112 steakhouse. Another fantastic steakhouse, Red the Steakhouse, is also on that block serving hearty cuts and a stellar Italian menu. Non-carnivore's can get their fix at SoBe Vegan, whose collection of sandwiches, salads, and smoothies will have you seriously consider going plant based. Miami's favorite late-night diner Big Pink is a must-stop between the hours of 4 am and noon, and the giant burgers and fresh pastas are still pretty good without the aid of alcohol. You'll also find fantastic Greek food at Santorini by Giorgios, Israeli specials at Abbale, and the beach's low-key best Neapolitan pizza at La Locanda.
Best bars and nightlife: Miami was once one of the world's great superclub destinations, but its club scene is down to a handful of spots. One of them still thrives in SoFi at Story, where you'll find A-list electronic and hip hop acts playing every weekend. Half a block away, Ted's Hideaway is a landmark dive bar where everyone from post-shift service industry types to Carl Hiaasen characters go for late night beers. Earlier in the day, Monty's Sunset offers views over the Miami skyline alongside a fresh raw bar and an onsite swimming pool. For an international education, post up at the bar at the SoBe Hostel, where you'll find yourself sharing drinks with 20-somethings from at least five different countries within an hour.
Surfside
Just north of Miami Beach, this tiny beachside town offers big-time restaurants, great hotels, and a quiet escape from South Beach for those who would rather relax than rage.
Where to stay: Surfside's crown jewel is the Four Seasons Surf Club, a towering glass addition to the historic 1930s Surf Club. For luxury travelers, it's the runaway best bet as the floor-to-ceiling windows and high tech room amenities make it feel like the ultimate Miami fantasy. If that's a little out of your price range, the Grand Beach offers a large-scale, full-service property with ocean views at a reasonable price.
What to do: The beach at Surfside is Miami Beach's most family friendly, where a long boardwalk allows for plenty of biking, running, and other ways to enjoy being steps from the ocean. You can visit the Sea Turtle Awareness Program, and learn how Surfside is helping Loggerhead Turtle conservation before heading to the beach to release hatchlings out to sea. If that gets you in the spirit, take the city's Turtle Walk, where you'll peruse 13 turtle sculptures painted by local artists. Surfside's main drags along Harding and Collins Avenues are also filled with locally owned boutiques. Or you can head a little bit north and visit Miami's only clothing-optional beach at Haulover.
Best restaurants: For a city of only 5,500 people, Surfside packs a powerful culinary punch. Much of that is thanks to Thomas Keller's The Surf Club Restaurant, which notched him another Michelin star last year. Next door, Lido at the Surf Club offers first-rate Italian food under frescos restored from the original 1930s decor. Middle eastern specialties abound at Neya, a modern Israeli spot that does ceviche as well as it does falafel. Josh's Deli offers Miami twists on traditional Jewish deli food, the like Jewban sandwich, and sriracha cream cheese latkes. And no meal in Surfside is complete without ice cream from Serendipity, a Miami favorite that sells in Publix and other supermarkets.
Best bars and nightlife: OK, so the inherent downside of being a small, family-friendly town is that Surfside is not exactly teeming with nightlife, but you can still enjoy a nightcap at a few good spots. The Champagne Bar at the Surf Club is as elegant as the name suggests, sipping bubbly under ornate architecture with live music and a classy crowd. On the other end of the spectrum there's Flannigan's, a wood-lined South Florida institution famous for its ribs, cold beer, and colorful regulars.
Miami's art district is a veritable outdoor museum, with endless blocks of street art, craft breweries, local restaurants, clothing boutiques, and even the occasional gallery.
Where to stay: A lot of new hotels in the Edgewater and Midtown areas brand themselves as "Wynwood," but if they're not west of North Miami Ave, you're still in for an Uber ride to get here. With that in mind, there's really only one real hotel in Wynwood proper, the newly opened Arlo. It fits in seamlessly with its surroundings, filled with colorful, quizzical art. Arlo's ground floor restaurant Mary Gold's is the latest effort from celebrated chef Brad Kilgore, and its upper-floor bar Higher Ground comes from Bar Lab, who created the menu at Broken Shaker, among others.
What to do: You could literally spend days meandering through the provocative murals that cover Wynwood's streets. The Wynwood Walls park is the most visitor-friendly place to see street art, though it does charge an admission fee. To learn more about the history and culture of street art, head to the Museum of Graffiti, which also offers occasional classes in mural making. Trip out at the Paradox Museum, which goes beyond Instagrammable rooms to teach us why our brains can see optical illusions. While working artists fled the neighborhood a decade ago, you can still find a smattering of galleries to stroll through, wedged next to funky, independently owned boutiques filled with clothes that'll speak to your individual style.
Best restaurants: Wynwood has slowly gained on South Beach as Miami's most notable neighborhood, so restaurants have opened up here in droves. Austin sushi import Uchi has been an instant hit since landing in 2020 and offers a stellar a la carte menu and omakase. Breezy outdoor Doya is the perfect place to kick back with a kebab and some spreads in a plant-filled courtyard. Bakan is Wynwood's signature full-service Mexican spot with Miami's best margaritas and fresh made tortillas—though Coyo Taco still has a line out the door for a reason. Zak the Baker puts out bread so good, many of Miami's best restaurants boast about having it on the menu. And if you're into Asian food, but have a hard time making decisions, hit 1-800 Lucky, an Asian food hall where you can snack on small samples of poke, dumplings, and Chinese food before grabbing a cocktail from the bar.
Best bars and nightlife: While South Beach might be Miami's most popular nightlife destination for tourists, locals are all about Wynwood. A big reason for that is its bevy of breweries, from the Star Wars-themed J. Wakefield to the tropical courtyard at Cerveceria La Tropical. You'll also find drag shows, craft cocktails, and great pizza at Gramps. And drinks out of ceramic sneakers in the sport-fueled Grails. Music lovers should make a reservation at Dante's HiFi, a vinyl-filled listening bar where the music in the air is almost as important as the drinks in your glass. Or for live acts, head to Oasis, an outdoor space lined with food stalls where everyone from Tiesto to A-Trak have performed.