Gary Dineen/Milwaukee Bucks
Gary Dineen/Milwaukee Bucks
One block south of the yearling Fiserv Forum stands the remains of the Bradley Center. For decades, it was the main attraction on the west side of downtown Milwaukee, but it was all alone; without much of anything to attract visitors, the areas north and west of the old basketball arena were blighted. The outdated, too-expensive-to-renovate structure is in the process of being demolished. Its fenced-off ruins and mangled rebar are a stark contrast to what's happening right across the street, at the shiny new Fiserv Forum and its Deer District development.
The mixed-use entertainment site hums with excitement, and not just on game day. Beyond being an accompaniment to the Bucks' arena itself, the Deer District provides Milwaukee with something it's been lacking until now: a real town square. Whether they're heading to the restaurants, hanging out in the beer garden, or doing some early morning yoga in the plaza, locals and visitors alike now have good reason to congregate downtown.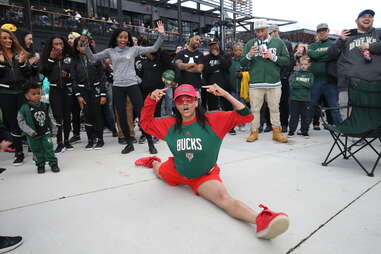 Of course, the mood on Bucks game days this year was particularly wild. During Game 1 of the Eastern Conference Finals, thousands of Bucks fans and curious Milwaukeeans packed the Deer District, cheering at every mention of the city made by Shaq and Charles Barkley during their live NBA on TNT broadcast. The bar patios facing the square were stacked to capacity with "fear the deer!" chanting superfans in their old school Ray Allen jerseys. Fans staked out spots for hours in advance in front of the two giant TV screens showing the game. It was the wildest atmosphere most Bucks fans have ever seen in Milwaukee, but even with the Bucks season coming to an end in the conference finals, the Deer District looks to keep the energy going in the offseason.
The plans for the Fiserv Forum had always included the Deer District's block of bars, restaurants, and public spaces -- all of which recently opened just in time for the playoffs this spring -- as well as new residential and office space that are yet to be completed. It's all part of an effort by the Bucks' billionaire ownership group and the city of Milwaukee, to transform this overlooked part of Downtown into a year-round destination for families, events, and nightlife.
"We have the unique opportunity to create a neighborhood around our crown jewel, Fiserv Forum," says Michael Belot, Senior VP of Bucks Ventures and Development. "Make this the 'place to be' in all of Southeastern Wisconsin when looking for a top-of-the-line experience."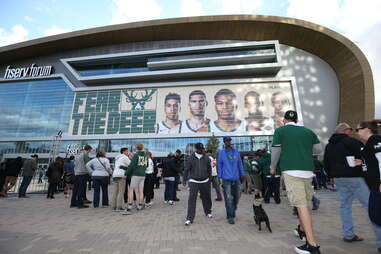 Though the Deer District is still very young, it's already becoming the draw everyone hoped it would, for both Bucks-related events and otherwise. Each playoff game brings with it a $3 million financial boon to Milwaukee for transportation, hotels, and food and beverage, according to Visit Milwaukee. The nearly 30 concerts and comedy events expected to hit the arena in 2019 are on track to shatter the old Bradley Center's records. There's also no denying that the Fiserv, Deer District, and Bucks organization helped secure the 2020 Democratic National Convention, which will bring further ungodly amounts of money to Milwaukee in exchange for putting up with all those politicos. Considering that Milwaukee taxpayers footed nearly half of the arena's $524 million price tag, that's a return on investment that the city was entitled to.
Whether it's a Bucks gameday or not, you don't have to be a fan to enjoy everything about the Deer District. Whether you're a lifelong Milwaukee resident checking out what your tax dollars went to or just visiting for a playoff game, make plans to check out the DD and the surrounding neighborhood for some of the best drinking, dining, shopping, and attractions that the city has to offer.
WHERE TO EAT AND DRINK AROUND THE DEER DISTRICT:
Outdoor (but covered) drinking spot with 24-foot-wide TV screen
Sandwiched between buildings on Old World Third Street, you'll find what's simply known as The Beer Garden. It's a simple space that matches its simple name, with a bunch of communal picnic tables, a high, clear canopy ceiling to keep the rain out, and a giant wall-sized screen for watching games. It's a magical place to be during the playoffs, whether the Bucks are playing down the block or not. The energy is palpable, the drinks are flowing, and the "Greetings from Milwaukee Wisconsin" mural doesn't sound ironic in the slightest. Not many places live up to their taglines, but "Milwaukee's living room" comes pretty close.
Over-the-top sports bar with no bad seat
We have a good amount of sports bars around Milwaukee, especially if you count every corner tavern that has TVs. That said, The MECCA (named after the former arena) has blown the competition out of the water with a multi-story design centered around a 42-foot-wide screen. At full capacity, 750 people can watch a game at one time -- whether on the big screen or on TVs in every nook in the space, including the outdoor patio that looks out onto the Fiserv. The menu is full of typical crowd pleasers like nachos, cheese curds, chicken wings, and lots of beer (like the MECCA Amber, made by Good City Brewing).
Downtown outlet of East Side brewery
Taking up the northernmost spot in the Deer District, Good City is the second, much larger location of the popular urban brewery. Downstairs features communal seating tables and garage door walls that can be raised in good weather, while upstairs is a wide-open space with foosball and patio seating. Sours and experimental beers are brewed here, and you'll find 24 of Good City's own brews on tap. Personal-size pizzas, with toppings like cupped natural casing pepperoni and hot honey, are some of the best eats you'll find on the block.
Kitschy bar with Wisconsin written all over it
If you're not from Wisconsin and really want a funny souvenir for your hard-drinking cousin back home, head to Drink Wisconsinbly: it started as a pub in another area of the city, and jumped at the chance to expand and join the Deer District. The bar's got kitschy decor and an entire shop of stuff with various copyrighted slogans to buy. When you're thirsty, skip the bottled Old Fashioned served from a bubbler (that's our cool name for a drinking fountain) and order one that's been freshly made -- using their own DW-branded brandy, naturally.
Whiskey and craft beer tavern that serves a great brunch
Walk one block east of the Fiserv and Deer District, you'll find one of the most popular bar-hopping areas in the city: Old World Third Street. Oak Barrel Public House is one of the newer spots on that strip, and also happens to be one of the most low-key -- it'll still be hopping before and after events, as well as on Saturday nights, but you're not going to find any DJs here. Whiskey and craft beer are the big draws, along with a large food menu; if the free bacon fat popcorn isn't hitting the spot, the Kentucky fried bacon makes a great appetizer. This is also one of the best spots for brunch in the area, with bourbon bacon waffles and a breakfast burger with hash brown balls that are hard to resist.
Sausage-slinging beer hall modeled after Munich's own
Milwaukee's German heritage is strong, so many of us feel right at home at Old German Beer Hall. It's modeled after the Hofbrauhaus in Munich, down to the Hofbrau brews and radlers served in heavy glass liter and half-liter mugs. It's a great place for sharing food like giant soft pretzels with obatzter cheese spread or a platter of just about every Usinger's sausage and meat they serve along with sides like sauerkraut and spaetzle. Challenge your friends to a game of hammerschlagen, but preferably before your third liter of maibock.
Cheesemonger with a tap room
You've probably heard of our state's amazing cheese, and Wisconsinites' infatuation with it. To that end, there's a cheesy wonderland right near the Fiserv where you can browse our finest dairy and grab some to take home with you. The Wisconsin Cheese Mart has an overwhelming variety of choices, so let me suggest the Pine River Brick Spread, Hook's 5-year cheddar, and any fresh, squeaky cheese curds. Bonus: this place has a taproom where you can get flights of local beer, Old Fashioneds, a great Bloody Mary, and simple, cheesy foods like grilled cheese sandwiches and curated cheese boards.
Open-air pedestrian square next to the Fiserv
The Plaza is the official name for the square located between the Fiserv and the Deer District buildings, housing The MECCA, Good City, Drink Wisconsinbly, and Punch Bowl Social. During the playoffs, it becomes a raucous place to watch the game on the 40-foot screen that's hoisted at the north end of the space; all other times, it becomes an event space for things like a Bloody Mary festival, a Movies Under the Moonlight outdoor screening series, a Christmas market, and even early morning yoga and exercise classes during the week. If you're looking to take a selfie in front of those Bucksstatues, this is where you'll find them.
Multi-level adult playground with bars, bowling, games
Punch Bowl Social is a small chain that combines all kinds of activities into one giant "adult playground." The Deer District's location is spread over two floors, with multiple bowling alleys, private karaoke rooms with cheese decor, shuffleboard, bocce ball, arcade games, bar games… basically anything you'd possibly want to play while drinking. Initial reviews on the food are mixed, so plan to grab a bite elsewhere and then play the night away here with giant Scrabble and a glass of boozy punch or a mocktail from one of the many bars inside.
Historic sausage factory with 70+ varieties
The other foodstuff you probably associate with Wisconsin is, of course, Bratwurst -- and you can get that at Usinger's which, located right next to the Cheese Mart, makes this one of the tastiest blocks in the city. The business started in 1880 in this very same spot, and the retail shop's marble display cases and tile floors are all original. Pick up some fresh sausages on your way out of town or grab some summer sausage and snack sticks while you're here for noshing. Even the Brewers' famous announcing Bob Uecker recommends Usinger's.
Locally owned spice shop with Milwaukee-themed blends
Directly across the street from Usinger's is The Spice House, where you can buy fresh spices and spice blends. Founded in 1957 by Ruth and Bill Penzey (yes, those Penzeys) on Galena Street, they moved to this location on Third in the '70s thanks to the area's old world charm. A number of spice blends relate to Milwaukee neighborhoods or companies, like the spicy Milwaukee Iron named in honor of Harley-Davidson. Gift boxes like a collection of popcorn seasonings or specialty salts are great presents for parents who have everything else.
Second location of a local favorite brewery, with boozy tours
Located a couple blocks west of the Fiserv is Milwaukee Brewing. This recently opened second location is bright, spacious, and has a taproom, so it's exactly the opposite of its older sibling. Tours are $12 and run over an hour, taking you on the catwalks above the brewing equipment. It's a long tour, but don't worry: you get to drink beer the entire time, including the popular Louie's Demise and 9.2% ABV O-Gii imperial wit brewed with local Rishi Tea. If your samples make you hungry, Glass + Griddle (a greenhouse-like restaurant and beer hall) is located in the same building.
Downtown walkway along the water, dotted with art and bars
The Riverwalk runs on both sides of the Milwaukee River right through the middle of downtown, just a couple blocks east of the Fiserv. If you head south on the west bank of the river, you'll go through Pere Marquette Park, past the beautiful Milwaukee County Historical Society, and run into Gertie the Duck and her ducklings. On the east bank is the Marcus Center for the Performing Arts, its outdoor Peck Pavilion that hosts concerts and movies, and the infamous Bronze Fonz. All along the way, you'll pass restaurants and bars with patios on the river, making for an unusually scenic bar hop once you're ready to break away from the Deer District.
Sign up here for our daily Milwaukee email and be the first to get all the food/drink/fun in the Brew City.