Emmet Brown/Fresh Water Fishing Hall of Fame
A good road trip is basically an American rite of passage, and Wisconsin is one of the best states in the Union to embark on one… especially given that our state is totally full of wacky attractions and charmingly dubious "biggest [any object imaginable]" claims. Fortunately, only the flimsiest of excuses is needed for you to load your car up with friends and hit the road, and on that score, we've got you covered...
Mount Horeb
The little town of Mount Horeb, west of Madison, was settled mainly by Norwegians who brought their troll folklore with them. One Scandinavian gift shop on the main road through town started putting trolls out on their front lawn in the 1970s, and truckers took notice. When the highway was rerouted, the town decided to build up the "Trollway" to keep traffic coming through, and trolls popped up all over the place. Now the big-nosed, four-fingered statues do everything from play the accordion to steal chickens.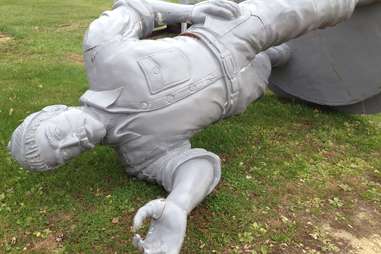 Sparta
For decades, the FAST Corporation (that stands for Fiberglass Animals, Shapes and Trademarks) has been creating fiberglass statues. All those hollow molds take up a lot of room, though, so when the company is done with them, it lines the old molds up in a field on its property. There they sit, abandoned and baking in the sun, where any Wisconsinite can probably recognize some of the molds from defunct Wisconsin Dells attractions.
Hayward
If the real record-setting muskies at the Fresh Water Fishing Hall of Fame and Museum in Hayward aren't big enough for you, just step outside. That's where "Big Musky" lives, and he's the largest fiberglass sculpture, and the largest fish, in the world (and, coincidentally, made by FAST Corporation). You can climb inside the four-story fish and emerge on the deck inside his mouth, where apparently you can also take perfect wedding photos. He's surrounded by oversized freshwater buddies like perch and bluegill.
Middleton
Wisconsin loves Germans, and Germans love mustard, so a Mustard Museum in Wisconsin is a match made in heaven. The founder, Barry Levenson, just decided to start collecting mustard one day in the 1980s, and has now developed a collection of 5,624 mustards from all 50 states and over 70 countries for visitors to gaze at. There's also mustard ads, antique mustard pots, mustard mascots, and of course, a gift shop where you can buy a million kinds of mustard and Wisconsin-themed gifts.
Baraboo
Coulrophobes, steer clear: the Clown Hall of Fame will be the stuff of nightmares for you. For those of us who find clowns a little weird but benign, this is a unique little stop near the Wisconsin Dells. Part museum and part archives, it's where you'll find everything there is to know about historical clowns. It's open by appointment only, however, so call ahead.
Kenosha
Chicagoans are very familiar with this one, as it's one of the final stops in Wisconsin to stock up on Spotted Cow and cheese curds before they get back home. It was moved years ago due to highway construction, but now it really is a giant castle, and fortunately, the original sign was kept and moved, so it still shines as a beacon of dairy products and beer from the freeway. Grab a grilled cheese sandwich, or take a seat in the tavern where cheese spread and Bloody Marys await you.
Athens
Fun fact: the precise center of the Northern half of the Western Hemisphere is in Marathon County. That seems a little convoluted, and it should probably be a geographical -- not geological -- marker, but we'll take what we can get in the middle of nowhere. If you end up visiting, stop by the Wausau Central Wisconsin Convention & Visitor Center to sign the 45 x 90 Club guest book, and get yourself a commemorative coin to boot.
Spring Green
Forget any of those "haunted" spot: House on the Rock is by far the creepiest thing in Wisconsin. So many kids (myself included) have memories of rooms of instruments that play themselves, giant sea creatures, dusty mannequins, and so many dolls... dolls in an orchestra, animatronic dolls, dolls riding a carousel, dolls with taxidermy... it's truly nightmarish stuff. Ironically, the Infinity Room, which juts out over a ravine with no supports, is supposed to freak people out, but it's really the least scary part of the whole place. Still, people enjoy riding the giant indoor carousel and gazing at a million Santas, so it's the most popular tourist attraction in Wisconsin.
La Crosse
Where but Wisconsin would the world's largest six-pack of beer be located? Originally painted Old Style by the G. Heileman Brewing Company, the beer storage tanks are now owned by the City Brewing Company. Though it's now a vinyl wrap instead of paint, the La Crosse Lager design allows beer fans to still gaze longingly at the tanks that hold 7,340,796 cans worth of brew. According to the very helpful sign, that would supply one person with a six-pack every day for 3,351 years.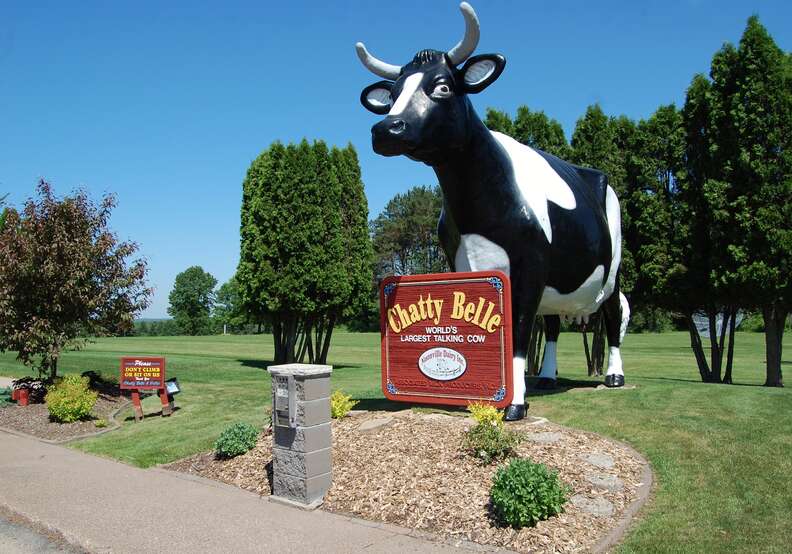 Neillsville
The world's largest talking cow (16ft tall and 20ft long) was named Chatty Belle by a first grader named Jody in 1967, and for her winning entry, she received what every good Wisconsin girl has always dreamed of: 100lbs of butter. Chatty Belle remains talkative, thanks to a coin-operated voice box, but she doesn't always work anymore.
Manitowoc
In 1962, a 20lb chunk of the Soviet satellite Sputnik fell into the middle of 8th St in Manitowoc. The spot is marked by a metal circle in the street, but the plaque is at the curb, where gawkers won't get run over. Naturally, residents mark this "momentous" occasion each year with Sputnikfest, a tongue-in-cheek party that includes an alien pet costume contest, the Miss Space Debris Pageant, and a Cosmic Costume contest. All that's missing is a Khrushchev look-alike contest.
Phillips
Fred Smith started creating his Concrete Park in 1948 at the age of 62. He was a tavern owner and a lumberjack, and when asked, he said he had no idea why he built the sculptures he did. Most are representations of people and animals, made out of wood, wire, and hand-mixed concrete. Before the concrete cured, Fred would decorate his art with whatever he could find, including beer bottles from his bar. There's over 200 pieces on the site, which is now a public park and a remarkable example of American folk art.
Sign up here for our daily Milwaukee email and be the first to get all the food/drink/fun in the Brew City.
Lacey Muszynski is a Wisconsin native who really, really hated those little coin-operated automaton dioramas at House on the Rock. Can you tell? Follow her on Twitter @worthhersalt.