How to Experience and Appreciate the Vibrant East African Culture in the Twin Cities
Steam rises from a cup of cardamom and clove tea. Fragrant fish curry bubbles. Meat kebabs sizzle next to a half-dozen flaky, golden sambusas. This doesn't sound like a typical meal you'd get in the Midwest, a region best known for hot dishes and casserole. But, in fact, this kind of cuisine is common in East African restaurants in Minneapolis, the new vanguard of global dining in the Twin Cities and the most visible element of a thriving immigrant community.
With Ilhan Omar making waves in the national political arena as the highest profile member of the state House of Representatives, it's time to acknowledge that, as a Somali-American from Minneasota, she is not an anomaly. For the last 30 years, a robust, diverse group of East African immigrants from Somalia, Eritrea, Ethiopia, and Kenya has happily called the Twin Cities home -- and their roots run deep.
"The next place to experience Somali culture outside of Somalia is definitely Minnesota," said Jamal Hashi, owner of Safari Restaurant and several other business ventures. "This is our home. A lot of us don't know anywhere else."
Why is there an influx of East African immigrants in Minnesota?
Snowy Minnesota might seem an unlikely destination for people born in one of the hottest, driest climates on earth. But a wave of east Afraican immigrants settled here as refugees after the Somali civil war started in 1991, placed by the U.S. State Department as part of the VOLAG program, in which voluntary organizations sponsor refugees for their first point of entry to the United States. Thanks to the strength of programs in Minnesota that help refugees resettle, most decided to stay and grow roots, and over the years have become an integral part of the Minnesota community.
"I immigrated, but there are a lot of kids who are now born in this country," says Abdirahman Kahin, founder of the enormously popular fast-casual fusion restaurant AfroDeli. "Right now those who are under 15 outnumber the older ones. Minnesota is very lucky to have those kids for the future."
It turned out the biggest hurdle was just getting started. The first restaurants operated the way they did back home -- written and printed menus were not available and customers had to ask what the kitchen had on hand to place an order. Many dishes utilized ingredients unfamiliar to diners born and bred in Minnesota. The experience could be intimidating. But, with a little organization and innovation, many concerns were quickly put to rest.
"I've had a lot of naysayers," Hashi said. "I wanted to make a fast casual to serve non-Somalis Somali food. Everyone was backing away. I believed in it anyway, and it was 98% non-Somalis who came to eat. Everyone said that Minnesotans don't like spicy food. What a lie -- it blew my mind."
"The next place to experience Somali culture outside of Somalia is definitely Minnesota."
Overcoming stereotypes in the Midwest
What used to be a few menu-less restaurants in the mid-'90s is now a thriving community with hundreds of eateries serving traditional East African food. Fusion dishes -- like African-spiced pastas, fast-casual gyros, Somali steaks, and spicy keke noodles -- are selling out in downtown skyway eateries. Retail outlets selling handmade clothes, halal meats, and bulk spices are in almost every urban and suburban area, and customers can even bargain for their prices just as they would in an open-air market back home.
These businesses have found great success with their Minnesotan neighbors thanks to their appeal as a unique cuisine that has approachable crossovers with familiar favorites like Indian or Italian food. As a former Italian colony, Somalia, in particular, makes its cuisine an approachable new fusion option with a twist; an apt parallel would be the way that French baguettes turned into banh mi in the hands of able Vietnamese cooks while Vietnam was still colonized. It also turns out that Minnesotans have a much higher appetite for spicy food and rich flavors than stereotypes would suggest.
"The food I'm making is for everybody, but the people I keep in mind most are people who have never had Somali food before," said Hashi. "That's what motivates me to stay in the industry."
Kahin has had the most high profile career of late through AfroDeli, a fast-casual restaurant that aspires to be the Chipotle of African cuisine. AfroDeli has been so successful that it now has three locations throughout Minneapolis and St. Paul, demonstrating the high demand for African food despite the stereotype that Minnesotans shy away from spice and flavor.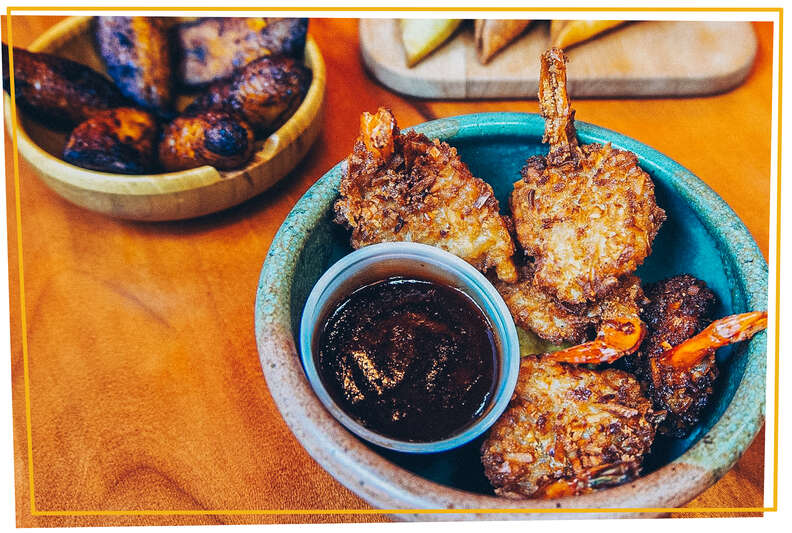 "Before I opened, a lot of people were saying that Minnesotans won't try spicy food or African food, but we proved them wrong," Kahin said. "Everyone is amazed how much business we have from the Minnesota community. I thought there was a way to serve this food to everyone, to the large public and package it in a way they can understand. African food is no different than Indian food or Chinese food or Mexican food."
Part of that success lies in the attention to dining trends and palates that both Hashi and Kahin have expertly navigated.
"There's a big shift in the last 10 years from fast food to fresh ingredients, organic food, healthier food," Kahin said. "The spices East African cuisine uses are the healthiest -- like cardamom, turmeric, ginger, cinnamon, which all help fight disease. We use a lot of organic and buy from local farmers when we can. Our meat is halal, so is killed humanely. We have only one freezer at the store for French fries. You can't find a single microwave in our restaurants."
"Before I opened, a lot of people were saying that Minnesotans won't try spicy food or African food, but we proved them wrong."
In his nearly 20 years in business, Hashi has also seen big changes.

"People are more educated about what they eat and you don't have to advertise thanks to Twitter or Yelp," Hashi said. "It's a great advantage. The key has been providing an amazing experience that will translate to a new loyal customer. The level of palates have changed, the generations have changed, and for the better. As a chef, nothing remains the same."
The next generation continues to share their East African story
Especially exciting are younger members of the community, who are bringing new technology and awareness to the East African experience. This includes the Minneapolis-based restaurant review and payment app Tavolo; the Top Figure podcast, revolving around entrepreneurship and innovation in Minnesota; and local artists like Ifrah Mansour, whose heartbreakingly funny performances provide a respectful, open place for the community to share their experiences.
"My art is inspired by my lived experiences and that of Muslims and refugees, particularly the diaspora community," Mansour said. "This means that my art speaks to the experience of what it means to be American and an immigrant refugee Muslim woman, and all of the complexity that comes with that."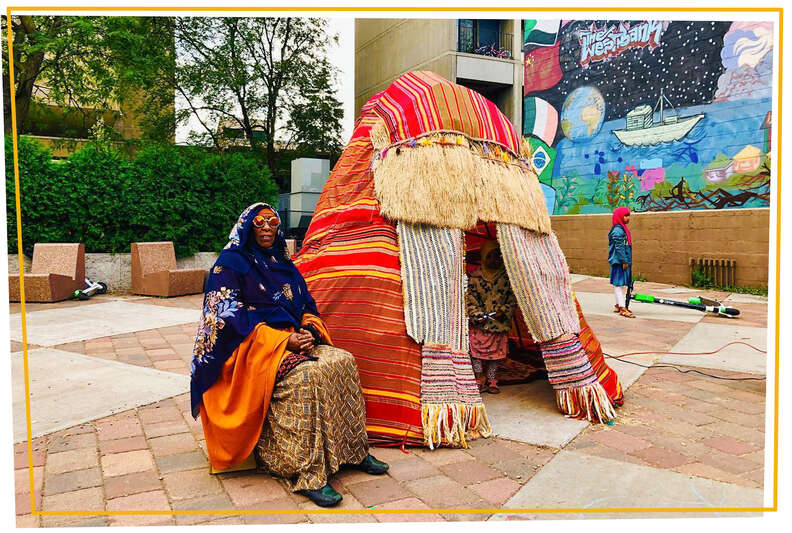 Mansour has partnered with some of the most vaunted arts and cultural institutions in the state, including the Guthrie Theater, Children's Theater Company, Minnesota Historical Society, Walker Art Museum, and the Minnesota Institute of Arts (MIA). She has also been especially active in fighting the message that the refugee community is a burden, as has Kahin who testified before Congress in defense of their economic contributions.
There are plenty of examples of those contributions in the Twin Cities -- like the monthly profits that Kahin reinvests into his community, the vital conversations and talkbacks Mansour has led, and the resources and research that Hashi has compiled to publish a book about Somali history. No matter the avenue, this resilient community is committed to embedding even deeper into the fabric of the United States.
"Especially the last two years, there has been a lot of talk about immigrants and how we take jobs," Kahin said. "I want to go against that narrative, telling the truth that we are creating jobs and adding value to the economy and to the market. We are expanding with the U.S. businesses. We are an asset, not a liability, to the economy. They all agreed, Republican and Democrat, that immigrants are a vital part of small business in America."
Restaurants, museums, and markets to experience the East African community
Phillips West, Minneapolis
The restaurant that introduced Somali food to the U.S.
One of the first Somali restaurants in the United States, Safari created several iconic dishes that have now become menu stalwarts around the globe. Top recommendations include the chicken fantastic, a revelatory interpretation of Somali pasta; the roasted goat cutlet, a traditional dish with flavorful goat meat; or the foule mudammes, an appetizer of steamed tilapia with spinach and savory olive oil.
Midway, St. Paul
Cozy spot setting the standard for Ethiopian and vegan cuisine
This legendary stop at the corner of Snelling and University is many people's first exposure to East African cuisines. A pillar of the Ethopian dining scene, it's also an excellent spot for vegan and vegetarian diners who struggle finding good options in group settings. There isn't a bad dish here -- go for any of the sampler platters to try a little bit of everything.
Downtown Minneapolis and Downtown St. Paul
Fast-casual African food that you won't be able to stop ordering
This African fusion fast-casual restaurant is taking over skyways throughout the Twin Cities. You can't go wrong with any dishes, but the gyros and sambusas are second to none. Go big or go home with the full veggie platter, which is an incredibly satisfying meatless option. And make sure to stop by the new downtown Minneapolis location opening this September, the first time AfroDeli is making it to the heart of the west side of the Mississippi.
Midtown Phillips, Minneapolis
A local institution that provides a 101 introduction to the history of Somalis in Minnesota
With more than 700 pieces in all, this is the one-stop shop for learning about the traditions and arts stemming from the Somali diaspora. The museum, where Mansour is a resident artist, is universally recommended as a safe, approachable place to learn about this community.
Downtown St. Paul
A fascinating look into firsthand accounts from East African people's perspective
MHS is the largest local historical society in the United States. They recently partnered with members of the Somali and Oromo ethnic communities to record their stories and compiled an exhibit, which closed in June. But there are still plenty of Somali artifacts and educational resources at MHS -- and one visit will leave you thinking about their profound stories.
Cedar-Riverside, Minneapolis
An innovative resource for African immigrants for finances, art, and more
The ADC's visionary leadership has transformed the East African community, providing loans, meeting space and organizational help for fledgling organizations, as well as important educational services for recent immigrants. ADC fills the gap left by dwindling governmental funding and provides vital services to immigrants from many parts of Africa.
Cedar Riverside, Minneapolis
A friendly performance space with an awesome happy hour
With ongoing live music, a wicked happy hour, and a large dance floor are just a few reasons to love the Red Sea. It also has a deep reservoir of affordable Ethiopian cuisine for vegetarians and carnivores alike. Make it a part of a tour of the Cedar Riverside neighborhood, where many of the Somali and Oromo community members are concentrated.
Whittier, Minneapolis
A must-stop for an authentic Somali tea and shopping experience
No trip through the East African experience is complete without a stop at this sprawling shopping mall that feels like a microcosm of Somalia's rich cultural traditions. A host of specialty imported goods you can't find anywhere else -- including prayer rugs, spices, and handmade clothes -- are available under one roof. Make sure to pick up some Somali tea (reportedly among the best in the Twin Cities) when you stop by.
Sign up here for our daily MSP email and be the first to get all the food/drink/fun the Twin Cities have to offer.
Becki Iverson is a Thrillist writer and an ardent lover of the Twin Cities. You can follow her wide-ranging passions on her blog, Compendium, or on social media on Instagram @beckiiverson or Facebook.