Montreal's top five poutine joints
Trying to narrow down Montreal's best poutine places to a list of five is almost impossible, partly because the quality is so high, and partly because trying all of them will likely kill you. Making your heart race, in both good and bad ways, our top five curd-chow-houses:
5. Garde Manger 408 Saint-François-Xavier; 514.678.5044
Head chef Chuck Hughes loves lobsters (he has one tatted on his arm), and his lobster poutine is the poutine that won Iron Chef America 2011, basically flaying Bobby in the process. It's so famous that foodies around the world actually plan their trips to Montreal around it, and you will find it at his resto, hidden down a side street of Old Montreal.
4. The Green Spot 041 Notre Dame W.; 514.932.2340
Affectionately referred to by locals as the "G-Spot," this '50s-style greasy spoon has 27 different poutine available, though ask the waitress, and she'll recommend the Reine Gadboi -- it's topped with onion rings and chopped-up pogo sticks (which are just corn dogs that've jumped across the border).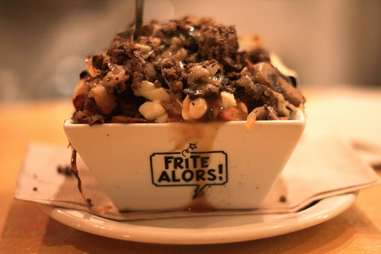 3. Frite Alors; Several locations across Montreal
There are 8 styles of poutine to choose from at this fry-house, including a hearty sucker topped with steak, 'shrooms, and fried onions. The thing that really makes it, however, is their selection of 17 different sauces to dip the fries in. And in case you were wondering, those fries are trans-fat free! Phew!
2. Au Pied de Cochon; 536 Duluth Est.; 514.281.1114
Proving that high-end restos can get into the game too, Au Pied de Cochon is throwing out foie gras poutine, which is every bit as delicious as it sounds, though because duck liver is expensive, you'll have to hand over a few bills of your own.
1. La Banquise 994 rue Rachel Est; 514.525.2415
Any list that doesn't include La Banquise shouldn't be taken seriously. This classic greasy spoon is open 24/7 and boasts a menu with over 30 varieties of the good stuff to choose from, including La Taquise, which's taken to the next level by sour cream, tomato, and guac. But if you're sparing no expense, the real star is La T-Rex: a massive, meat-laden number topped with ground beef, pepperoni, and bacon.
Sign up here for our daily Montreal email and be the first to get all the food/drink/fun in the City of Saints.