Montreal's best digs for your work, play, and pleasure
Ah, Montreal… the local delicacy may be served on a bed of french fries, but (un?)fortunately, you can expect to stay on something a little downier. So whether it be for business, pleasure, or good ol' fashioned romance, we've got you covered with this list of the city's best sleepers:
Montreal Marriott Chateau Champlain
Hotels that work it... for business!

Marriott Château Champlain Hotel1 Place du Canada
Located in the heart of the downtown business sector of the city, the Marriot Château Champlain Hotel is ideally located for business peeps. The half-moon windows of the Deluxe rooms make the building stand out in Montreal's skyline, leading some to nickname it the "cheese grater building". It's a great place for well-seasoned travelers.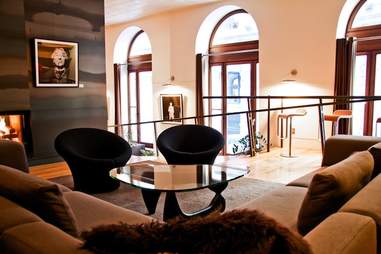 Hotel Gault
Hotel Gault449 Rue Sainte-Hélène
The stunning façade of this five-story hotel (built in 1871) is offset by the modern & minimalist design of the building's interior. Cutting edge amenities include flat screen LED's, blu-ray players, & even 3D tv's.
Hotel 10
Hotels for having a Montre-ballin' time

Hotel 10 (formerly Opus) 10 Sherbrooke Street Ouest
Hotel 10 is at one of the most exclusive intersections in the city, located on the corner of Saint Laurent and Sherbrooke. The super-sleek boutique offers personalized concierge service, in-room massages, a 24-hr gym, and room service. Before you head out for the night, dine in their trendy KOKO resto, which'll KO your tastebuds w/ its seafood fettucini. Make sure to check out their sweet rooftop terrace.
Hotel Chez Swann
Hotel Chez Swann1444 rue Drummond
Hotel Chez Swann aims to add a slightly trippy aspect to your trip; each one of the 23 rooms is styled with its own unique art-driven twist.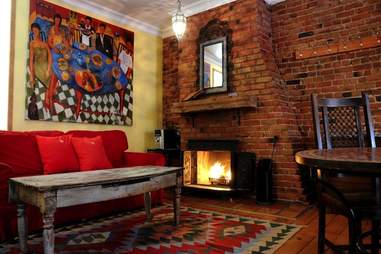 Katherine Sehl
Get your romance on

Auberge Les Bon Matins1401 Argyle Ave.
This mad-romantic spot is just a short walk from the downtown attractions and charm of Old Montreal and brings you canopy-draped beds, soft carpets, personal fireplaces, and in-room Jacuzzis.
Pierre du Calvet405 rue Bonsecours
Just off of one of the many cobble-stoned, lantern-lit, horse and carriage-trodden roads of Old Montreal is the impressive Pierre du Calvet. Their rooms are decadently furnished with mahogany canopy beds, antiques, and fireplaces. Not romantic enough? You'll also find an ornate, baroque-style library, an outdoor terrace, a salon, and a Victorian greenhouse, which stays cozy rain or shine.