Montreal's McGimpsey shares how to act and eat like a local
There aren't too many things that Montreal native David McGimpsey hasn't mastered. On top of being a totally successful musician, comedian, and author of acclaimed books (incl. Sitcom and Li'l Bastard), he's also an avid foodie who knows exactly what you should be puttin' in your mouth when you're in Montreal. We broke some bread with the multi-talented man himself and got a rundown of how to get the most from your Belle Ville experience: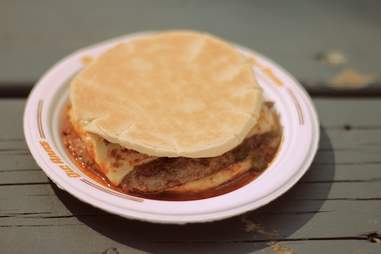 Favorite Restaurant
Dic Ann's Hamburgers. Pretty working-class stuff, and not celebrated like poutine or smoked meat, but still unique to Montreal. They're these tiny hamburgers pressed really flat and they use a weird Swiss steak sauce on them. You need a popsicle stick to lift it up! They might surprise people looking for American-style hamburgers because they're not that. Higher end, I like Moishes Steakhouse. Not contemporary at all but still excellent.
Best Cheap Eats
I go to Wilensky's all the time and I love that place. I also go to Punjab Palace a lot. Their mulligatawny soup is one of the best soups in Montreal, and I kind of have an obsession with soup. I also go to Dilallo Burger. They have a burger called a "Buck Burger", which I guess started back in the 70s. You can use the price of a burger to see the rate of inflation in Montreal; it's still cheap, but now it's probably like $4.25 or something.
Best Breakfast
La Binerie. The baked beans there are insanely delicious. It's the very foundation of Quebecois food, historically speaking, but they're the only place that makes those classic Quebecois dishes. They do breakfast so well, and it's remarkably inexpensive.
Best Late Night Grub
A Chinese restaurant called La Maison V.I.P. in Chinatown, off of Clark and LaGauchetiere. Classic Cantonese food, good chow mein, BBQ duck -- always open late.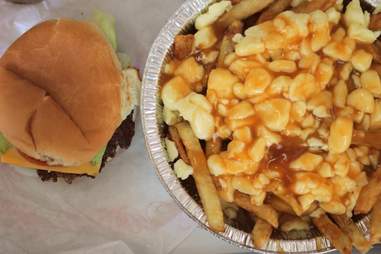 Best Poutine
Chez Philippe. Their poutine is amazing, and they've also got a really great hamburger made with fresh meat they grind on the premises.
Best Smoked Meat
Schwartz's. Anyone who says anything else is just ridiculous. It's clearly the best. Order medium. Only a terrible rookie would order the smoked meat sandwich lean.

Best Hot Dog
Decarie Hot Dog. That place is amazing and their fries are so good. I'd even say they have the best French fries. I mean, just a plate of fries!

Weirdest Food
Montreal is not as good for weird food as one might imagine. I think the absence of food trucks and outdoor counters has a lot to do with this. The salad at Ty-Briez may be a little weird -- appearing almost like a whole head of lettuce -- but it is delicious!
Best Place to Watch a Sports Game
Pub Laurier. But only if it's the Habs.

Best Dive Bar
Verres Stérilisés on Rachel Street and La Petite Idée Fixe on Park Avenue.

Best Brasserie
Brasserie Capri in Pointe-Saint Charles. The food is great and it represents what Quebec culture feels like to me: working class, mercifully unpretentious, friendly, and absolutely comfortable.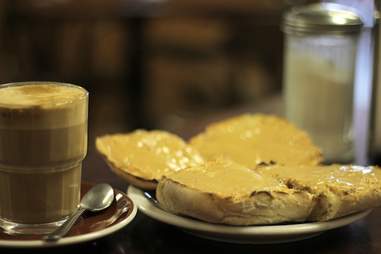 Best Coffee
Olympico and Caffè Italia. I like Caffè Italia the best. They also have my favorite sandwich in Montreal and that sandwich is just a peanut butter sandwich on toasted Italian bread. Having a latte and that sandwich there is just heaven.

Best Comedy Club
ComedyWorks on Bishop Street. But, I also love the brave pioneers who shepherd the floating stages that appear suddenly in Portuguese restaurants and abandoned buildings.

What would you say are Montreal's unofficial food groups?
Poutine, smoked meat, and steamed hotdogs. Hotdogs and French fries were, to me, always the soul of Montreal cuisine.
If you have a free afternoon..
I would go for a long walk. The best walk you can take in Montreal -- and I'm a fan of epic walks -- is the entire length of St. Laurent. Takes about 5 hours with stopping and eating in different places.


If you could take a Montreal food item into space...
It would have to be the Wilensky's special. It's a pressed sandwich. I don't know a better way to call it other than a "Jewish Panini." It's got salami pressed into an onion bun and it always comes with a pickle. It's always got mustard too. It'd be a shame to not take the soda fountain into space though...
Photos: Katherine Sehl
Best Street
Ontario Street. That's like the heart of the traditional east end of the city.