The 8 coolest restaurants in Montreal
If the French do one thing right, it's food, and if the French Canadians do one thing right, it's taking that food and adding gravy to it. Known as one of Canada's culinary capitals, Montreal boasts a pretty large offering of eateries, so we've taken that offering and handily narrowed it down to this choice selection:
1) Au Pied de Cochon536 Duluth Est; 514.281.1114
A cult favorite for locals & tourists alike, their artery-clogging foie gras poutine is served in an amazingly unpretentious, casual, and friendly atmosphere. Be prepared to adjust your belt a couple notches after you chase it down with one of their maple syrup shakes; probably the name of the condition you'll develop afterwards, too.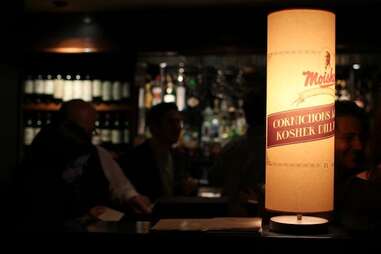 2) Moishes3961 Boulevard Saint Laurent; 514.845.3509
Named by Forbes Magazine as one of the top steakhouses in the world, Moishes has been a fixture in Montreal's gastronomic scene for 70+ years, thanks to its unique mix of beef & Jewish deli staples (everything from T-bones to latkes!). They've served the likes of everyone from Hulk Hogan to the former Pope John Paul II, and's the perfect place to increase your own mass.
3) L'Express3927 Rue Saint-Denis; 514.845.5333
This traditional-style French bistro epitomizes Parisian cool w/ its black & white checkered tiles, white linen tables, and devilishly good-looking and well-dressed wait staff. Enjoy classic French cuisine in style and then take in the infamously seductive nightlife of rue Saint-Denis. Also? You get an entire jar of pickles with your meal.
4) Le Boucan1886 rue Notre Dame Ouest; 514.439.4555
Located just outside of all the hoopla of downtown in the heart of Little Burgundy (congratulations Ron!), this cozy smokehouse boasts a special wood chip smoking technique for melt-off-the-bone ribs & chicken, topped w/ a famed house BBQ-sauce. Follow it all with their bacon brownie -- that's right, there's meat in the desserts too.
5) Labo Culinaire1201 Boulevard Saint Laurent; 514.844.2033
This aptly named culinary lab is on the top floor of the Société des Arts Technologiques (a hub for digital arts culture); the glass-walled building is surrounded by flashy LED sidewalk lights & topped with a huge white dome known as the Satosphére. Take your experience to the next-level on one of the best rooftop terraces in the city.
6) Kazu1862 St. Catherine St. Ouest; 514.937.2333
Even in the deep dark depths of Montreal winter, there is always a line outside of this cozy Japanese izakaya. This nationally ranked restaurant is well worth the wait for the best ramen in town or a drool-worthy shrimp burger.
7) Joe Beef2491 Notre Dame Ouest; 514.935.6504
Named for Charles "Joe Beef" McKiernan (an Irish-born, no-nonsense military man & 19thC Montreal working-class hero), this classic steak & seafood joint takes local Quebecois ingredients and turns them into belly-warming comfort food. When you're done here, make the inebriated crawl across the road to Burgundy Lion Pub, where keeping your pride may become a challenge.
8) Garde Manger408 rue Saint-François-Xavier; 514.678.5044
Down an inconspicuous cobblestone street in a nondescript building in Old Montreal, Garde Manger hides behind an unmarked door and black curtain. The restaurant has made its way onto food fanatics' maps, especially after its celebrity-chef and owner Chuck Hughes roasted Bobby Flay on Iron Chef America with his delicious lobster poutine.