Advertiser Content From

10 Restaurants That Prove Cincinnati Is an Underrated Food Destination
From Southern-inspired biscuits to homemade tortillas.
Advertiser Content From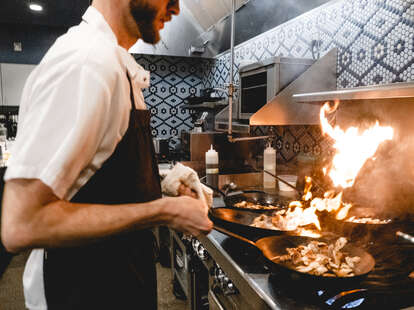 Mita's.

| Aidan Strasser.
Mita's.

| Aidan Strasser.
If you're under the impression that Cincinnati's culinary chops are limited to its famous cinnamon-spiced chili and its German-inspired meats, think again. Recently named one of America's next great food cities, the Queen City is teeming with fine dining institutions, uniquely innovative restaurants, and atmospheric establishments from award-winning chefs. Whatever you're craving, be it freshly-made tortillas, an Asian fusion dish, or something else entirely, Cincy's dining scene has something for you. Below, we've rounded up some of the hottest spots in the city (and some just over the river in Northern Kentucky) that make the Cincy region worth a visit.
Mita's Bar de Tapas
Mita's, the second restaurant and brainchild of acclaimed James Beard Award-nominated chef Jose Salazar, pays tribute to his Colombian grandmother (affectionately known as "Mita"). In the heart of downtown Cincy, Mita's alluring ambiance and farm-inspired menu celebrate the culture and flavor of Spain and Latin America. Blending traditional and contemporary cuisine, the restaurant serves up dishes like tapas, ceviche, cured ham, and mouthwatering paella. And for wine aficionados, the restaurant offers a curated selection (including some wines aged in locally-sourced oak from the Ohio River Valley.) Top off your dining journey with a house-made sorbet, ice cream, or natilla de maize, a sweet corn custard with peaches and Marcona almonds.
Nolia Kitchen
At Nolia Kitchen, located in the historic Over-the-Rhine neighborhood, restaurant-goers get the best of both worlds: Midwestern charm and classic Southern flavors. Inspired by his upbringing in New Orleans, Chef Jeff Harris transports diners to the Deep South with imaginative and unconventional twists on gourmet peel-n-eat shrimp, marinated crab claws, buttery skillet cornbread, and crispy fried green tomatoes. (There are also tasty desserts on offer, like cheesecake and artisanal popsicles.) Earlier this year, the restaurant was named a finalist for the James Beard Foundation's Best New Restaurant Award alongside several eateries in cities with top-notch culinary scenes like New York and Washington, D.C.
Cafe Mochiko
With its selection of Asian-American pastries and delicacies, Cafe Mochiko will satiate any sweet tooth. Owned by chefs Elaine Uykimpang Bentz and Erik Bentz, the café (fondly referred to as Mochiko by locals) serves up imaginative pastries like the fan-favorite everything cream cheese bao, a soft bun with cream cheese filling and everything bagel spice. If dinner is more your speed, Mochiko offers a range of dine-in-only dishes like fried soy-marinated chicken thigh drizzled in karashi mayo. In 2022, Mochiko was named one of the 50 best new restaurants in the country, and in 2023, Chef Elaine Bentz was nominated as a finalist for the James Beard Award for Outstanding Pastry Chef or Baker.
Meritage
Nestled in the charming village of Glendale, Meritage Restaurant's quaint ambiance sets the stage for a memorable dining experience. The restaurant takes great pride in crafting each dish from scratch, from the salad dressings to desserts made from local ingredients. The menu boasts an array of options like fresh seafood, hand-cut steaks, specialty sandwiches, and a diverse assortment of crisp, flavorful salads, including the Meritage salad with candied pecans, Brie, and pear.
Bouquet Restaurant
Just across the Ohio River, you'll find a uniquely local dining experience at Bouquet Restaurant in Covington, Kentucky. Chef Stephen Williams opened Bouquet as one of the first restaurants in the area to embrace local and sustainable farming, the restaurant has since nurtured deep relationships with more than 50 local farmers, which allows for a constantly evolving menu inspired by the seasons' freshest ingredients. You can dine on a selection of charcuterie, desserts, and entrees like pork tenderloin, along with sampling its extensive bourbon collection, too.
Kiki College Hill
Kiki College Hill owners and husband-and-wife chef duo Hideki and Yuko Harada have a simple mission: Serve up food that they actually want to eat. After meeting at the Tsuji Culinary Institute in Osaka, Japan, the couple wanted to bring their favorite Japanese dishes to the Cincy region. The resulting Kiki, located in the up-and-coming Westside neighborhood of College Hill, offers an array of authentic Japanese cuisine including housemade kimchi, seaweed salad, pork gyoza, and poke bowls. Don't leave without trying the delectable Japanese desserts made with seasonal local fruits and matcha.
Boomtown Biscuits
Also just over the river in Union, Kentucky, Boomtown Biscuits & Whiskey elevates comfort food with a contemporary take on classic American frontier food like biscuits and gravy. Menu highlights include plates like Gold Fever (Buffalo mac 'n cheese paired with fried chicken, blue cheese, and bacon) and the New Saddle sandwich, with French toast biscuits, braised short rib, and an ancho barbecue sauce. Diners can pair those traditional comfort food dishes with a noteworthy selection of top whiskeys, including plenty of locally-distilled ones.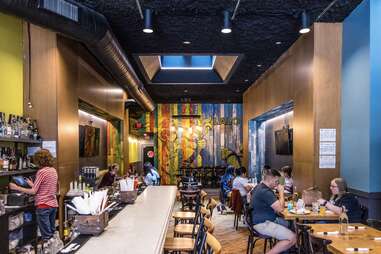 Lalo
Located in the heart of downtown Cincy, just a stone's throw away from Court Street Plaza, Lalo is a dining gem where the best flavors of Latin and Asian food harmoniously unite. Born from the rich cultural heritage of its owners, who hail from both Latin and Asian backgrounds, Lalo's menu is a delightful blend of family recipes, culinary creativity, and heartfelt imagination. As a part of the esteemed Cincy-based culinary lab Huit Group, which is known for its innovation in Asian and Asian fusion cuisine, Lalo takes pride in serving metro-area diners its signature Chino Latino-inspired fare like fire-roasted elote coated with sriracha mayo and queso fresco or its mango lime shrimp.
Tortilleria Garcia
Tortilleria Garcia owner Omar Garcia spent his childhood on a corn farm in Michoacan, Mexico, where, in the aftermath of each harvest, his family would come together to transform the corn into masa (the essential dough for crafting authentic tortillas). It was within this nurturing environment that Omar's mother and grandmother imparted the family recipes that now form the heart and soul of Tortilleria Garcia. Embracing their love for fresh, wholesome food, Omar now shares this tradition with anyone who walks through the doors of his three Cincinnati restaurants located in the neighborhoods of Springdale, College Hill, and Mason. Whichever one you visit, be prepared to fall in love with the enchanting aroma of freshly made tortillas and authentic Mexican cuisine like tamales and tacos.
Quan Hapa
Quan Hapa, an Asian fusion gastropub located in Over-the-Rhine, underwent a complete transformation a few years ago (under the guidance of the Cincy-based Lang Thang Group) to add a brand-new dining room, expanded patio seating, and a refreshed menu. It now boasts crowd-pleasing dishes like its famous Korean fried chicken wings, ramen, hand rolls, and okonomiyaki. Stop in for dinner or for happy hour from Tuesday through Saturday, where you can also sample the restaurant's extensive list of drafts on tap.