Shutterstock
Shutterstock
The most beloved treasure in the southeastern United States is just three hours east of Nashville. No, we don't mean Dolly Parton (she's not always in Tennessee). We're talking about the Great Smoky Mountains -- a mountain range so vast and breathtaking, its legacy is baked right into the name. Settled along the Tennessee-North Carolina border, the majority of the Great Smoky Mountain range is national park territory, and when you factor in surrounding cities like Pigeon Forge and Gatlinburg, you give your trip to the Smokies the range to include a challenging hike one day and a messy barbecue feast the next. In the Great Smoky Mountains, your Instagram posts will outshine even the most opulent weddings or baby showers -- they might even make your ex think you've finally tapped into your outdoorsy side. Here's every must-see, must-do, and must-attempt-to-hike activity in the Great Smoky Mountains.
Zipline 50 mph through the Smokies
800 Legacy Vista Dr, Sevierville, TN
As previously mentioned, hikes aren't for everyone. If you prefer to fly directly through breathtaking scenery without exerting much physical effort, ziplining through the Smokies just might be for you. Legacy Mountain Ziplines offers a few ways to see the range, including seven lines to fly from, and rope bridges to take in the scenery at a more leisurely pace. Plus, if you're traveling as a family, kids as young as 3 can participate through tandem zip lining. With 4.5 miles of lines up to 500 feet high, you'll be able to cover a lot of ground -- well, air -- by touring the Smokies via zipline. Don't forget to strap on a GoPro camera for your flight; nothing induces FOMO like a bird's eye view of the Smokies.
Sugarlands Distillery
805 Parkway, Gatlinburg, TN
For those looking to taste some Smoky Mountain-made moonshine, head to the Sugarlands Distillery. Here you can see how Tennessee rye whiskey is made, get inspired to make some moonshine of your own, and even try one of several guided experiences -- like the Blended Cocktail Tour or the Distiller for the Day Workshop. What's most important is that you leave with some goods, and Sugarland offers tons of exotic moonshine flavors to bring home. Blueberry Muffin or Maple Bacon, anyone?
Climb to the top of Clingmans Dome Observation Tower
Turn off Newfound Gap Road 0.1 mile south of Newfound Gap and follow the 7-mile-long Clingmans Dome Road for parking
When visiting the Smokies, it's essential to get a view from the top -- and at 6,643 feet, Clingmans Dome is the highest point in the entire park. Since unsteady hikes aren't quite for everyone, the national park service made getting to the top (relatively) easy in 1959 by building the 45-foot-high Clingmans Dome Observation Tower and ramp. The concrete observation platform offers 360° views of the Smokies, and is accessed by a steep (but paved!) 375-foot spiral ramp. It's free to access, and it's open year-round, but the road leading up to it is closed from December 1 through March 31 -- and when inclement weather calls for it. During the winter months, the brave can tackle a strenuous seven-mile hike (each way) along Clingmans Dome Road or the Appalachian Trail from Newfound Gap if they'd really like to see it (which is a no-brainer for the snow-capped mountain photos alone). Just check the park website for live updates. For safety reasons, bikes, pets, and wheelchairs are not permitted on the path.
Take a drive down Newfound Gap Road
23 miles south of the Pigeon Forge Parkway
Another way to take in the Smoky Mountain views is by car -- specifically a drive through Newfound Gap Road. The roadway -- which stretches 31 miles between Gatlinburg, Tennessee, and Cherokee, North Carolina -- is the lowest drivable pass in the park, with an elevation of 5,046 feet. Not only is Newfound Gap Road the only way to drive straight through the park's center, but the path is surrounded by lush, fragrant woodland including pine-oak, evergreen spruce, and cove hardwoods. Basically, it's an enormous air freshener. Pro tip: If you have time, pack a picnic and take it slow. People seldom get to be surrounded by scenery quite like this.

Dolly Parton's Stampede
3849 Parkway, Pigeon Forge, TN
The Queen of Country truly never takes a break from entertaining -- even when she's not doing it herself. Her legacy has spawned several attractions in the Smoky Mountains, including the ever-popular Dolly Parton's Stampede. But there are no power ballads at this Pigeon Forge dinner show. Instead, hosts and performers ride around the 35,000-square-foot arena on live horses singing bluegrass and country, while the audience enjoys a four-course meal and tries not to get barbecue sauce all over their phones and cameras while recording the magnificence. Dinner options include rotisserie chicken, barbecued pork loin, hot buttered corn on the cob, creamy vegetable soup, and tons more. With shows literally every day of the week, you really have no excuse to miss out. Just think how disappointed Dolly would be.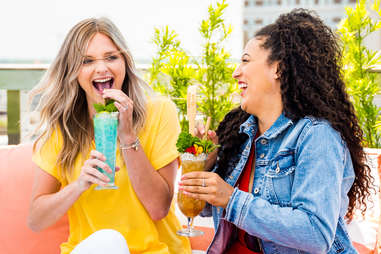 Why are you longingly reading this article instead of taking a vacation yourself? Hotels.com thinks it should be you getting the hate-likes on Instagram, not "David from work," and they want to help. Every time you book with Hotels.com, you get a Stamp, which goes toward a free night's stay at thousands of properties around the world. The more Stamps you get, the more free nights you get, and the more your trip to Belize is jealously whispered about at the office. Book now and let the hate-likes roll in.
Swing through the trees at Anakeesta Theme Park
576 Parkway, Gatlinburg, TN
Dollywood isn't the only theme park in the Smoky Mountains. Newcomer Anakeesta opened in 2017 and has been providing treetop thrills ever since. The outdoor theme park honors its surroundings with attractions built around the existing mountains and trees, giving guests a chance to fully immerse themselves in the Smokies (while most likely screaming their faces off). The park includes a mountain coaster, enclosed flying gondola, and more -- but its biggest draw is the Tree Canopy Walk. A series of 16 connected sky bridges connected by observation platforms, participants can stroll 40-60-feet above the forest -- if they're brave enough.
Delauder's BBQ
1875 East Pkwy, Gatlinburg, TN
It doesn't matter where you are in Tennessee, you can't leave without getting your hands and taste buds on some barbecue. In the Smoky Mountains region, a fan-favorite is Delauder's. Now, it might not seem like much from the outside, but that no-frills appearance is typical of a barbecue joint that focuses on the food. There's no need to fuss over decor when customers will be completely buried in a plate of world-famous ribs anyway. Now, Delauder's focuses on pulled pork -- served nearly every way imaginable. Try the "Sneaky Pig," pulled pork topped with Delauder's award-winning habanero sauce, sweet onion, and lettuce, or the "Smoky Mountain Slaw Dog," an all-beef hot dog topped with sweet jalapeño mustard, pulled pork, and slaw.
Visit one or all of the Ripley's museums
800 Parkway, Gatlinburg, TN
No one is as obsessed with life's strangest facts and figures as American cartoonist and entrepreneur Robert Ripley was -- well, except maybe the people of Gatlinburg. The city has not one, not two, but seven museums or attractions featuring over 500 oddities. At the main museum, Ripley's Believe It or Not! Odditorium, families can gaze upon artifacts like shrunken heads and taxidermied animals. Those looking for something a little less… dead... can opt for a different venue, like Ripley's Mirror Maze. It features an infinite number of reflections, thousands of ways to get lost, and only one way out. Sounds like a nightma-- a very good time.
Cool off at Laurel Falls
4.5 miles west of the Sugarlands Visitor Center, along Fighting Creek Gap Rd
Named after the mountain laurels that grow in the Cades Cove region, this 80-foot waterfall is one of the most popular attractions in the Great Smoky Mountains National Park. The waterfall consists of an upper and a lower section, with a natural flat base dividing the two -- and making for a pretty great photo spot. The waterfall is accessible by trail, but parking at the trailhead is particularly limited -- making it seem even more crowded and buzzworthy during the hot summer months. Word of caution: Black bears are often seen in this area (it is the mountains after all). Look up proper bear safety to avoid a Goldilocks situation.