Before the soreness even works its way out of our post-vax arms, we're already itching to hit the road and see something besides our own four walls. But there are still some benefits to booking private lodging instead of leaping into the deep end of the hotel pool. The area in and around Nashville is replete with Airbnb options where the property itself is worth a visit. Whether you're seeking an urban oasis or want to get out in the country for some fresh air and solitude, Airbnb hosts have spent the pandemic prettying up their properties, and they're ready to hand you the keys or the code to the front door for an enjoyable stay. So log in, book it, gas up, and get there.
Joelton
Up to 5 guests, $205 per night
Distance from Nashville: 22 minutes by car
"Greeeeen Acres is the place to be" at this lovely property surrounded by 96 acres of farmland and cattle pastures. Stroll the grounds to enjoy the water views of a pond and even a waterfall, and pick up a few sticks on your stroll to fuel the fire pit for a little fun after dark. This barn comes complete with a steam shower, a full kitchen, and a placid covered patio.
Things to do nearby: Go fishing at the public Marrowbone Lake where you can rent canoes to get to where the big fish live or glide through the trees at Adventureworks Zipline Forest at Fontanel.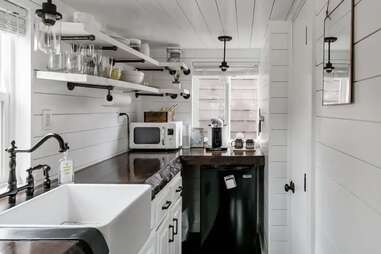 South Nashville
Up to 2 guests, $119 per night
Distance from Nashville: 10 minutes by car
This precious petite treat is perfect for a couple seeking a little privacy near the urban core. Whip up some food and drinks in the convenient kitchenette and then tuck yourself in for a night's sleep in the queen bed in the cozy loft. Outdoors amenities include rocking chairs, a hammock, a grille, and a communal fire pit.
Things to do nearby: Go on an international food crawl on Nolensville Road, the city's most diverse strip of Asian, Kurdish, African, Medditeranean, and Central American restaurants or walk and talk with the animals at the Nashville Zoo.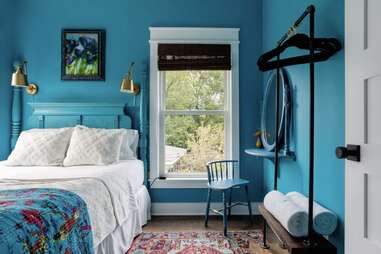 Music Row
Up to 4 guests, $239 per night
Distance from Nashville: 5 minute drive from downtown
A stay at Poppy House is like spending the night in an art gallery, with its bold jewel-toned decor, paintings, and photos hanging all over the house and outdoor furniture that could pass as a sculpture garden. A pathway through lovely gardens leads to a private patio where you can enjoy a French press coffee from the well-appointed full kitchen. Embrace your inner Bohemian and unleash your inner artist.
Things to do nearby: Stroll and shop the cute boutiques along 12th Avenue South and grab a meal at one of the many fine dining choices in the neighborhood. We particularly recommend Josephine, Locust, Edley's Bar-B-Que, and Urban Grub.
Downtown
Up to 4 guests, $165 per night
Distance from Nashville: 5 minute walk
This property has a real history to it. Located in the city's oldest high rise apartment building, it was built on the site of President James K. Polk's Nashville home in 1903. The walls of the stylish condo still show off the exposed original brickwork, but they're accented by mod furnishings and state-of-the-art appliances in the updated kitchen. There's a keypad-controlled front entrance, and an elevator carries guests up to their peaceful oasis away from the craziness of downtown.
Things to do nearby: Of course you're going to want to hit up the honky tonks of Lower Broad, but don't miss out on the chance to visit some wonderful downtown museums like the Frist Gallery, the Tennessee State Museum or the new National Museum of African American Music.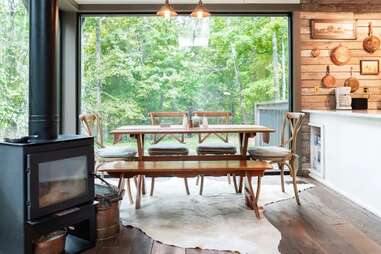 Goodlettsville
Up to 4 guests, $175 per night
Distance from Nashville: 25 minutes by car
Everything old is new again at this striking cabin, recently constructed using reclaimed materials to give it a weathered look without sacrificing creature comforts. Soaring windows offer sweeping views of the Great Outdoors from almost every corner of the open plan living and dining area, as well as forest views available from the bedrooms. The roughhewn wooden walls of the kitchen contrast with the modern appliances, and it's well stocked with all the gear you'd need to cook up a fine meal. Enjoy the pastoral surroundings from an expansive terrace or just stay inside and watch the birds on the other side of the windows.
Things to do nearby: Shop for furniture at the Rare Bird Antique Mall, sample the vintages at Long Hollow Winery, or rent a boat on Old Hickory Lake.
Belmont/Hillsboro
Up to 5 guests, $112 per night
Distance from Nashville: 10 minute drive from downtown
When it comes to renting a spot in Nashville, it's all about location, location, location. There's a reason why the area around Hillsboro Village and Belmont University has been desirable for years. It's a walkable neighborhood that is still filled with historic homes, but it's also basically a 10 minute drive from just about anywhere you'd want to go in Nashville. Of course, you might not even want to leave this townhouse with its high design decor and cozy outdoor spaces complete with a fire pit. Featuring hardwood floors throughout and a full kitchen that's possibly better than yours at home, the landlords might have to drag you out at the end of your stay!
Things to do nearby: Grab breakfast at Biscuit Love and then drop in to the fun boutiques and shops of Hillsboro Village. Take a stroll around Fannie Mae Dees Park, known in the neighborhood as "Dragon Park" thanks to a whimsical centerpiece.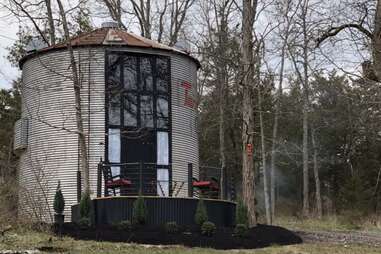 Mt. Juliet
Up to 2 guests, $90 per night
Distance from Nashville: 25 minute drive from downtown
Don't be fooled by the looks of this apparently dilapidated converted grain silo from the outside. The owners have fully insulated the silo and installed central heat and air to keep the temps comfy and turned the space into a hip forest retreat. Fun little details harken to the silo's former use, like an entrance hall made from grain covered with epoxy and deck furniture constructed out of old augers. A spiral staircase leads to the nicely appointed bedroom illuminated by a skylight in the dome. It's truly a unique property.
Things to do nearby: Ride the Music City Star train into downtown and laugh at all the miserable commuters heading to work or take an Eco Tour on a pontoon boat with Blue Heron Cruises.
Lebanon
Up to 5 guests, $53 per night
Distance from Nashville: 40 minutes by car
If staying in a silo is too fancy for you, how about a horse stall in a converted stable? This bucolic 40+ acre Bed & Breakfast compound was once a farm owned by country music icon Reba McEntire. The current owners have transformed the fromer horse barn into an inn filled with unique two-story suites compete with private full bathrooms and cozy sleeping lofts. Guests have access to the entire farm with its rolling pastures, peaceful ponds, and hiking trails. They'll even cook you a full country breakfast to order each morning of your stay.
Things to do nearby: Go hiking at Cedars of Lebanon State Park or catch a race at the Nashville Superspeedway.
Smithville
Up to 4 guests, $81 per night
Distance from Nashville: 1 hour 15 minutes by car
Center Hill Lake is only a little more than an hour from Nashville, but it feels like a world away. The deep lake is ideal for watersports, and quiet coves are perfect for fishing or just a little privacy. This intimate cabin in the woods offers sweeping sunset views from its front deck and a wood burning fireplace for snuggling on chilly evenings. Luxurious bedding and bathroom amenities makes for an upscale experience in the middle of nature.
Things to do nearby: Rent a boat for fishing or skiing on Center Hill Lake or go for a waterfall hike at Burgess Falls or Rock Island State Park.
Antioch
Up to 4 guests, $69 per night
Distance from Nashville: 10 minutes by car
If you've ever wondered what tiny home living was like, here's your chance to experience the lifestyle in a house that was actually featured in an episode of HGTV's "Modern Tiny Living." Tucked back in the woods on a five acre property, the ingenious design of this house takes advantage of every square foot of space to provide all the comforts of home. The main floor boasts a full kitchen and bathroom plus a dining/lounging area, and steps lead up to a surprisingly spacious sleeping loft. Tiki torches and a fire pit illuminate an extra outdoor dining space, complete with a charcoal grill and picnic table.
Things to do nearby: Take a spin around the rink at the Ford Ice Center or go mountain biking at Cane Ridge Park.
McEwen
Up to 2 guests, $162 per night
Distance from Nashville: 1 hour 5 minute drive to downtown
A must-visit for serious Lord of the Rings fans, this fun little hidey hole is too cute for words. (But we'll try anyway.) Tunneled into the side of a hill, Wee Nook will transport you to Middle Earth as you step through the hand-crafted round front door into a surprisingly spacious studio, complete with full kitchen and bathroom. Copies of Tolkien's works await you in the reading nook, and the bathroom is stocked with high quality amenities from local artisans. A row of blueberry bushes line the garden path leading to your own outdoor pavilion where you can dine al fresco if a little claustrophobia starts to set in. The property is home to several other rental options, and walking paths connect them to offer opportunities for a nice forest stroll.
Things to do nearby: Catch dinner at Bucksnort Trout Ranch or catch a show instead at Loretta Lynn's Ranch in Hurricane Mills.
Monteagle
Up to 6 guests, $101 per night
Distance from Nashville: 1 hour 15 minutes by car
Though this house is described as "tiny," it goes big on luxury with high-end furnishings, big-screen television, remote control fireplace and candles, and a kitchen stocked with modern stainless steel appliances. As nice as the interior is, you'll really want to spend your time outside on the 400 square foot deck with its multiple seating and table configurations and gas grill for meal prep. The house is just steps away from a private trail to Deer Lick Falls, one of the tallest cataracts in the state, and the surrounding compound of other tiny homes features several common areas with fire pits and seating for visiting with your neighbors.
Things to do nearby: Tour the University of the South in Sewanee and its striking gothic architecture inspired by venerable British universities or explore the multitude of hiking trails in South Cumberland State Park.