If the walls of your abode are starting to close in after too much time spent at home, you might need to get away for a little vacay. Fortunately, you don't have to travel far in Middle Tennessee to find rental properties that are relaxing and unique, especially since you don't have to do all the cleanup. Carve a couple days out of the calendar for a visit to someplace where you can recharge your batteries without burning a whole tank of gas.
East Nashville
Up to 8 guests, $144 pre night
Distance from Nashville: 11 minutes by car
This lovely little neighborhood Victorian delight is decorated in bright jewel tones and equipped with modern appliances and funky furnishings. The walls are covered with art and hanging musical instruments, and there's even a library of vinyl to spin on the turntable. The homeowner/host is happy to provide helpful dining advice to nearby restaurants.
Things to do nearby: It's a short walk to the bars, restaurants and music venues of Five Points, and don't miss out on the charming boutiques at the Shoppes on Fatherland.
East Nashville
Up to 10 guests, $302 per night
Distance from Nashville: 11 minutes by car
With high ceilings, three bedrooms and tons of open space for just hanging out, you'll feel like a guest at a rich friend's pad when you book this East Nashville home. The modern kitchen is well-equipped if you choose to eat in instead of dining out at any of the great restaurants in the neighborhood, but your group might end up fighting over who gets the tricked-out master suite.
Things to do nearby: You're just a quick Uber ride to the frivolity of Lower Broad and all the honky tonking a human can handle, or head to Shelby Park for a more bucolic setting and the chance to spot wildlife like deer, foxes and the legendary golden pheasant that frequents the greenway walking/biking path.
North Nashville
Up to 6 guests. $239 per night
Distance from Nashville: 15 minutes by car
This 1930s bungalow was refurbished as part of an episode of HGTV's "Nashville Flipped," and they did a fantastic job with the reno. Features include vaulted ceilings, a big screen television suspended over a brick fireplace that is the centerpiece of the main living area and a modern kitchen equipped with a wine fridge to hold your party fuel. You might have to search for the third bedroom, because it's actually a hidden Murphy bed that folds down from the beadboard wall.
Things to do nearby: Marathon Village is not far away, and the former automobile factory is home to Nelson's Green Brier Distillery that offers fun tours and tastings. You can also shop for treasures at Antique Archaeology, owned by Mike Wolfe of "American Pickers" fame.
East Nashville
Up to 8 guests, $248 per night
Distance from Nashville: 16 minutes by car
One of the only A-frame homes in East Nashville, The Peace Teepee is a center of creativity in this funky neighborhood. A detached bedroom offers a little extra privacy, and the outdoor shower lets guests commune with nature while getting clean. The outdoor area is perfect for grilling out, playing yard games or just chilling with friends.
Things to do nearby: Check out local artists at Art & Invention Gallery or the Raven & Whale Gallery. If your love of art leans toward the literary, The Bookshop and Novelette Booksellers are cozy spots to while away an afternoon getting lost in the pages.
Madison
Up to 4 guests, $94 per night
Distance from Nashville: 17 minutes by car
Intentionally decorated with leather furnishings, animal heads hanging from the walls and flowing tapestries, this guest suite is inspired by the Gryffindor Commons straight out of Harry Potter. The amenities are more modern, but no less magical, with smart TVs, overstuffed mattresses, and a washer and dryer to clean your finery. There are plenty of little nooks to snuggle up with your favorite book and a well-equipped kitchen for preparing a feast.
Things to do nearby: Tucked away north of downtown Nashville, it's an easy 15-minute drive against traffic to the bright lights of the big city. Closer to the property is Peeler Park, a public greenspace in a farmland setting with walking and biking paths and equestrian trails. Locals will point you to Don Julio's for a legit Mexican meal.
Ashland City
Up to 2 guests, $208 per night
Distance from Nashville: 25 minutes by car
If you're looking to get away from it all, this restored 1949 travel trailer has everything you need to unplug for a couple days. Situated on a 40-acre farm, there is wi-fi but no television, and your cell phone coverage might be a little sketchy. That's ok, though, because the blueberry-colored trailer is the centerpiece of a private pavilion complete with a large roof to keep the RV cool, an outdoor bath house with a claw-foot tub, a fire pit for toasting s'mores, and a covered deck. Your hosts will even stock the kitchen with groceries, including products from the farm, if you order in advance.
Things to do nearby: The Cumberland River flows through Ashland City, and catfish is the seafood of choice in the small town. Of the several options for a good fish fry, Riverview Restaurant & Marina is a standout for its sweeping views of the river rolling by.
Franklin
Up to 11 guests, $829 per night
Distance from Nashville: 34 minutes by car
Reminiscent of an Amish tobacco barn, this luxury "barndominium" boasts four bedrooms and two baths along with a well-equipped modern kitchen. Vaulted ceilings make the already large space feel even more expansive, but if you're still feeling claustrophobic, just head outdoors to explore some of the 80 acres of family farmland that surround the house. Or you can just hang out by the fire pit and experience the sacred site called "the meeting of the waters" where the Big Harpeth River merges with the West Harpeth River.
Things to do nearby: Nearby Franklin, TN often shows up on those lists of "Most Charming Small Towns in America," and with good reason. Fun shops and boutiques line the sidewalks around the town square and great dining options are legion. Check out 55 South for great Southern food or Red Pony for more elevated fare.
Franklin
Up to 5 guests, $288 per night
Distance from Nashville: 45 minutes by car
This cozy cottage just a short walk from Lake Gratitude is an ideal spot to unplug and unwind. Nestled on a small hill in the middle of nature, the rustic interior of the Pond House fits in perfectly with the surrounding forest. Warm up by the fire pit or in the hot tub, which requires a $50 set-up fee in advance.
Things to do nearby: The Natchez Trace Parkway is just a short drive away, and the historic road between Nashville and Natchez, MS is a favorite destination for cyclists and roadtrippers who enjoy traveling at less than interstate speed through the rolling hills of Middle Tennessee. It's a federal highway, so watch the speedometer lest you rile up the local gendarmes who write steep tickets.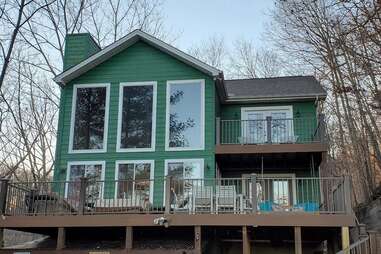 Smithville
Up to 12 guests, $397 per night
Distance from Nashville: 70 minutes by car
Center Hill Lake is a haven for water sports lovers thanks to its deep, clear coves that are perfect for waterskiing, swimming or fishing. This three-story home is a great home base for exploring the area or for just staying put to enjoy the game room, wet bar and huge television. A screened-in porch with a hot tub is another winner of an amenity. The top floor is a sleeping loft with a bunk room equipped with a king-size bed and two bunk beds.
Things to do nearby: Even if you don't own a boat, Hurricane Creek Marina is just a fifteen-minute drive away, and they'll rent you a pontoon boat at reasonable prices for a half day of fun on the water.
Sewanee
Up to 2 guests, $85 per night
Distance from Nashville: 90 minutes by car
Who knew 500 square feet could feel so spacious? The clever design of this rental property makes maximum use of the space efficiently enough to fit a queen size bed in the loft. There's plenty of elbow room in the living area, kitchen and bathroom, and the attached porches offer a 360° view of the surrounding forest.
Things to do nearby: The University of the South is an acclaimed school where the gothic architecture and students wearing academic gowns remind visitors of a trip to Hogwarts. Set among thousands of acres of arboreal splendor, the university's domain is ringed by the 20-mile long Perimeter Trail. There are plenty of entry and exit points along the loop, so don't worry about having to tackle the whole thing in one day.
Monteagle
Up to 4 guests, $150 per night
Distance from Nashville: 80 minutes by car
This Scandinavian-inspired treehouse is part of a small enclave of rental properties tucked into the woods just a short drive from the small town of Monteagle. An attached deck almost doubles the living space and features a hot tub and a modern wood-burning fire pit to enjoy while looking out at the forest. Skylights allow for stargazing from the king size bed, but you have to climb a ladder to reach it. There's always a pull-out sofa on the ground floor if you don't feel like scaling the steep steps.
Things to do nearby: If you're a fan of cast iron cooking, Lodge Cast Iron's manufacturing plant is just a short drive down the mountain from Monteagle in South Pittsburg, TN. In addition to a new museum that tells the history of the company and describes the process of turning iron into skillets, they also have a Factory Store where you can find great deals to fill out your collection.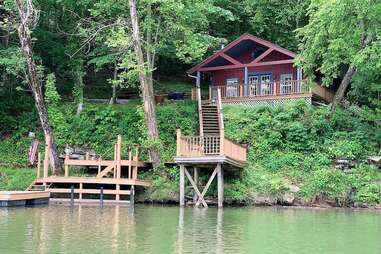 Rock Island
Up to 4 guests, $208 per night
Distance from Nashville: 100 minutes by car
The steep hills that line the Collins River create a unique verticality where homes hang out over the water and guests can access the water by climbing almost straight down on steps leading to the river. This feeling of hovering above the flowing water is just one of the draws of this cozy cabin, along with rocking chairs to while away the day on the porch, an open floor plan that offers sweeping vistas from almost every part of the house and an outdoor grill with a picnic table on the dock for al fresco dining.
Things to do nearby: Rock Island State Park is home to Great Falls Dam, a 30-foot tall waterfall that cascades into the river from below an old textile mill that the water once powered. There are also numerous natural swimming holes in the area.