The Best Escape Rooms in Nashville
These are the most challenging, fun, and exciting escape rooms in Nashville.
Escape games are a great form of entertainment that can help with team building or discovering the hidden personality traits of someone you might be dating as you work together to solve a puzzle and escape from a room within a set amount of time. The venues have seen a boom over the past decade as a way to flex your brain muscles and challenge your problem-solving skills. A fun activity for locals and tourists alike, Nashville has a plethora of these fun rooms that feature variously themed rooms to encourage return visits. Here are some of our favorites.
Berry Hill, Downtown, and Donelson
The OG of Nashville escape rooms has three different locations in Nashville, each with multiple rooms and themes. Individual rooms are decorated to help set the stage, from a prison cell escape scenario that many players consider the most difficult of the lot to Mission: Mars that allots players an hour to figure out how to launch their marooned space ship from the surface of the Red Planet before a catastrophic solar flare wipes out the whole crew. The good news is that whether you solve the puzzles or not, they'll let you out after sixty minutes.
Cost: $36.99
Franklin
Every game at Breakout Games is a private experience just for the group you showed up with, so there's no worry about looking stupid in front of a bunch of strangers if you can't figure out how to free yourself from your blindfold and handcuffs in The Kidnapping Game or complete The Island Escape before lava flows over the beach. Of course, a bunch of randos that you'll never see again wouldn't have the chance to rib you for the rest of your friendship for letting The Runaway Train loaded with explosives barrel into downtown because you couldn't solve a middle school math problem.
Cost: $42.99
Downtown
Escape Experience features a pair of prison break games, so even if you broke parole after your first trip over the wall, you can still come back and try again. The plotline of The Inheritance: Mystery Room revolves around carrying out your fictional uncle's final wishes in an hour to claim your stake, and Vaccine: The Search for a Cure is ripped from the headlines and may just be a little too soon to play around with?
Cost: $32
Berry Hill
Trapped offers several different experiences with different difficulty levels and multiple puzzles to be solved over the course of each game as you work with your team to find your way out of the Bellevue Insane Asylum, break out of Alcatraz or survive an Apocalypse of flesh-eating zombies. Trapped operates rooms in both Nashville and Pigeon Forge, so you can give it a second try while on vacation in the mountains if the zombies got you in Music City.
Cost: $28.99
North Nashville
The name of this escape room is a nod to the trap music phenomenon that started in Atlanta, and the original Escape the Trap is actually associated with the fantastic Trap Music Museum in Hotlanta. The Nashville location is in the historic Jefferson Street District near HBCUs Tennessee State University and Fisk University, so it's also immersed in the musical culture of the neighborhood. The game takes players through multiple rooms as they solve puzzles and immerse themselves in the culture of trap music, so it's entertaining and educational at the same time.
Cost: $30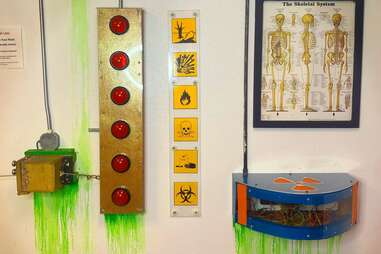 Madison
Although the name sounds like you're trying to get away from your family unwrapping presents around the fireplace during the holidays, Great Room Escape actually encourages friends and family to work together by ensuring that all participants already know each other as part of their private escape experiences. The puzzles to solve revolve around fairly common escape room themes of being trapped in a haunted cabin in the woods and escaping from a zombie horde by using your brains before they get eaten. But Great Room Escape also features an option to add-on a session of ax throwing.
Cost: $28.99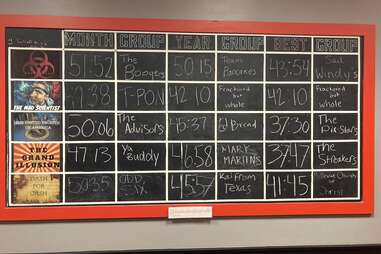 Franklin
Franklin is a sleepy little suburb south of Nashville, but things can get intense at Extreme Escape Games. The largest escape game facility in the state boasts six rooms hosting different games that corporate groups can use for team building, or six to 10 friends can book it for their own private brain-teasing fun. The game themes range from sniffing out a secret agent to figuring out the secrets of a mad scientist's laboratory to finding and returning The Book of Secrets to a master magician. Oh, and a zombie apocalypse scenario. Who knew Nashville had such a zombie problem?
Cost: $32.00