The Coolest Pop-ups in Nashville Right Now
Get to these pop-ups before they disappear.
Some of the best things in life are fleeting. A sunset, the aroma of a pie in the oven, a tense overtime sporting event, they all come and go quickly. But that's OK, because you can enjoy these things while they're around, just like the local Nashville pop-up events that are only around for a limited time. Don't let them pass you by.
East Nashville
Ongoing
Normally, a taco stand popping up outside of a tiki bar might seem curious, but not earth-shaking. That is until you realize that Julio Hernandez has so impressed the dining public that he was nominated for a James Beard Award this year as "Best Emerging Chef." Working with heirloom corn that he imports from Mexico, which he grinds and nixtamalizes himself, chef Hernandez creates divine tortillas that are the stars of his dishes like quesabirria tacos, quesadillas and flautas. He'll be opening his own brick-and-mortar restaurant soon, so don't wait too long if you want the food truck experience.
Cost: Menu prices vary
Downtown
Friday, March 31 and Saturday, April 1
This series of food, drink and conversation events has been popping up around town since 2017. Aimed at showcasing the creative community, these evenings feature lively discussions, performances by live artists, informative panels, and always great drinks. The next one will be held at the Fairlane Hotel downtown, but there should be more if you miss this one.
Cost: Menu prices vary
Downtown
Through May 7
Disco never died at this explosion of the '60s and '70s inside of Bar TENN at the Holston House. Slip on your best bell bottoms and shake your booty under the spinning glittery disco balls as DJs lay down the grooves and bartenders shake up some fun drinks.
Cost: Menu prices vary
Downtown
Through Sunday, April 2
You shouldn't be late for this very important date at the Fairlane Hotel or you'll miss out on the chance to take a trip to Wonderland. Admission is free to the rooftop bar offering expansive views of downtown along with riotous decor snatched straight from the absinthe and opium-addled brain of Lewis Carroll. Take a seat under the magic mushrooms and enjoy Alice-inspired cocktails.
Cost: Menu prices vary
East Nashville
Ongoing
Much like his cooking compatriot Julio Hernandez, chef Edgar Victoria is slowly traversing the path from food cart operator to restaurateur by offering up elevated versions of Mexican street food made with fresh heritage ingredients. Now operating a pop-up from a food truck parked outside of Honeytree Meadery in East Nashville along with two locations inside of Nashville SC's home field at Geodis Park, Victoria takes it to the streets of Mexico City with a menu of delicious tacos, huaraches, tostadas and quesadillas. Make sure to save room for a treat of churros filled with dulce de leche.
Cost: Menu prices vary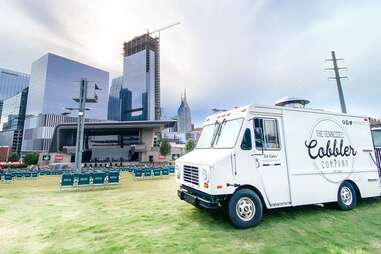 12 South
Ongoing
There's a boot on the front tire of Tennessee Cobbler Co.'s food truck parked in a lot amongst the multiple drinking and dining options in 12 South, but it's not there because they've broken any laws. They just want to make sure nobody steals it while they're not open Monday through Wednesday. But when they do throw up the serving window on Thursdays, they serve delightful cobblers, shakes and ice cream sandwiches to lines of people throughout the weekend. As the only Black-owned restaurant in that particular strip of the hip neighborhood, they definitely deserve the attention.
Cost: Menu prices vary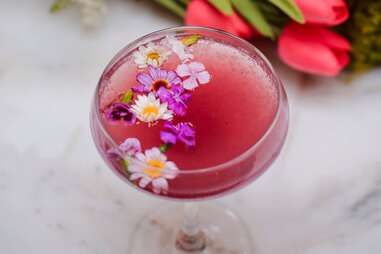 Downtown
Through late May
The Parlour Bar in the lobby of Dream Hotel on Printers Alley frequently hosts thematic pop-ups, including homages to Cuban culture and cocktails and a creepy re-creation of the scenic decor of the classic Halloweird movie, "Beetlejuice." For spring, it's Blossom Bar, a tribute to the season. Flowers adorn almost every flat surface in the space, including a living floor-to-ceiling wall, a large cherry blossom tree and a phone booth-turned-photo booth where you can take an appropriately floral selfie. The cocktail menu and small bites are also vernally inspired.
Cost: Menu prices vary
Germantown
Monday, May 15
Cafe Momentum Nashville is an organization that seeks to address issues of juvenile justice by offering young people stuck in the justice system the chance to participate in eight-week mini internship programs. Participants receive assistance with life skills, social skills, and workforce development opportunities, opening up a world of employment possibilities in the restaurant industry. Some of the interns will join the program's chef de cuisine to create the menu for a pop-up dinner at Third and Home next to First Horizon Park. The evening will start with a cocktail reception followed by four courses of food that will help make an important difference in some young people's lives.
Cost: $125
East Nashville
Ongoing
Every second Friday of the month, the creative types at Make Nashville Makerspace open up the shop to welcome visitors who are interested in learning more about the amazing work going on inside the facility along the Cumberland River. Visitors have to sign a liability waiver because there are all sorts of awesome power tools at work in the various studios, and Makerspace members will be on-hand to demonstrate what they've learned. If you get inspired, you can sign up as a member that evening and receive your own access fob to get started learning new skills.
Cost: Free