10 Surprisingly Affordable Spas in Nashville
The best spas in Nashville won't break the bank.
Many of Nashville's downtown luxury hotels feature expansive spas with long menus of massage, health, facial and body treatments at premium prices, which is all fine and dandy if you're traveling on a vacation budget or an expense account. However, by the time you add the cost of parking in a hotel garage to your spa bill, these spots might be out of reach for most. Fortunately, some local spa operations provide many of these same services at more affordable prices. So, here are some options if you're looking for a little self-care in Music City.
Music Row/Demonbreun
For locals who deserve a little pampering or tourists who might want to relieve some of the aches left over after a night out on Lower Broad, N2Skin is conveniently located right in the middle of the action on Music Row. In addition to bargain massages starting at $80 for an hour, they also offer indulgent sea scrub treatments to scrape off some of last night's sins and airbrush tans to make it look like you got in a little pool time instead of sleeping until the afternoon.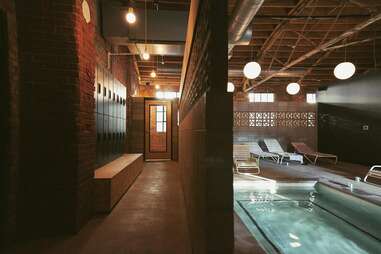 East Nashville
You can feel the peacefulness settle over you as you step inside this Finnish-inspired bathhouse. Built within a century-old building, Holiday Salon is available for private hourly rental by groups, which also allows for a "swimsuit-optional" policy if that's what you're into. Enjoy a Himalayan salt sauna, steam room and a large saltwater soaking pool before adjourning to two locker rooms to clean up and face the day invigorated.
Berry Hill
Spa Haus is an independently-owned facility just a few miles south of downtown Nashville. A dozen treatment rooms feature massage therapy options ranging from a basic relaxation rub to prenatal and couples massages. Other spaces within the salon feature skincare treatments like HydraFacials and body wraps plus a full suite of lash and waxing services. For a far out experience, try the Seven Senses Crystal Energy Healing Bed with LED light therapy, full-spectrum light treatments, vibration therapy, magnetics, and an infrared amethyst biomat.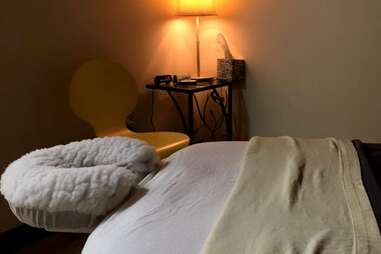 Downtown and Green Hills
Sometimes, all you want is an efficient sports massage to treat something you tweaked by working out too hard or, say, bending over to pick up a quarter off the sidewalk. Nashville Sports Massage is just the trick for that sort of treatment. With locations in the Green Hills and Downtown YMCAs, you don't have to be a member to sign up for really affordable massages ranging from a half hour to 120 minutes. YMCA members do get an even better discount, but anyone can sign up for massages that range from intentionally aggressive deep tissue to trigger point therapy and facilitated stretching to injury massages that gently target specific ailments.
Music Row
For more than three decades, Adagio has catered to local clients who book periodic appointments with massage therapists and estheticians whenever they feel like a little "me time." Adagio's talented brow specialists are experts at waxing and tinting, and you can add a face or foot massage to any treatment for $55 for a half hour of bliss.
Berry Hill
Mana is a full-service salon that offers the gamut of hair and skin services along with full-body and foot soaks, body wraps and several different styles of massage, along with more esoteric services like tarot card reading, hypnotherapy and past life regression. The ultimately discreet staff promises not to reveal that you were Anne Boleyn in a previous life or that you get your hair dyed and extensions added.
Bellevue
This day spa sees itself as a destination for when you need some time to relax, recenter and renew with a few hours of pampering. Chill out in their retreat room before and/or after treatments or stack a few back-to-back so that you can melt under the hands of a talented massage therapist before touching up your eyebrows or treating yourself to a Fijian warm oil scalp treatment. "Spalebration" packages are available for parties of four or more looking to share in a day of luxury or book a massage/facial package just for yourself, because you're worth it.
West Nashville
Bucca doesn't claim to be fancy, just efficient. While the treatment area is attractive, the emphasis isn't on ethereal music or dim lighting to calm your nerves. Instead, a team of talented Chinese reflexology therapists will sit you in a luxurious leather chair with a comfy pillow and an eye mask, draw an herb-filled bath at your feet and proceed to blow your mind with reflexology by massaging various pressure points on your feet that are connected to any number of body parts and organs.
Berry Hill
Float Nashville is a different kind of spa, one that concentrates on you focusing on yourself while you drift away in a tank of warm water that has been super-saturated with salts to create a neutral buoyancy atmosphere to support your body. This isn't one of those sensory deprivation experiences. Floaters have full control over the lighting inside the tank, and an open tank is available if you're feeling anxious about being closed in. Lie back and let your mind go, and the hour will pass faster than you can imagine before it's time to clean off in the shower within your treatment room and take on the rest of your day centered and relaxed.
12 South
Proponents of salt therapy say that it is very effective for treating allergies, and in case you haven't noticed, Nashville is sitting in the bottom of a large geological bowl filled with pollen. More importantly, reclining in a zero-gravity chair listening to peaceful music inside of a beautiful cave carved out of Himalayan sea salt and breathing in microscopic particles of NaCl for 45 minutes is said to be beneficial for all sorts of maladies. The spa also offers reflexology treatments to reach your soul through your soles.