Drive to Lexington, Kentucky for the Horses, Stay for the Bourbon and History
Hundreds of horse farms, countless distilleries, and so much more.
Welcome toTwo Days Away, our series featuring weekend-long itineraries within a five-hour drive of your city—because sometimes we all just need a little adventure fix.
When you think of Kentucky you might go straight to fried chicken or college sports—which, hey, aren't bad things to associate with a state—but the Bluegrass State has so much more. And to see the very best it has to offer, you can take a trip to the heart of the state where the green grass has a blue-ish tint and locals know racehorses by name like they're celebrities. We're talking Lexington, Kentucky.
A trip to Lexington, Kentucky is just a three-hour scenic drive from Nashville and a little over an hour drive from Louisville. The city is dripping with Southern charm, packed with horse farms that are home to some of the most notable horse racing in the world, and brimming award-winning whiskey distilleries. It's time to plan your weekend trip to Lexington Kentucky.
Travel time:
3 1/2 hours from Nashville.
1 hour from Louisville.
If you don't do anything else: Hit the races… the horse races
Lexington, Kentucky is known as the horse capital of the world. Each year, thousands of people from all over the globe flock to the Bluegrass City to check out the more than 450 horse farms Kentucky is home to. Among those hundreds of horse farms, one reigns supreme with a name that is almost synonymous with Lexington: Keeneland.
Open and operating since 1936, Keeneland is the world's largest thoroughbred auction house. It also hosts world-class racing twice a year in April and October. If you happen to be planning your Lexington trip during the spring or fall, snagging a ticket to one of Keeneland's iconic races is fairly inexpensive and can serve as a fun opportunity to dress up in your best equestrian-chic gear.
If your trip to Lexington doesn't fall during horse racing season, fear not. You can still visit and tour one of Lexington's many renowned horse farms. From Claiborne Farms, which is one of the most iconic thoroughbred horse farms in the world, to Megson Farms, which specializes in the unique breeding of rare white and multi-colored thoroughbreds, each establishment offers something a little different. If tethering yourself to just one farm feels too limiting, local tour groups like Horse Farm Tours Inc. and Central Kentucky Tours can help you navigate the hundreds of horse farm tour options.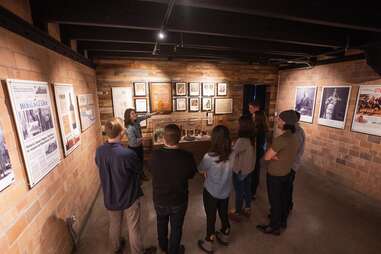 Fill your days
Bourbon distilleries in Lexington, KY
Besides horses, Kentucky is known for its bourbon, so this is the perfect time to try some of the best whiskey in the country. Lexington is home to award-winning and historic distilleries. Lexington Brewing & Distilling Co., James E. Pepper, and Barrel House Distilling Co. are all pretty close to Lexington's city center and are easy to set up distillery tours with. If you're looking for a bigger name establishment, Wild Turkey Distillery is about a 30 minute drive outside of the city.
Food tours in Lexington, KY
For the history-lover or foodie in your travel group, booking a tour with Bites of the Bluegrass will be an essential part of your time in Lexington. The Bluegrass tours offer a fun and unique way to see the city through what's essentially an afternoon dinner party. Bites of the Bluegrass offers food and history walking tours of downtown Lexington, Distillery District food and history tours, and so much more.
Things to do outdoors in Lexington, KY
If you're looking to round out your Lexington trip of horses, history, and Bourbon with just one more quintessentially Kentucky activity, we'd suggest visiting one of the many farms within the Lexington city limits. The best of Lexington's food culture focuses on farm-to-table, locally grown ingredients. The historic Coleman Crest Farm uses both conventional farming and hydroponic freight container farming. The farm grows its produce with natural groundwater from a large prehistoric aquifer located on the farm, so its produce is fully natural, with no chemical additives or preservatives.
If you're looking to get a little boozy with your farm tour, Silver Springs Farm is a farm winery that sits on 20 acres of land smack dab in the middle of horse country. Originally operated from 1867 until Prohibition of 1918, the farm used to run as Silver Springs Distillery. Today, the property is named Silver Springs Farm Eqwine and Vineyard after its historic springs, the racehorses they breed, and the wine from the grapes they grow. Doing a tasting and trying some of their award-winning wines is non-negotiable.
Eat, drink, and sleep
Where to eat and drink in Lexington, KY
Eat your way through local restaurants at Greyline Station, a revitalized Greyhound station that now serves as a public marketplace. If you get to the station early enough, stop by North Lime Coffee & Donuts for your morning cup. If lunch is your priority, head to spots like Rise Up Pizza, Wing Kyng, and Old North Bar & Kitchen. And vegans and vegetarians can find plenty to chow down on at The Social Vegan.
If you're really looking to go all out for dinner, head to the newly opened boutique hotel The Manchester for fine Appalachian-inspired dishes at their restaurant Granddam. Located on the ground floor of the hotel, just off the lobby, Granddam gives dark leather mixed with bluegrass vibes and offers a menu packed with home-grown produce.
Luckily, traveling very far for after-dinner drinks won't be necessary. Just take the elevator up to Lost Palm, the hotel's 1960s South Florida-inspired rooftop bar where you can grab a flamboyant tiki cocktail.
Where to stay in Lexington, KY
If you're looking for convenience, 21c Museum Hotel is centrally located in Lexington's downtown area. The boutique hotel is also home to a contemporary art museum, a cultural center, and the restaurant Lockbox. Stays like The Elwood and Origin Hotel are also in easy locations, so getting to the university, airport, or one of Kentucky's many Horse farms won't be too much of a hassle.
For bourbon lovers and history buffs alike, try the aforementioned Manchester Hotel. Although it's a new boutique hotel, it sits in Lexington's historic Distillery District with easy access to award winning distilleries like Lexington Brewing & Distilling Co. And although it's not in the heart of Lexington's downtown area it's still only a ten minute walk away from Lexington's downtown city center.