Norf Studios
Norf Studios
A walk down Buchanan Street, which cuts through the center of North Nashville, brings you past hot new pizza joint Slim & Husky's, street bikers, luxury leather goods stores, a skateboard shop, a Southern-style vegan restaurant, and a buzzy art gallery. Cut north up to Clarksville Pike, and you'll pass two huge murals and a car wash that serves Caribbean food.
It's safe to say we're not among the neon lights, honky tonks, and rooftop patios of Broadway anymore.
Loosely defined as the area above Jefferson Street bounded by the Cumberland River to the north and east, North Nashville represents both the city's cultural past -- and a growing presence of new gallery owners, muralists, and other artists that demands attention. While its crisp new business-fronts are easily recognizable, the less obvious information, North Nashville's history, is the area's true gift to visitors of Music City.
And for that, it's best to go to the source. While exploring the neighborhood's galleries, murals, and design shops, ask a question about its olden days, and you'll be sent to Ed's Fish House (open since 1972). For queries about Buchanan Street's evolution, you may get directed to Bud's Hardware & Key Shop (est. 1953). But until you can make it down (or up, or over) to North Nashville, here's what else you should know to get the most out of a visit to this dynamic art scene.
JEFFERSON STREET: A TRIP THROUGH NORTH NASHVILLE'S PAST
To get a sense of any place, it's best to start at the beginning. So kickoff your North Nashville exploration at Fisk University, home to a number of art galleries. The college is located just south of Jefferson Street, which started as a footpath between Hadley Plantation and the Cumberland River in the early 1800s, and by the early 20th century had become the intellectual, economic, and social center of the city's black community. The proximity of Fisk University and Tennessee State University ensured a steady presence of influential scholars such as W.E.B. Du Bois, Ida B. Wells, and much later, Nikki Giovanni.
Fisk's Carl Van Vechten Gallery is most famous for its Alfred Stieglitz Collection, which boasts paintings from world-renowned artists such as Pablo Picasso, Paul Cézanne, and Georgia O'Keeffe -- the collection's benefactor. Though it's on loan to Arkansas' Crystal Bridges Museum of American Art until December 2019, there's still plenty worth your time in the permanent collection, including Winold Reiss' lush, pastel portraits of subjects from Harlem and St. Helena Island, South Carolina (including Reiss' well-known The Brown Madonna), and more than 30 works by his pupil, Aaron Douglas, the Harlem Renaissance artist and founder of Fisk's art department. Its fall season will include exhibits on painter Hughie Lee-Smith and expat artist Walter Henry Williams, and you can't leave the grounds without a visit to Cravath Hall to see Douglas' murals. The beautiful green and grey-toned series covers the former library's rotunda with portraits of African-American figures representing key areas of scholarship and the arts. Visitors should contact the Fisk galleries via email for personal tours, but the campus' art collection is open to the public Monday to Saturday, 10am to 4pm, for those who prefer a self-guided walk.
Refuel at Jefferson Street eateries Helen's Hot Chicken (where you can order your chicken "Hella Hot"), Mary's Old Fashioned Pit BBQ (try the baby back ribs with signature hot sauce), or Garden Brunch Café (with its gorgeous bananas Foster) before you head west to see one of the area's most arresting art works: a two-story mural of rock idol Jimi Hendrix's legendary guitar showdown with his early mentor, Johnny Jones. Painted in 2016 by Norf (a collective of North Nashville artists) on the side of what used to be Club Baron at 2614 Jefferson Street, the mural is a nod to the rich musical history of the area. In the 1960s, artists like B.B. King, Little Richard, and a pre-bandana Hendrix played the clubs on Jefferson Street. In fact, there was such an influx of R&B musicians that two television shows, Night Train and The !!!! Beat were launched to broadcast the scene.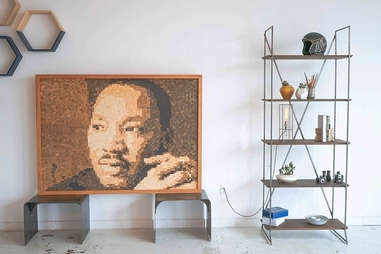 A NEIGHBORHOOD'S FALL -- AND REBIRTH
North Nashville's music scene, and its reputation as a thriving artistic center, became but a memory when the construction of Interstate 40 cut through the heart of the neighborhood in the late 1960s. Nate Harris, owner of Jefferson Street's Woodcuts Gallery & Framing (open Monday to Saturday) for over 30 years, recalls, "It disrupted everything in the black community... It destroyed most of the businesses on Jefferson Street. It made all the streets dead ends. So many of the people that patronized the businesses [there], so many families, had to leave the area."
But the neighborhood's recent development boom has contributed to a resurgence of art -- both as a result of new galleries forming and, through public art, a declaration of North Nashville's already-established identity. "In the last eight years, it's started moving at warp speed," Harris says. In 2015, First Tennessee Park, home of the Triple-A Nashville Sounds, opened on the neighborhood's eastern edge. Germantown, just north of there, has become one of Nashville's hottest dining destinations thanks to chefs like James Beard Award winner Tandy Wilson, who infuses the Italian menu of City House with Southern staples like grits and smoked brisket, and Philip Krajeck of seasonal small-plates eatery Rolf & Daughters (try the ever-popular garganelli verde with pork ragout). New apartment buildings have also been built on Jefferson Street.
"They started redeveloping… A lot of it is due to people coming in from other places and seeing the advantage of [the street's] proximity to downtown," Harris adds. "Before, Jefferson Street was sort of stagnant -- people didn't realize... or didn't utilize its potential."
PUBLIC ART WITH A PURPOSE
As business and residents have come back, so has the neighborhood's creative cache. You'll spot signs of the prolific Norf Art Collective throughout the area; from murals to bus wraps, its artists are responsible for a growing body of work here and, increasingly, citywide. While murals are prolific all over Nashville -- you've likely spotted the iconic "What Lifts You" (The Gulch) and "I Believe in Nashville" (12 South) in your Instagram feed -- Norf founders Woke3, doughjoe, Sensei, and Keep3 asked themselves, "How do we come together as individual artists and work to improve our community?" Part of the answer: "With any public art piece, you get to tell a story wherever you put it," says Woke3, whose 2015 TSU thesis project spawned the idea for the collective. "You don't want to put a piece anywhere that doesn't really mean anything or isn't really saying anything. I don't want to. I don't like to. I'd like to be able to speak the area."
And Norf is speaking in a big way. Look for its mural Family Matters, which covers 1,000 square feet on the side of a building at 26th Avenue & Clarksville Pike, and depicts a group of African-Americans both young and old -- including local civil rights heroes Diane Nash, Curlie McGruder, Z. Alexander Looby, and John Lewis -- marching triumphantly. Ride Norf at Green Fleet Bikes, painted by doughjoe, nods to North Nashville's legendary music scene (it shows Stevie Wonder, Etta James, Jimi Hendrix, Aretha Franklin, and Little Richard on two wheels), and Woke3's Breeze (1114 Buchanan Street) depicts an African-American woman's natural hair -- which extends the length of the building -- blowing in the wind.
The monthly Jefferson Street Art Crawl (which just celebrated its two-year anniversary), another sign of the area's creative rebirth. Though visitors can catch Nashville's citywide art crawl on the first Saturday of the month, Jefferson Street has its own every fourth Saturday (6-9pm). Stops include the in-house gallery at One Drop Ink tattoo parlor, Harris' Woodcuts, Thaxton Waters' Art History Class (usually housed at the Susie Brannon McJimpsey Center), Garden Brunch Café (which functions as a gallery after business hours), and Cultural Visions Art (whose gallery stocks affordable works from seasoned and new artists).
BUCHANAN STREET: NORTH NASHVILLE'S NEW CREATIVE CLASS
As you travel north from Jefferson Street toward Buchanan Street, there's no shortage of imaginative food options, either. Stop by Caribbean Splash, a combo car wash/cafe (just trust us) for some jerk chicken; Ed's Fish House for the famous fried fish sandwich; The Southern V for fried seitan and waffles; or new hotspot Slim & Husky's Pizza Beeria. (If the line's long at the latter, use their app to order takeout and pick it up at the restaurant's satellite location, The Rollout, across the street -- where you can also get fresh cinnamon rolls.)
Heading west from Slim & Husky's, you'll see Woke 3's Breeze on your right, then soon spot Elephant on your left -- just look for the large, horned, spotted creature out front created by Brett Douglas Hunter. The brainchild of artist Alex Lockwood, the gallery and studios are central to what has been hailed as Nashville's new "weirdo art scene."
Since opening in early 2017, Elephant has made a name for itself with wild, immersive, art shows. Last October, the movement and sound of sculptor Don Shull's whirligigs, powered by wind machines, overtook the space. (It was Shull's first solo exhibition, at age 83.) This past May, for David Onri Anderson'sEarthbound, the floor was covered in grass -- as in actual, smells-like-outside, living grass. These shows make a visit to Elephant more like a journey to another realm. "That's my goal for the gallery every time and that's always my goal for my own shows," Lockwood says. "To make it good enough and engaging enough and thoughtful enough and weird enough that it's not going to be a cocktail party of all the artists in town with some art in a ring around them."
Speaking of unforgettable Elephant shows: August 16, the date of Elvis' death, marks the opening of North Carolina photographer Ralph Burns' new show, composed of photos he's taken of Graceland on the anniversary of Elvis' death in the years since 1977. The photos will be celebrated with live music and "the cheapest Elvis impersonator in America," Lockwood notes. A book of Burns' photos will also be available for purchase at Anteater, the merch store (open Tuesday to Saturday, 12-6pm) at the back of the building selling huge colorful papier-mâché masks, unconventional jewelry, fine ceramics, a carefully curated 'zine collection, and other one-of-a-kind items.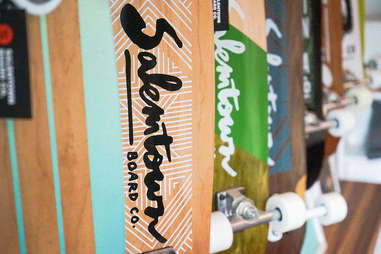 A COMMUNITY OF MAKERS
So much is happening at Elephant that plans are in place to move the gallery to a bigger building about four blocks away that will allow for more studios for its resident artists. (Anteater will take over the old gallery space after the move.) Elephant's current artists are a diverse crew of makers who embody the new creative energy of Nashville's art scene. Ceramicists Jessica Cheatham (Salt Ceramics) and Becky Blevins (Blevins Ceramics) make artistic home goods; Salt with its functional, everyday items like mugs and bowls, Blevins with a collection of design-forward vases and serving bowls. The "Elephant" lettering on the front of the building is the work of hand-painted sign maker Meghan Wood of I Saw the Sign, which also did the signage for the Urban Cowboy bed-and-breakfast and Mexican restaurant Mas Tacos Por Favor. Sculptor Bret Douglas Hunter, known for his multicolored Aminals series; Duncan McDaniel, whose public art has included suspending rainbow-hued plastic cups from the ceiling at the Nashville airport; and abstract painter John Tallman round out the studios' residents.
The creative output in North Nashville isn't limited to visual art, either. End your tour at the Buchanan Arts District, situated loosely at the east end of Buchanan Street near Ninth Avenue North, which is home to a number of shops peddling high-quality, handcrafted goods. At Emil Erwin, you'll find luxury leather handbags, belts, and home goods; or pop next to Nisolo for sustainable leather shoes and accessories for men and women. Consider the Wldflwrs makes delicate engagement rings, wedding bands, and other fine jewelry; while Salemtown Board Co. designs vintage-style skateboards. The board shop moved from its eponymous Salemtown location to North Nashville and transitioned to nonprofit status in 2016 in order to employ more workers from the neighborhood -- just one more reason shopping, eating, and exploring the artistic works here is intrinsically linked to this city's past and future.