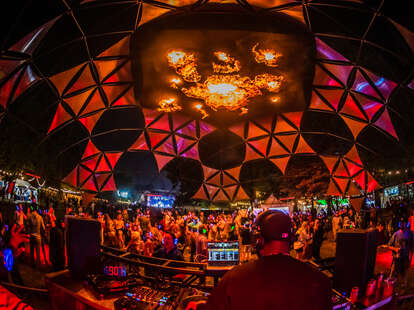 Courtesy of Mempho/Keith Griner
Courtesy of Mempho/Keith Griner
When you think of Memphis, Tennessee, the first thing you probably think of is barbecue. But maybe it should be more associated with music, as the Bluff City has a legitimate claim as one of the birthplaces of a host of important musical genres, including rock n' roll, jazz, gospel, blues, R&B, rap, and soul. With such a rich musical history, Memphis is the perfect place for a festival like Mempho that pays homage to all sorts of musical styles and which stands out from the pack of regional music festivals by taking place in a botanical garden.
The sixth iteration of Mempho will take place at Radians Amphitheater at Memphis Botanic Garden from September 29 through October 1 and will showcase an eclectic lineup of musical acts that represent the city's past and future trends through a lineup of local heroes and national touring acts. This year's headliners will be The Black Crowes, My Morning Jacket, and the Turnpike Troubadours, each a Southern musical act that will play the closing set on the main stage on consecutive evenings. Supporting acts also worth the price of admission include alt-rockers Ween, the soulful indie band Lake Street Dive, jam band Joe Russo's Almost Dead, singer-songwriter and multi-instrumentalist Tash Sultana, long-time garage band rockers Dinosaur Jr., and Larkin Poe.
The venue itself is a major draw, as the festival will take place among the 96 beautiful acres of the Memphis Botanic Garden. In addition to three large stages alternating continuous music over the course of three evenings, Mempho is also home to one of the most unique performance stages on the festival circuit, the Incendia Dome.
Located in the heart of the Mempho festival grounds, the Incendia Dome is described by festival organizers as "a mobile, modular artistic installation and interactive event space designed to create a unique and awe-inspiring experience for all those who enter."
The massive geodesic dome is topped with a crown of streaming propane fire effects that create an undulating ceiling of flame high above the heads of festival goers whirling like dervishes as they dance to energetic DJ sets that begin at 6 pm each evening and run until midnight. LED lights, smoke machines, and a pumping sound system contribute to the trippy vibe under the dome, and the warm glow of the flames hugs the party people to keep them boogieing past the normal point of exhaustion.
The Incendia is a family-friendly venue, although anyone under 18 must be accompanied by an adult, and don't forget to stay hydrated and wear comfortable shoes if you want to party until the witching hour arrives at midnight. There will also be other activities for kids including arts and crafts stations, games, balloon animal artists, face painting and bouncy houses, plus music education workshops aimed at younger music fans.
Tickets for Mempho are still available at the festival website, and range from $195 for a three-day general admission pass to $660 for a VIP pass to the entire festival. If you're a frequent festival goer, you may have struggled in the past with whether to pay for the VIP upgrade. So what do you get with your regular admission? Admission for all three nights and access to a variety of concession stands and merch tents where you can buy food and drink and swag from various vendors. Oh, and you can fill your own water bottle for free at hydration stations.
The VIP level? That includes a dedicated VIP entrance and parking area, a special furnished VIP area with premium comfortable seating, $100 in "Mempho Bucks" to spend on food, drink, and merch, access to private air-conditioned restrooms, complimentary snacks throughout the day along with free water, soda, wi-fi and charging stations, and a private bar with shorter lines where you can purchase beer, wine, and cocktails.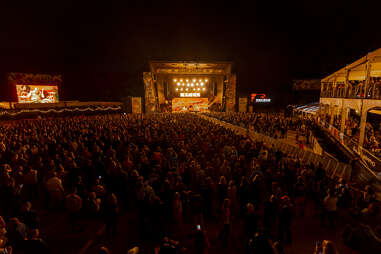 Drive time:
2 hours from Little Rock
3 hours from Nashville
4 hours from St. Louis
6+ hours from New Orleans and Dallas
More Things to Do in Memphis:
To discover more of the important role that Memphis has played in musical history, check out some of their fantastic museums, including the Stax Museum of American Soul Music, the Memphis Rock n' Soul Museum, the historic Sun Studio, the Blues Hall of Fame Museum, and the Memphis Music Hall of Fame.
Of course, no trip to Memphis is complete without a visit to Graceland, Elvis Presley's home and burial site. While some visitors are surprised that Graceland is basically just a big ranch house instead of some epic mansion, there is shag carpet on the ceiling in some spots, the famous tiki-inspired Jungle Room, a racquetball court filled with gold records, and plenty of other fascinating Elvis memorabilia that represents a snapshot in history when The King was the most famous entertainer on the planet. Pay the upgrade for the tour that includes the Presley Motors Automobile Museum and access to Elvis's two jets for the full experience.
Other Memphis experiences worth your time during the day while you rest up for another night of Mempho include exploring the city's important role in the civil rights movement with visits to the National Civil Rights Museum that is connected to the Lorraine Motel where Martin Luther King, jr was tragically assassinated in 1968, and other sites along the U.S. Civil Rights Trail. Beale Street is a center of live music lined with energetic bars and clubs along with authentic soul food spots, and of course the Mississippi River is still the aorta of the city with entertaining historical attractions on Mud Island and Tom Lee Park plus riverboat cruises and even guided kayak tours.
Where to Eat in Memphis:
You can't visit Memphis without sampling some of the city's amazing barbecue, the soulful center of local cuisine. You can't go wrong at many of the local stalwarts including Charlie Vergos' Rendezvous, Central BBQ, Interstate BBQ, Cozy Corner, The Bar-B-Q Shop, Commissary BBQ, Corky's, Payne's, or Tops. While ribs (both wet and dry-rubbed) and pulled pork are the most famous barbecue formats, don't be afraid to try some of the more unique variations like BBQ spaghetti or smoked cornish game hens.
For finer dining, Chez Phillipe in the Peabody and River Oaks are long-time favorites along with other options like Flight Restaurant and Wine Bar, Restaurant Iris, Paulette's, and Acre. Childhood friends and chefs Andy Ticer and Michael Hudman operate two of the city's best restaurants right across the street from one another on Brookhaven Circle with Andrew Michael's Italian Kitchen and Hog & Hominy.
Memphis is also home to some excellent craft breweries including Wiseacre Brewing Co., High Cotton, Memphis Made, Grind City, Bosco's, and more. Old Dominick Distillery was the first legal distillery in Memphis since Prohibition when they opened their doors in 2017 after discovering a bottle of Old Dominick Toddy from the late 1800s which the great-great grandsons of Domenico Canale had analyzed by a laboratory to help develop their own whiskey recipe. Now the new generation is creating their own line of excellent spirits that you can sample and purchase in their tasting room.
Where to Stay in Memphis:
It's been said that Memphis is actually the capital of Mississippi and that the Mississippi Delta begins in the lobby of the opulent Peabody Hotel. That's how important the historic hotel is to the region, and it's still a popular choice for lodging among visitors to the city. Be sure to be in the lobby at 11 am or 5 pm when the legendary duck march takes place as the hotel's flock of avian mascots make the journey from their rooftop coop led by a tuxedoed escort who leads them to the fountain in the lobby.
Another lodging option is the Central Station Hotel which has also served as the city's main train station since the early 20th century and still offers access to the Main Street trolley line and Amtrak's "City of New Orleans" line that runs from the Big Easy to Chicago. A constant soundtrack of Memphis music entertains guests, and a collection of hundreds of vinyl records is available to keep the party pumping.
For a really unique experience, spend a few nights at the Big Cypress Lodge, an outdoor-themed hotel in the iconic Memphis Pyramid overlooking the Mississippi and a massive Bass Pro Shops sporting goods store. The tallest free-standing elevator in the country will take you to an observation deck offering sweeping vistas of the city skyline and the river.
Chris Chamberlain is a Thrillist contributor.