The LGBTQ+ community in Nashville contributes so much to the arts, creativity, business growth, and overall livability of this city, and whether you're a proud member or an enthusiastic ally, you'd be remiss not to take a moment to celebrate this Pride month. The big Nashville Pride 2022 Festival will take place the weekend of June 25 - 26, but there are plenty of other opportunities throughout all of June to show your Pride and have some fun at the same time. The 10 options below are all must-hit events.
Saturday, June 11
City Winery
Nashville being "Country Music, USA" and all, it makes sense that we celebrate Pride with homages to some of the genre's greats at this festive drag brunch. Your ticket doesn't include food or drink, but those will both be available for purchase as the talented performers circulate through the crowd to keep them entertained. This benefit event for Nashville Pride is certain to be a good time.
Cost: $25 and up
Saturday, June 11
GEODIS Park
Nashville SC's LGBTQ+ supporters will be recognized on this special Pride Night match against the San Jose Earthquakes. The fun will start before the team even takes the pitch with a special Pride Plaza Party featuring queer alt-country artist Gina Venier and participation from LGBTQ+ allied businesses. Other in-game musical acts will also feature LGBTQ+ acts and allies like Harper Grae, Brandon Stansell, and Nathaniel Banks of Arlie. Special rainbow-emblazoned gear will be worn by the players and available for purchase in the Pro Shop, and 10% of sales from the 2022 Pride scarves, shirts, headbands, and posters will be donated to LAUNCH PAD, a local volunteer group that offers services to LGBTQ+ youth in need of emergency shelter and housing.
Cost: $21 and up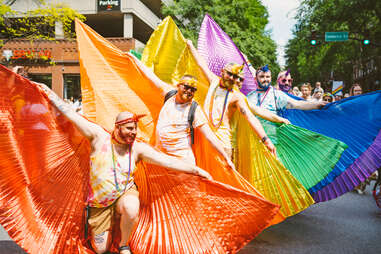 Saturday, June 25
Downtown
Kick off the weekend of official Nashville Pride events early on Saturday morning as thousands of LBGQT+ marchers and allies gather at 8th and Broadway to march down to the riverfront starting at 10 am. Rainbows will be flying as floats, decorated vehicles, and paraders joyfully make their way through Lower Broad. The eclectic group of Grand Marshalls represents the breadth of the local queer community, including country music star and member of Brothers Osborne, TJ Osborne, entertainment icon Leslie Jordan, local advocate Greg Cason, and long-time gay rights activist Alberta Hardison.
Cost: Free
Saturday, June 25
Downtown
The Skydeck on top of Assembly Food Hall will be an excellent aerie to take in the gala parade and get your heart pumping at the same time. An outdoor group fitness class will begin the day at 9 pm followed by a parade viewing party with airbrush body-painting, music from a DJ, a glitter station, and a mimosa bar. All you need to bring is a yoga mat and a good attitude.
Cost: $40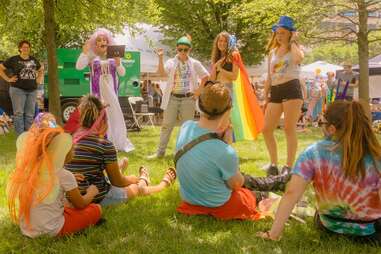 Saturday, June 25 and Sunday, June 26
Bicentennial Capitol Mall State Park
All elements of the LGBQT+ existence will be celebrated at this huge weekend festival in the shadow of the State Capitol. (Hopefully, they'll be listening!) Multiple stages will feature music acts including headliners Walk the Moon and country legend Tanya Tucker. More than 200 vendors will be offering up their arts, crafts, clothing, and food items, and local organizations will set up tents and tables to show their support and share helpful information. A Kids and Family Zone will be set aside so that everyone can take part in the fun, and youth activities will be scheduled throughout the weekend. Community art projects will encourage attendees to demonstrate their support through creativity, and VIP and Friends of Pride Lounges will be available for those who want to pay a little extra to get a more luxe experience.
Cost: $5 and up
Saturday, June 18
Collective 615, West Nashville
IMAGINARIUM is a non-profit group whose mission is to make the world a better place through collective imagination followed by conscious action to achieve a more inclusive culture. So you can bet Pride is a big deal for them. They'll gather for an evening of friends, music, treats, and love, and the vibe will be electric and supportive. There's no cost to attend, but you could at least register in advance to let you know you'll be joining in the festivities.
Cost: Free
Saturday, June 25
Germantown
Reserve a premium bowling experience for up to eight partygoers for two hours at Brooklyn Bowl, and you'll be part of the QDP extravaganza. QDP is a monthly local queer dance party, so you know the atmosphere will be festive. Your ticket includes all-you-can-bowl, a comfy couch and table, food and bev service, and excellent sightlines to the entertainment on stage.
Cost: $275
Saturday, June 18
Downtown
This boozy walking tour of Downtown kicks off at Lucky Bastard Saloon on Lower Broad before winding its way around the party district with stops at various watering holes along the way. A portion of your ticket price will benefit The Trevor Project's efforts to support LGBTQ+ youths, and the rest of the cost entitles you to vouchers for two drinks or shots at the participating venue of your choice, plus a commemorative cup, access to drink specials along the way, and an invitation to the big afterparty. Wear comfortable shoes.
Cost: $20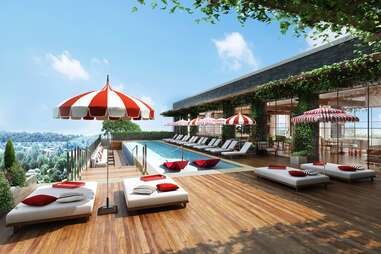 Various
Music Row
As one of the official hotels of Nashville Pride, Virgin Hotel Nashville celebrates diversity, equity, and inclusion throughout the year. But during Pride Month, they really turn it up a notch with all sorts of fun activities. From an Upside Down Drag Tea Party with boozy tea cocktails on June 12 to a Wednesday night Rooftop Sounds party on the pool deck June 15 to the official afterparty of the first night of Pride on June 15, Virgin is the place to be seen as part of the scene.
Cost: Varies
Sunday, June 26
East Nashville
The Sweet Tea Dance is the official closing party of Nashville Pride, and this version of Nashville's official tea dance should be extra-special in honor of the occasion. Basement East is the venue for the soiree, and the post-Pride celebration at "The Beast" is certain to be festive.
Cost: Free
Chris Chamberlain
is a food, drink, and travel writer based out of Nashville, where he has lived his entire life -- except for four years in California where he studied liberal arts at Stanford University and learned how to manipulate chopsticks. He is a regular contributor to the Nashville Scene, Nashville Lifestyles, Local Palate, Edible, FoodRepublic.com, and Conde Nast Traveler. He likes beer, bourbon, and bacon but isn't fanatical about any of them.