There's no doubt that Nashville is a party city. Yes, you can buy T-shirts emblazoned with "Nashville: a drinking town with a music problem," but that doesn't mean you can't have a great time in Music City without alcohol. In fact, outside of the neon canyon of Lower Broad, where the debauchery is pretty hard to avoid, there are plenty of places to visit and activities to enjoy that are in line with a sober lifestyle.
Whether you're trying to cut back on consumption or you've made the choice to eschew alcohol altogether, Nashville offers plenty of opportunities for fun that won't leave your head aching the next morning. Here are some of our favorites:
Non-Alcoholic Food and Drink Things to Do in Nashville
NA bars
Nashville bartenders are usually quite sensitive to the desires of their patrons, even those who aren't looking for a boozy cocktail. Gone are the days when the only non-alcoholic options at a bar were just mixers like club soda, tonic, or fruit juices. Now mixologists go out of their way to create complex, layered mocktails (although not all of them like that name) using the same care that they would coming up with a new cocktail for the drink menu.
The bar at Husk has several advantages when it comes to creating inventive NA cocktails. First of all, their bartenders are already mad scientists, playing around with exotic ingredients like house-made syrups and tart shrubs that they use in much of the cocktail list. Another benefit is the on-site garden that actually grows the freshest ingredients possible for both the culinary kitchen and the bar. It's not unusual to see an employee wearing a bartender's apron foraging from the garden, either for ingredients, garnishes, or possibly just looking for flavor inspirations for something new to add to their special "Amendment XVIII" menu, cleverly named after the amendment to the Constitution that kicked off Prohibition.
At The Fox Bar & Cocktail Club, the NA offering is a bit hidden at the back of their drinks menu, but the bartenders at The Fox are constantly coming up with new treats for non-tipplers, including some created with house-made ingredients. These gastriques, syrups, and orgeats take extra time to create, so they probably should cost even more than standard cocktails. But they don't.
The Greenhouse in Green Hills is a pleasant hideaway from the crowded commercial strips of the neighborhood, tucked in an actual greenhouse that allows plenty of rejuvenating natural light in during the day. If you don't want your daydrinking to preclude a productive afternoon, they offer a short list of nice mocktails, including some made using local hero Maypop's line of sparkling waters infused with real fruit juice.
While nobody would confuse the party atmosphere of The Hampton Social as an expected site for a 12-step meeting, the SoBro restaurant goes out of its way to accommodate guests who want the full brunch experience without the booze. From a non-alcoholic rosé to a seasonal menu of mocktails, The Hampton Social ensures that all feel welcome at the bar.
Thistle & Rye is the cocktail bar at the Conrad Nashville, and rather than come up with new cocktails for teetotalers, the bar staff have spent their time sourcing non-alcoholic versions of traditional spirits so that they can offer three classic cocktails in NA form. Their booze-free versions of iconic drinks like the Aperol spritz, boulevardier, and negroni offer the same flavors as the originals without the punch.
East Nashville neighborhood hang Cafe Roze also offers an alcohol-free spritz along with several other drinks made using NKD LDY non-alcohol alternative spirits. As another nice touch, Cafe Roze includes an NA beer from local brewery Southern Grist on their drink menu as well.
Denim is the rooftop pool bar at The Joseph, and they also take advantage of alternative spirits from Seedlip as bases to seasonal mocktails that are perfect to accompany a day poolside or enjoying the hotel's luxurious spa. Plus, you'll save calories so you won't have to spend as much time in their adjoining gym.
While Living Waters is primarily a brewery, the East Nashville facility is also home to a fantastic coffee shop where they're just as obsessive over both kinds of brews. It's an ideal gathering spot for a group that includes both drinkers and non-drinkers to enjoy fine beverages together.
NA bottle shops
While drinking at a bar is great and all, sometimes you want to stay home and catch up on a little binge-watching with a mocktail or two. While local liquor stores have begun to stock more non-alcoholic ingredients for your home bar, the selections can still be a bit limited. Killjoy has become a leader in the category for folks seeking NA alternatives from beers to drink ingredients and mixers. Their tiny shop also hosts tastings so you can try out the ingredients before you invest in a $45 bottle.
Tea services
An afternoon tea service is a delightful treat if you're looking for some refined fun but not hunting a happy hour. At the opulent Hermitage Hotel downtown, they host a traditional afternoon tea at 2 pm on Friday, Saturday, and Sunday complete with precious tea sandwiches, scones, and pastries along with loose-leaf tea from In Pursuit of Tea. It's "pinkies out" as you sit and sip in the gorgeous Beaux Arts decor of the hotel's Grand Lobby and Veranda, and they'll even comp your valet parking so that you can feel like a real high-roller.
The Lounge at Blue Aster at the Conrad is another more formal option with seatings from 2 pm until 3 pm on Fridays through Sundays. Expect similar high-quality tea from Rare Tea Service as at the Hermitage along with sandwiches, scones, and pastries. The service also includes a glass of champagne, but that kind of defeats the purpose of this exercise. You could always give it to a friend.
More casual, but no less enjoyable, is the tea service in the Nations at the Cafe at Thistle Farms, a small business that supports women seeking assistance from abusive situations by providing sanctuary, housing, healing, and employment. The cafe's tea service revolves around the Japanese principles of "chado," which emphasizes not just how the tea is prepared, but also how it is served and enjoyed with an attitude of love and intention. The experience is also available as a to-go option thanks to a Tea Box carryout service.
Wellness Things to Do in Nashville
Soundbaths, meditation, and more
Just because you're not drinking, doesn't mean you won't be welcome at a local speakeasy, specifically at Haum, a "soundbath speakeasy" in Franklin where those seeking relaxation lie on comfy pillows on the floor and allow themselves to become awash with soothing sounds from chimes, gongs, and singing bowls along with pre-recorded music designed to take listeners deep into their inner being. Even if that all sounds a little "New Agey" to you, we can guarantee it'll be a relaxing time.
Wild Heart Meditation Center is an East Nashville non-profit that conducts meditation workshops throughout the week to introduce newcomers to the ways of Buddhism, including special focused meetings for those going through recovery from addiction or addictive behavior. Attendees are encouraged to partake in self-reflection and bring an open heart and mind as part of the community.
If you're seeking some self-care, Salt and Soles offers daily group and private sessions where you'll recline in a zero-gravity chair inside a salt cave while blissing out to meditative music and inhaling the pure, sterilized salt crystals. Add on a massage or reflexology treatment for a session so relaxing that they'll have to pour you into your Uber afterward.
There's been a lot of buzz lately about the benefits of walking labyrinths, curvy outdoor paths that create an ideal environment for slow introspection on the path to spiritual centering. The
Scarritt Bennett Labyrinth is a smaller path than some, so you don't have to dedicate too much time to finding your holy heart, and it's free and open to the public daily from sunup to sundown.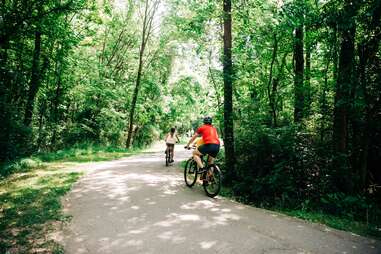 Outdoor and Fitness Things to Do in Nashville
Rivers and lakes
Thanks to nearby lakes like Percy Priest and Old Hickory, as well as the Cumberland River flowing through downtown, paddleboarding has become a favorite peaceful form of exercise for Nashvilians seeking scenery and balance. Now that the river is no longer derisively referred to as the "Scumberland," it's safe to rent a board from outfitters like Nashville Paddle Co. or Big Willie's and see downtown from the water. Just remember that the Cumberland runs downstream from Riverfront Park towards Opryland, so you'll either have to fight the current home or arrange a pickup.
Parks and Greenways
Nashville is blessed with a growing system of greenways that provide opportunities for walking, running, biking, or rollerblading (if you're still stuck in the 80s,) all along paved and protected paths that connect around town. Or take advantage of the hiking trails at Warner Parks or Radnor Lake to get in touch with nature and clear your head.
Cultural Things to Do in Nashville
Museums
Music City is home to all sorts of museums, and unsurprisingly, many of them are related to music. Some of our favorites include the National Museum of African American Music, Country Music Hall of Fame, Musicians Hall of Fame, and Jefferson Street Sound Museum. If fine art is more up your alley, check out the Frist Art Museum, Van Vechten Gallery, or the art collection at the Cheekwood Estate & Gardens.
Live Music
Music lovers can find plenty of opportunities to enjoy their favorite hobby without having to fight the bawdy crowds at downtown honky-tonks. The Nashville Symphony Orchestra offers a very full calendar of performances at the Schermerhorn Symphony Center in SoBro as well as at frequent free al fresco concerts around town. Because Rocketown focuses on shows for the under-21 set, it's a great place to catch some music without the burden of navigating a floor full of tipsy people, and quieter clubs like Rudy's Jazz Room, the Bluebird Cafe and Listening Room Cafe are also mellower music venues without the drunken din of downtown crowds.