Travel
Sponsored By
Everywhere You Need to Eat, See, and Cruise Around Nashville
Sponsored By
A thriving job market, low cost of living, the option to honky-tonk every night of the week -- we get it! Nashville is a great place to live. With its recent population growth comes a diverse new crop of restaurants and activities to dazzle transplants and delight natives. Here's a list of solid hangs, old and new, with insider tips on how to navigate the crowds on your own terms.
DRIVE
Beaman Park
If you're short on time but crave fresh air, cruise out to Beaman Park. Roll down the windows as you snake down curvy, country roads shaded by lush tree cover. With five miles of trails on 1,700 acres, Beaman Park allows you to lose yourself in nature and still make it to work on time.
Cummins Falls
True adventurers will love Cummins Falls State Park in Cookeville (open every day, 8am-6pm). Visit the overlook or hike down to the gorge/plunge pool, but remember -- this rugged hike is not for the faint of heart! Picnickers should hike first, eat later. 
Jonah Eller-Isaacs
EAT
Lyra
Known for modern Middle Eastern cuisine, Lyra is a shining star in Cleveland Park's food scene. The sleek, mid-century aesthetic and innovative plating give Lyra a contemporary feel, while the well-executed dinner menu shows the depth of chef Hrant Arakelian's traditional style. Locals hit the happy hour (Monday to Saturday, 4-6pm) for the lamb butter fries ($6) or fatteh ($6). 
Folk
Yes, a trip to Folk does feel like eating fancy pizza in a design magazine. But it's the exceptional staff and fresh, local produce that keep this gorgeous, McFerrin Park space hoppin'. Not to mention, Folk's clam pizza is a Nashville institution. Call ahead if you want dinner to be a sure thing or pop in at non-peak times to split a pizza at the bar.
King Market
Take a hard right past the bags of bulk rice and you'll soon be sipping out of a fresh coconut ($4) in King Market Cafe. The family-run, Thai-Laotian restaurant offers hard-to-find dishes for extremely reasonable prices. We're talking fish maw soup with quail eggs for $10.50 and fried pork intestine for $9.50, all 100% worth the drive to Antioch.
Riverside Grillshack
Come for the local, grass-fed beef; stay for the wings. This neighborhood spot slings high-quality burgers for (almost) fast-food prices. Its location within walking distance of Shelby Park means you can kayak on the Cumberland with River Queen Voyages and stop for burgers on the way home. You're welcome -- we just planned your Saturday.
Advertisement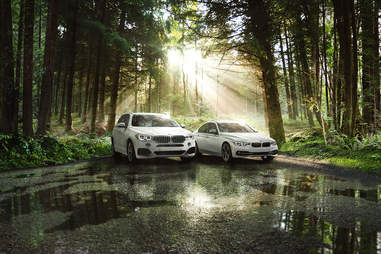 BMW
However you explore a city, the way you get there matters. Our vote: Do it from behind the wheel of a BMW. Right now you can buy your own luxury ride for an accessible price with a factory-backed warranty and 24/7 roadside assistance. Plus, every BMW Certified model is less than four years old and has been reconditioned by trained BMW technicians. So hurry in for exceptional offers on 2015-2017 BMW Certified models, and get where you're going the right way. Because good things come to those in the know.
Ryman tour
DO 
Walkin' Nashville
Walkin' Nashville, an immersive walking tour of Music City, is accessible for the country music novice and engaging for experts. Grammy-nominated music journalist Bill Demain leads guests to country music hot spots (the Ryman Auditorium, the Country Music Hall of Fame) and unofficial landmarks like George Jones' Possum Holler. It's a can't-miss for music nuts. 
River Queen Voyages
The first kayaking company on the Cumberland River, RQV offers a unique opportunity to see Nashville from the water. On one of four different routes (plus a scavenger hunt option), kayakers can paddle right into the heart of Music City, making for a grounding counterbalance to the bright lights of Broadway.
Elephant
Brainchild of artist Alex Lockwood, North Nashville's Elephant art gallery is the place to be, especially during the First Saturday Art Crawl, and for good reason: There's a gallery space in the front, artist studios in the middle, and the retail space in the back, Anteater, features one-of-a-kind art from near and far. Highlights include folk artist Don Shull's whirligigs and Ghanian coffin maker Paa Joe's fantasy coffins, which resemble everything from sneakers to cheetahs.
51 Dog Park
Anyone who has spent time in the increasingly walkable Nations neighborhood knows Fifty-First Kitchen. At its on-property dog park, you can enjoy the restaurant's southern-focused dinner menu, small-bites, and happy hour offerings without worrying about getting home to walk Fido. On occasion, the restaurant even offers a menu featuring simple meals just for dogs.