Most travel stories about Nashville focus on what the local alt-weekly deemed the Bachelorette Industrial Complex centered around the music venues and bars of Lower Broad, and this five-block stretch of asphalt and Fireball is certainly an entertaining destination for anybody seeking to enjoy an evening of lowered inhibitions and primal fun. But Nashville is so much more than that; it's a city of neighborhoods, each with its own unique vibe, culture, food, drink, and attractions. Exploring these destinations offers a much richer experience of Nashville, and fortunately all of them are just a quick rideshare away from Crazy Town if you want a taste of the honky-tonk life.
Recommended Video
Please Don't Hang Up: The Best BBQ & Barcade in Dog-Friendly Kansas City
SoBro
Twenty years ago, visitors would never visit this former industrial neighborhood on the south side of Broadway unless they had a need for say, a Langstrom 7-inch gangly wrench from one of the industrial warehouses that occupied the mostly commercial buildings. Now you'll have to Amazon that wrench because once the Bridgestone Arena was constructed, followed by the gigantic convention center and accompanying hotels and restaurants, SoBro property is too valuable to support single-story buildings anymore. Take a visit to Nashville's urban forest.
 
Where to stay: SoBro is now the site of some massive hotel construction with national chains growing new properties out of the ground like steel stalagmites. You can earn or use your hotel points at multiple Marriott, Hilton, Omni, and Westin locations or party with the Parrotheads at the new Margaritaville Hotel, but we're partial to Bode. This unique property combines the best of the hotel experience with a more apartment-like scene. A variety of room types offer full kitchens, multiple bedrooms, common entertainment space around fire pits and a small outdoor stage, and a little bodega to provide you with snack foods and drinks for the room. It's all just a short walk from Lower Broad, but you'll feel like you're living like a local.
 
Things to do: Whether you're a fan of country music or not, the Country Music Hall of Fame is a mandatory destination if you really want to understand what makes the city tick. With displays ranging from the birth of mountain music to modern stars (there's a Taylor Swift wing), the museum explains how integral the story of country and Americana is to the fabric of the US. Just around the corner are two smaller museums honoring icons of country, the Johnny Cash Museum and the Patsy Cline Museum, upstairs from the shrine to the Man in Black. The Cash Museum is filled with artifacts that come directly from his family, so you know they're legit.
 
Best restaurants: Two fantastic restaurants are located right next door to each other on the ground floor of the Encore condo building, the first residential complex in SoBro that made it cool to live downtown. It also boasted one of the best pool decks in town before Bridgestone built their corporate headquarters right next door, blocking out the sun from all but a little sliver of the deck. Etch was the first restaurant to move into the Encore, and chef Deb Paquette is beloved by local diners for her deeply layered and flavorful international cuisine. Her roasted cauliflower with pea puree and feta crema is a must-order appetizer. Next door to Etch is The Farm House, an amiable farm-to-table restaurant serving creative Southern food with the occasional Italianate influence. 
 
Bars & Nightlife: Even most locals don't know about Bar Sovereign, a quirky little cocktail spot marked only by a tiny sign by the front door of the building in an unremarkable industrial strip. Once you find it, you'll be amused by the playful drinks and riotous decor featuring mod art and what appears to be parts from an exploded piano hanging on the wall behind the bar. For a more traditional drinking experience, the massive 6th & Peabody complex is home to sister companies Ole Smoky Distillery and Yee Haw Brewing. Both entities actually have manufacturing facilities on-site and offer the opportunity to taste through their product lines. Or you can just grab a beer or some food from White Duck Taco Shop or the Prince's Hot Chicken food truck and watch sports on huge screens while enjoying a game of cornhole in the festive outdoor beer garden.
Germantown
When Nashville became the state capitol in 1843, laborers were immediately needed to construct the new government buildings that came along with that designation. Many of the builders were German immigrants from the area around Cincinnati, and they immediately started building their own houses in this first suburb of Nashville, just a short walk north of Downtown. Some of the original cottages are still there alongside larger brick buildings that were the homes of the city's first suburban elites.
 
Where to stay: Germantown has managed to maintain its residential character with walkable sidewalks connecting commercial strips of restaurants, boutiques, and salons. For an authentic experience, short-term rentals are the way to go, whether you choose an adorable little cottage or an apartment with a sweeping view of the city's ever-changing skyline from the rooftop deck. The Germantown Inn offers slightly more conventional lodging options with 10 suites in a boutique hotel created from a renovated historic antebellum Federal-style home.
 
Things to do: Tennessee boasts a rich variety of produce, and walking the stalls of the Nashville Farmers' Market is a great way to discover what's in season so you can order it off the menu at the restaurant you visit later. The Market Hall also features a food hall filled with impressive local eateries and vendors of arts, crafts, and other local products. Sharing a parking lot with the NFM is the Tennessee State Museum, a free attraction that tells the story of the state culturally, geologically, musically, and politically. Rotating exhibits accompany the permanent collection, so there's always something new to learn. If the AAA minor league Nashville Sounds are playing in town, a night at their Germantown ballpark is always entertaining.
 
Best restaurants: For a neighborhood with only a couple thousand residents, Germantown boasts some of Nashville's best restaurants. From the ingenuitive rustic European dishes at Rolf & Daughters and City House to the sleek modern seafood emporium Henrietta Red, the dining is exceedingly fine. More casual options also draw visitors from around the city and across the country to fun spots like Butchertown Hall, Tailor Nashville, 5th & Taylor, Silo, Germantown Cafe, and Von Elrod's Beer Hall & Kitchen. For some authentic soulful breakfast and lunch food, check out hidden gems Big Al's Deli or Silver Sands Cafe.
 
Bars & Nightlife: Geist is a cozy restaurant and bar located in a former blacksmith shop where now something other than horseshoes get hammered. Mother's Ruin is a new addition to the neighborhood, and this outpost of the popular NYC bar has quickly become a favorite late-night destination thanks to their delicious menu of upscale bar food and bartenders who still free-pour their drinks with a minimum of "shaker show" pretentiousness.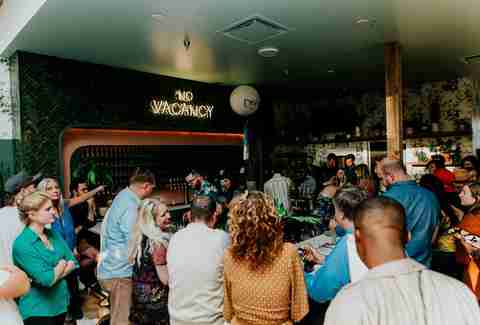 Five Points
The heart and soul of Nashville's more bohemian side of the river in East Nashville, Five Points is an easily walkable neighborhood filled with bars, restaurants, shops, and galleries. For live music that stretches beyond the twang of Downtown, the clubs surrounding Five Points are the places to hang.
 
Where to stay: Outside of AirBNBs, the lodging options of Five Points are limited, but those that exist are excellent. Van Dyke's Bed & Beverage is conveniently crawling distance from the heart of the neighborhood, and this boutique hotel is more of an extension of those bars anyway. The 10 rooms are beverage-themed from whiskey to wine to tequila with appropriate decor to match. You'll be checked in by your bartender who will keep you sufficiently lubricated for the extent of your stay. A little closer to the urban core is Fieldhouse Jones, the sports-themed hotel that's a spin-off from the original location in Chicago. The hip and mod decor of the public spaces and rooms befits the playful experience of staying in this property. A focus on local food and drink plus a spacious rooftop deck make guests really feel like they are immersed in Nashville.
 
Things to do: Five Points is often a late to rouse neighborhood, so take an afternoon stroll around and admire the varied architecture of the houses lining the residential streets. Visit Art & Invention Gallery to view and purchase the work of local artists, many of whom live within walking distance of the cozy gallery. The Hip Zipper is a favorite destination for the best in vintage clothing, because nobody would be caught dead walking around Five Points wearing new jeans. The Shoppes on Fatherland are tiny but packed with crafts, clothing, antiques, and specialty food items.
 
Best restaurants: Chef Margot McCormack could run for mayor of East Nashville if such an office existed, and her two Five Points restaurants represent the soul of the community. Marche Artisan Foods is a favorite spot for breakfast or lunch in a European-style cafe ambiance. Margot Cafe & Bar is the prime nighttime stop for French-inspired dishes artfully crafted using fresh seasonal local ingredients. Five Points Pizza has saved many a partier's life thanks to their walk-up slice window that serves up much needed sustenance until late at night. To see where the locals gather, visit Lockeland Table during their "Community Hour" when proceeds from the special menu of drinks and snacks goes to benefit neighborhood charities.
 
Bars & Nightlife: Treehouse is where industry folks like to meet up after their cooking/serving/bartending shifts are over, so you know they know what's up. Butcher & Bee has three bars, two for drinking and one for eating that offers a view into the kitchen with the talented chefs at work whipping up small plates of Mediterranean-inspired food. Any one of those three bars is a solid choice. For crafty cocktails, knock on the door at Attaboy and hope you gain admission to sit across from their mixologists that will read your mind and give you the drink you didn't know you needed. The drinks are cheaper and the atmosphere is a little more laid back around the corner at The Crying Wolf, so you can choose your own adventure.
Belmont/Hillsboro
Tucked between two universities, Vanderbilt and Belmont, this primarily residential enclave grew up around the old streetcar line that spoked out from downtown in the first half of the 20th century. The Hillsboro Village strip of shops and restaurants has seen many changes through the years, but it still exhibits much of the character of the past along with a few more modern and flashier restaurants and boutiques. For a cheap and quick ride downtown, hop the No. 7 bus for just $2. Nashville's public transit doesn't run very late at night, so you might need to arrange alternate transportation home.
 
Where to stay: Historic zoning regulations limit new construction in Belmont/Hillsboro, so AirBNBs are a popular choice to feel like you're really in the heart of the neighborhood. Whether you need your own private villa or just a well-appointed apartment above a garage, there are a myriad of private options. The new Moxy Nashville Vanderbilt at Hillsboro Village finally adds some stylish honest-to-goodness hotel rooms to the neighborhood, including 200 parking spots that are at a premium elsewhere. The inviting lobby at this boutique features a check-in desk/bar where each guest is welcomed with a signature cocktail, a pool table, board games, and plenty of comfy spots with USB ports to do a little work. Cleverly designed rooms are minimalist in the Moxy style, but with all the amenities guests need for a comfortable stay. You can even order a bedtime story from the phone in the room, with content ranging from sweet to slightly salacious.
 
Things to do: The campuses at Belmont and Vandy are both excellent locales for a stroll through the green spaces and attractive academic buildings. Known worldwide for its excellent music business program, Belmont features a small gallery of iconic guitars, appropriately named The GIG, and Vanderbilt's Sarratt Student Center houses a small art gallery with rotating exhibits. The main strip through Hillsboro Village offers fun shopping at stores like Hey Rooster General Store, Posh, Tribe Kelley, and A Thousand Faces.
 
Best restaurants:  For coffee or a delicious meal, check out Fido, a neighborhood hang in the location of a former pet store. Popular breakfast options include Biscuit Love, a slightly less crowded outpost of the famous biscuit sandwich joint in the Gulch, or Pancake Pantry where there's usually a line out the door to scarf down some flapjacks. Double Dogs is a casual sports bar with a dizzying array of televisions, and Hopdoddy is a mod burger joint.
 
Bars & Nightlife: E3 Chophouse is best known for the grass-fed beef that they raise on their own ranch, but the top floor bar is also worth a visit thanks to inventive cocktails and a rooftop aerie with firepits and comfy couches for lounging. The Villager Tavern remains unchanged from decades ago with walls covered with old photos of patrons plus dart boards and foosball. On your birthday they'll "let" you drink your beer out of a dog bowl. Happy birthday, indeed. For a quick slice and a craft beer, it's tough to beat 'za with their wood-fired pizza oven and amiable staff.
Midtown
This commercial district along the northern edge of Vanderbilt's campus is often overlooked by tourists, but its proximity to Downtown and multitude of lodging and entertainment options make it worth considering.
 
Where to stay: Loews Vanderbilt has been a neighborhood mainstay for decades, but it still feels modern and updated with high-end amenities and a real focus on local products in its drinking and dining options. The happy hour at Mason Bar features local craft beers and cocktails made using spirits from Nashville distilleries, and it runs every night of the week, so that's a real bonus. Loews is an extremely pet-friendly hotel and even offers a special room service menu for your pooch. The new Graduate Hotel is intentionally quirky with decor reminiscent of a Southern grandma's house and a crazy karaoke bar complete with an animatronic back-up band called "The Cross-eyed Critters." It's like Chuck E. Cheese on a serious moonshine buzz.
 
Things to do: The large and bucolic Centennial Park is home to a full-scale model of the Parthenon, an homage to Nashville's reputation as a center of education, hence its nickname as "The Athens of the South." A mile-long walking trail rings the park with plenty of benches to stop and sit a spell. Speaking of walking, Walk, Eat Nashville offers a weekly Saturday walking food tour of the Midtown neighborhood where you can discover some of the area's most iconic restaurants and bars.
 
Best restaurants: Rotier's is a neighborhood institution known for their cheeseburger served on French bread with a side order of playful surliness. The original location of Hattie B's is where many folks were first introduced to Nashvillle hot chicken. The queue to get in for fiery fowl is almost always long, but here's a pro user tip: Order by phone or online and walk straight up to the counter for your order. We promise it tastes the same in your hotel room, and you'll be closer to the facilities if the need arises. Of all the popular locations of Martin's Bar-B-Que Joints around town, the one in Midtown offers the best parking situation and most manageable crowds. Tavern is a popular gastropub destination for a boozy brunch, and Midtown Cafe is a smart bet for a power lunch or an intimate dinner. As a bonus, Midtown Cafe offers shuttle service to and from events at many entertainment venues downtown.
 
Bars & Nightlife: The Hutton Hotel converted two stories of their parking garage into a fantastic hidden nightclub called Analog. They don't feature shows every night, but when they do, the atmosphere is unmatched anywhere else in Midtown. The Patterson House brought classic cocktail culture to Nashville, and there are still lines to get in most nights. The reason you have to wait is they limit the crowds to ensure every guest receives personal service from their bartenders and servers.
12 South
This mile-long strip of restaurants, bars, and shops has become ground zero for daytime field trips away from Downtown for hordes of bubbly bachelorettes and tippling tourists, but that's fine. They're generally better behaved outside of the debaucherous Downtown. Stroll the sidewalks and enjoy this compact entertainment and shopping district.
 
Where to stay: Outside of the actual 12th Avenue corridor, 12 South is almost entirely residential, so AirBNB is the way to go if you want to stay here. Available accommodations range from lovely guesthouses to attractive little lofts to entire houses. Just remember to be kind to the neighbors living next door and watch that you don't block their driveways with your car.
 
Things to do: Sevier Park represents the border of 12 South furthest from Downtown and offers a community center with a small gym to sweat off last night's sins. Or just walk the trails around the small park and admire the babbling brook that flows through the center. For retail therapy, 12 South has a dense collection of fun boutiques. Nashville native Reese Witherspoon opened her Draper James Southern lifestyle store in 2015, and it's been the site of thousands of selfies since then. White's Mercantile is a fun little upscale general store filled with health and beauty items, clothing, home goods, and gift ideas. 
 
Best restaurants: The finest dining in 12 South is at Josephine, where Chef Andy Little creates a menu of seasonal food inspired by Pennsylvania Dutch sensibilities, Southern soul and French cooking techniques. Trust us, it works! Epice brings Mediterranean flair to the neighborhood with an exotic menu of Lebanese cuisine served in an attractive bistro setting. Urban Grub serves a wide variety of cuisine from Tex-Mex to seafood to steaks, and it does them all well. Casual drinking and dining options include Frothy Monkey, the typographically challenged bartaco and MAFIAoZA's Pizzeria, Edley's Bar-B-Q, Burger Up, and Taqueria del Sol.
 
Bars & Nightlife: Embers Ski Lodge is an unexpected treat in Nashville, where you wouldn't ordinarily discover an après-ski ambiance in this town where the mercury frequently tops a hundred in the summer. But there it is, complete with its woodsy decor and roaring fire plus fantastic cocktails. 12 South Taproom was an early neighborhood pioneer and locals still gather there for craft beer and great sandwiches.
Sign up here for our daily Nashville email and be the first to get all the food/drink/fun the Music City has to offer.