A Disney Skeptic's Guide to Surviving the Most Magical Place on Earth
Here's how to have a decent time at Disney World—even if you're not a fan.
To some, it's heaven on Earth, but Walt Disney World can also be outrageously hot, expensive, and crowded. For those of us who are adults but not Disney adults, there's an inclination to wonder: Is Disney World a loud, overwhelming, and garishly joyful circle of hell?
As someone who's regularly dragged along to experience the alleged magic of Disney, my answer is yes.
But even though there's a lot to dread about Disney, it doesn't have to be a miserable experience. Sure, self-described Disney haters may never adore the parks, but some of the most frustrating aspects can be sidestepped by those in the know, and there's certainly fun to be had, too. From the best places to eat and drink, to how to avoid the long lines at the gates, consider this your survival guide for your next trip to Disney World.
Avoid peak Disney season
Planning a Disney trip starts months in advance and can require months of saving. The cost of a one-day park pass ranges from $109 to $159, depending on the time of year. And highly coveted Disney experiences, like Park Hopper passes (to avoid ride lines) and certain meal reservations, need to be secured up to six months in advance.
If you're not much of a planner, the amount of pressure Disney puts on you to plan ahead can feel absolutely bonkers. It may even have you feeling like a bad parent. But don't fall for this (Mickey) mouse trap. Instead, visit the park when it's less crowded and easier to navigate.
First, avoid major holidays like Christmas, Thanksgiving, Easter, Memorial Day, the Fourth of July, and Labor Day. Same goes for major Disney festivals, like EPCOT's Food and Wine Festival, or Disney's Festival of Holidays. Whatever you do, avoid Spring Break (March and April) at all costs. This is when park passes and reservations are truly difficult to come by.
In general, the best time to visit Disney is in the fall when the weather is cooler and the park is significantly less crowded. While attendance rates are a closely guarded secret at the Mouse House, a few obsessive Disney adults have put together a 365-day calendar mapping visitor volume and traffic at specific theme parks. Use Magic Guide's Walt Disney World Crowds Calendar before planning your next trip to spare yourself the headache of long lines and packed parks.
Eat and drink outside the parks
Disney World has iconic food that enthusiasts love, but as a professional food writer, I think you'll find better meals outside of the parks. To be clear, you may find it convenient to eat some meals inside Disney, but you'll get more bang (and flavor) for your buck at Disney-adjacent hotels.
Sip and savor tiki-style drinks, tasty sushi, and pork tacos at Trader Sam's Grog Grotto at Disney's Polynesian Village Resort. Or opt for a Michelin-starred steakhouse with an extensive wine list, plus the most magical view of nightly fireworks, at Capa, located at the Four Seasons Hotel Orlando at Disney World Resort.
Not to mention, there are several celebrity-chef driven concepts to be sampled at Disney Springs, from the Spanish influences of Jaleo by José Andrés, to Masaharu Morimoto's namesake sushi flagship Morimoto Asia and Chef Art Smith's down-home comforts at Homecomin' Kitchen.
Because park hopping and reentries are permitted, taking a break from the theme parks to enjoy a great meal is always an excellent way to take a break.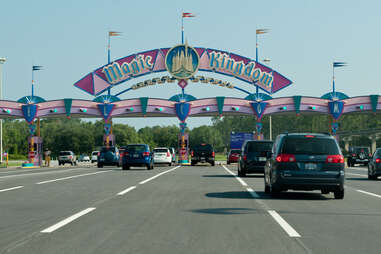 Rideshare to the theme parks
Lots of people drive to Disney or take the Disney shuttle bus, but parking can be a pricey nightmare, and you're sure to lose it while waiting to board the shuttle bus to or from the theme parks. In addition to long lines, these buses run approximately every 20 minutes, and can have you waiting in the Florida heat and humidity.
The easiest, cheapest way to save sanity in Disney is ridesharing. Most of the parks have drop-off zones adjacent to the gates, making ridesharing an accessible and convenient option. The exception is Magic Kingdom where Lyft and Uber drivers will drop you off at the Disney Ticket and Transportation Center, requiring a monorail transfer. But you can bypass this if you know Disney's side door entrances (more on that later).
Ridesharing is also an excellent idea if you're traveling from Orlando International Airport, since Disney recently ditched its free airport shuttle.
Enter through the gift shop
Yes, you can do Disney through sneaky side doors. While tourists gravitate to main entrances, parks like EPCOT, Magic Kingdom, and Animal Kingdom have smaller side entrances, making it a lot easier to skip lengthy ticketing queues.
The best way to beat the line at Magic Kingdom is by ridesharing to the adjacent Contemporary Resort. From there, you can cross the street and look for the pedestrian walkway to the park. This leads you to a separate—and much smaller—security line that will save you time when entering.
At EPCOT, the International Gateway, located between the United Kingdom and France pavilions, is a lesser-known side entrance. It's serviced by a pedestrian boardwalk, or by Disney water taxi or gondola (also known as the Skyliner).
Last but not least, at Animal Kingdom, be sure to slip into the Rainforest Cafe before you hit the main gate. There you can exit through the gift shop and reach a separate set of turnstiles that will get you into the park faster.
Also, keep in mind if you're staying at a Disney property, you have the benefit of being able to enter parks a half hour early. On certain days, you can take advantage of special late-night hours, too.
Be smart about your hotel choices
If you're trying to be a little thrifty with your accommodations, you may want to avoid staying at hotels inside Walt Disney World Resort. Why? Because Disney hotels are frequently some of the most expensive accommodations in Orlando.
Compare these costs to those of offsite hotels or Airbnbs, which come loaded with private amenities (minus resort fees), including pools, water parks and fitness centers, and it's pretty clear it's possible to save big on a Disney vacation.
Alternatively, if you're enrolled in rewards programs at hotel chains like Marriot and Hilton, you can play the points game and stay onsite. Both brands have hotels within walking distance to the park, including Marriott's Swan and Dolphin adjacent to EPCOT, and Hilton's Buena Vista Palace next to Disney Springs.
Chill out a little
Which brings me to my last point. When you visit Disney World, you absolutely must chill out and enjoy the scenery. Some of it is even free—a welcome relief for anyone paying $35 for Mickey ears.
The Disney Boardwalk is a whole new vibe, designed to make you feel as if you've been transported to Atlantic City. You can also sneak EPCOT's fireworks display from here for free.
Near Magic Kingdom, the Seven Seas Lagoon is another tranquil waterfront. There are three different resorts to explore, each with their own beach, plus additional viewing spots to watch the nightly fireworks. Just remember, no swimming is allowed in the lake... because alligators. If you time your visit right, and you may also watch the fireworks from the monorail or ferry—those boat rides are also complementary across the lake.
And stay for another free nightly attraction: s'mores and a character meet-and-greet at Disney's Fort Wilderness Resort and Campground. There you'll find Chip and Dale roasting mallows by the fire and leading Disney-style sing-a-longs, followed by a free Disney movie, screened outdoors under the stars.
Last but not least, while it may cost you, it's worth ducking away from the crowds to experience two exceptional spas that are conveniently located at Disney. I'm talking deluxe massages, facials, mani/pedi treatments, and access to hot tubs, steam rooms, and saunas. You'll have to make reservations in advance if you want to enjoy a spa treatments at Disney's Grand Floridian or the Four Seasons Resort Orlando, but both make for an excellent way to relax in the park.
After all, if you're visiting Disney against your wishes, you might as well make yourself comfortable.