This insane mega-yacht has an infinity pool
While we have no idea how much an anonymous buyer from the Middle East paid for this 288ft yacht a few months ago (the number wasn't disclosed), we do know it'd been renting for a sweet $1.29 million... a week. But was the German-engineered Quatrotelle -- with its movie theater, art gallery, and barber shop -- really worth a million bucks for a seven-day spin? Let's find out.

The pool's "beach club area" includes a day bed, changing room, and sofa sectional with TVs. The top deck -- one of the yacht's five, FYI -- has a Jacuzzi.
Smelling of rich leather and mahogany, the lobby's opulence will give you pause. As, no doubt, will the gym, massage rooms, and sauna.
Because nobody wants to listen to high schoolers yell at the screen during Captain America 2, enjoy it in the comforts of the private theater. 

Don't be fooled by the white couches in the back -- they're not a reflection. No, that's actually a whole separate seating area within the same massive room. There are basically too many seating options to count. Why stand when you can sit? Why sit when you can recline?
Sip Cristal out of a gem-encrusted goblet while enjoying the view from the four-seat, LED-illuminated bar.
While the ship boasts eight luxury cabins, the owner's is by far the most opulent and comes tricked out with his and hers bathrooms, a study, a separate Jacuzzi, and two private decks (remember, there are five), one of which can alternately be used as a helipad.

Where is Elton John when you need him?
The formal dining room comes complete with a specially designed Murano Glass chandelier and fits 16 to 20 guests. Black tie is probably not optional.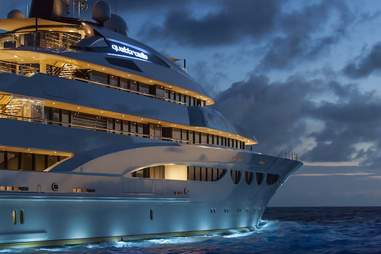 And finally, a lesson on the name: Quattroelle is Italian for "four times the letter L", which, in turn, stand for Love, Life, Liberty, and Luxury. Because everybody knows that luxury equals (the pursuit of) happiness, right?
Sophie-Claire Hoeller is Thrillist's associate travel editor, and she lives by the three L's of Laughs, Leopards, and Liquor. Follow her decisively non-yachty activities at @Sohostyle.