Too often we hit the beach and find crowded boardwalks, overpriced ice cream, and throngs of thong-wearing loungers. If there's one thing you want to avoid as a tourist, it's other tourists. Lucky for you, we've hammered out a list of 10 beach towns that are as uncrowded as they are affordable, so you can have that seaside getaway sans everyone's least favorite thing: other people.
1. Matagorda, TX
Where it's at: The northeast coast of Texas in the Gulf of Mexico.
Why it's affordable: One road reaches Matagorda, Highway 60. It runs along bare spans of farmland, populated only by aluminum-sided barns, parched-looking Sabal palms, and grass-nibbling longhorns. But the fun begins where the road ends: miles of unbothered seashore. And near-virgin beaches means near-stealing prices: you can book a motel room steps from the sand for $75 a night, or get a nice BnB for two for $57 (per person).
Why it's awesome: There's not much in the way of dining, or even buildings, but if you have a hankering for local, no-frills fare, then hit up Norby's Real Pit Bar-B-Q -- just know that it's actually a trailer. Matagorda Bay is also where the Texas Intercoastal meets the beach, and that means good fishing, in both fresh- and saltwater, mainly for trout, flounder, and redfish.
Also, know this: This part of Texas has the highest count of migrating birds anywhere in the US, so that khaki-clad dude peeping through binoculars isn't looking at you, he's not with the Feds, and he definitely doesn't know what you did last summer (unless you went to Matagorda, in which case he might).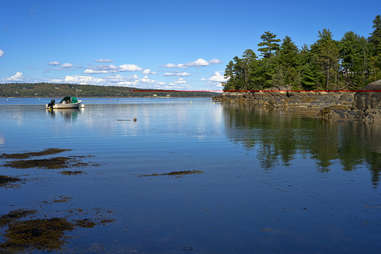 2. Blue Hill, ME
Where it's at: Central coast of Maine.
Why it's affordable: Once a center of shipbuilding, Blue Hill has become something of an artist colony, attracting shallow-pocketed creative types in search of scenic solitude, as Ogunquit, ME once did (until Edward Hopper told everyone about it). So if you're into Salinger-esque seclusion, check out this tiny, non-phony cabin, located on the Blue Hill peninsula, which rents for just $48 a night.
Why it's awesome: Toothed, gray-rock outcroppings, with merciful beds of soft sand, and royal blue lobster-laden waters. Be sure to check out the annual Blue Hill County Fair, which is the single best spot to see an 11am "Llama Demonstration" anywhere.
Also, know this: Blue Hill Maine has its own tiny airport, and you can fly direct from JFK for cheap.
3. Ocracoke Island, NC
Where it's at: Despite sounding like an intranasal-y ingested vegetable/stimulant combo, Ocracoke is actually one of a string of barrier islands, which line the coast of NC and are better known as the Outer Banks.
Why it's affordable: Largely untouched, despite its alluring calm, this beach has a lack of condos, boardwalks, and shops that customize t-shirts with your name in neon. Plus, you can rent this A-frame surf shack for $70 a night.
Why it's awesome: In 1524, Giovanni da Verrazzano was the first European to sail the Outer Banks. He wrote to the king of France and described the land as endowed with "an abundance of animals…[and] of lakes and pools of running water." While that natural bounty endures today, Ocracoke is now most famous for two things: its pristine beaches and its music scene. Tune into WOVV 90.1 FM for its "Locals Only" segment, featuring music that's, you guessed it, only by locals -- of which there are 954.
Also, know this: Ocracoke Island was the preferred post-up port of Blackbeard the Pirate, until he was shot dead there in 1718.
4. McClellanville, SC
Where it's at: Central coast of South Carolina, deep in the marshlands.
Why it's affordable: There are no franchise coffee outlets, no police departments, and no stoplights. This is a gen-u-ine Old South, a downhome town with Spartan amenities.
Translation: you can rent your own two-bedroom house for just $125 a night.
Why it's awesome: Many-limbed oak trees, with Spanish moss garnish, surround the old plantation homes, where the air is as sweet and thick as the locals' drawl. While it's a quiet town, it's also a musical marsh, with bug clouds that hum, gators that grunt, and jug band hootenannies that get down.
Also, know this: Make sure that's actually a log before you sit down. Did we mention alligators? Worst case: hold its jaw closed (easily doable with two fingers), and flip the fellah on its back, which drops its heart rate to 35-beats per minute, effectively knocking it out. Caveat: Don't actually do this.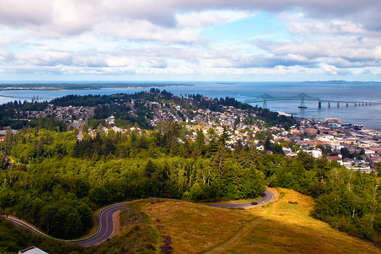 5. Astoria, OR
Where it's at: Just inland from the Pacific Ocean, along the banks of the Columbia River; it's a two-hour drive from Portland.
Why it's affordable: Well-kept Victorian homes, yellow-slickered cliques of gruff fishermen, and an overall granola-crunching sensibility (it is Oregon, after all). Basically, it feels more like a quaint New England fishing village than literally anywhere left in New England. You can rent an in-town abode for less, but this studio's vantage point is well worth the $85 a night. Cliffs + water = sublime views.
Why it's awesome: Coniferous thickets cover the jagged, rocky earth, until land meets water, and the terrain bends sharply towards the beach, yielding to peach sand strewn with boulders. The water here is sapphire blue, and dotted with barking seals. It's also the best beach town you don't know about, but have already seen -- it's where they shot the 1984 classic The Goonies.
Also, know this: Other films shot in Astoria include: Into the Wild, Kindergarten Cop, Free Willy (1&2), and The Ring 2.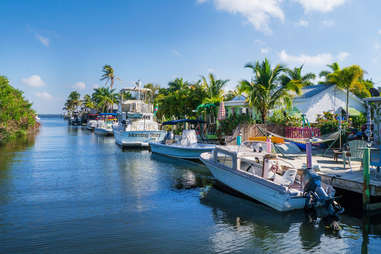 6. Matlacha, FL
Where it's at: Southwest coast of Florida, on the Gulf of Mexico.
Why it's affordable: Often described as an "Old Florida" fishing village, which just means pre-Disney, ramshackle houses hug the quiet shoreline, painted neon shades of pink, purple, and seafoam green. You can stay in a waterfront cabin for $84 a night at this quaint AF spot, called the Snook Suite.
Why it's awesome: The town's colorful and laid-back vibe smacks of Hemingway's Key West, a rugged tropical land that time forgot. Matlacha is actually a small island, broken up by a zigzagging patchwork of waterways and dirt roads, and attached to the mainland by just one rickety bridge. The beaches in this part of FL are sheet white and, as the waves are gentle, so there are plenty of intact seashells to add to your sweet collection (it's really coming along!).
Also, know this: You should hire a boat to Cabbage Key, an island with nothing on it but some small cabins, and a restaurant with hand-tacked dollar bills as wallpaper, none of which has changed a lick since the 1920s.
9. Fernandina Beach, FL
Where it's at: North coast of Florida on Amelia Island, near Jacksonville.
Why it's affordable: Since Florida's beaches farther south get more attention, this gem on the Georgia border is comparatively unnoticed. When you're here, skip Main Beach, and head to North Beach instead, which has fewer tourists, and where you can stay in a private apartment two blocks away for $60 a night.
Why it's awesome: The bucolic buildings possess an Americana charm that is easy to identify, but hard to find. Weatherworn Coca Cola ads decorate the brick on Beech Street, and the Beech Street Grill looks straight out of the French Quarter, with double-decker verandas flourished by Chippendale-style balustrades (the frilly part of the balcony).
Also, know this: Amelia Island is sometimes called the "Isle of 8 Flags," as it flew under French, Spanish, British, and Confederate flags, and probably four more flags if math is anything to go by.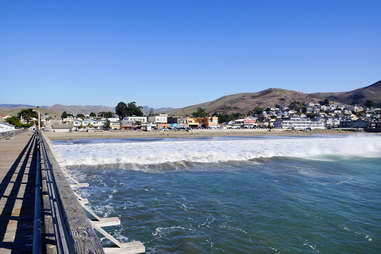 7. Cayucos, CA
Where it's at: Central coast of California, halfway between LA and the Bay.
Why it's affordable: While cookie-cutter stucco houses swallow the rest of California, Cayucos remains unblemished by gaudy-money McMansions, strip malls, and aspiring actors. It's a funky backwater, where an unpretentious attitude abounds. Check out this big house, with views of the ocean and the hills, which you can rent for just $85 a night.
Why it's awesome: Nestled in bubbly hills, which are green or honey-colored depending on the season, the town is a favorite of surfers and fishermen, who enjoy the abundant waves and sea life, respectively.
Also, know this: The word Cayucos comes from the Chumash Indians, and it refers to their small, canoe-like boats, which they used to settle the area some 10,000 years ago.
8. Empire, MI
Where it's at: Northwest corner of Michigan, on Lake Michigan.
Why it's affordable: Once a logging boomtown, the population of Empire now hovers around 375. More of a village than a town these days, this is where you go if you want unspoiled beaches (it's right by the Bear Dunes Lake Shore, a National Park with 35-miles of pristine coastline), but not if you want a party. But, if you did want a party, grab 3 friends, and enjoy this old-world farmhouse house for $28 a night (per person).
Why it's awesome: If you didn't know better, you'd think you were on an oceanfront, but centuries ago. There are few other beaches this beautiful without a building in sight. And, as the dunes here can reach 400 feet, it's not hard to seclude yourself completely.
Also, know this: The waves here are big enough that surfers flock here, which is doubly impressive, as freshwater means less buoyancy.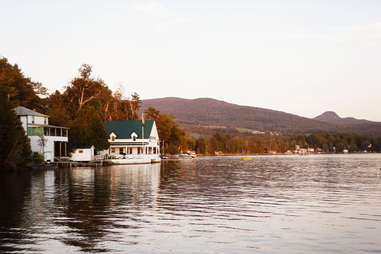 10. Westmore, VT
Where it's at: Northern Vermont, on Lake Willoughby.
Why it's affordable: Since the first vacation home was built here in 1860, it's been a favorite retreat but only for those in the know, including Robert Frost. The town has scarcely more than 300 residents, and most of their homes are clustered on or near the lakefront. You can rent your own cabin and see for yourself at $84 a night.
Why it's awesome: The beaches here are tranquil and scenic, but only for a short time each year. This town is basically in Canada. That's not to say it's not also enjoyable in the wintertime, when the snow skiing is on point.
Also, know this: Nearby, one ski resort also has an indoor waterpark, for a refreshing (and more forgiving) plunge, after a mountain has beaten you up.