Because you should absolutely never let 1995 TLC dictate who or what you chase, we rounded up 10 of the nation's most majestic, must-visit waterfalls.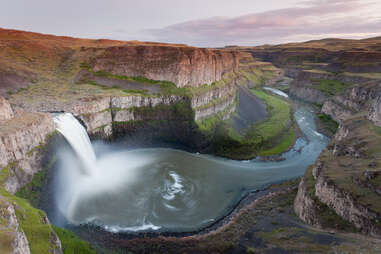 Palouse Falls
Palouse Falls State Park, WA
Last February, Palouse Falls was officially named Washington state's waterfall, and Washingtonians were elated. We assume. This 198ft-tall behemoth was created by glacial floods that swept the area between 13,000 and 15,000 years ago. Want to see it at peak capacity? Start planning your trip for the spring and early summer.
Fun fact: In April 2009, Tyler Bradt set a world record when he went over Palouse Falls (which stood 186ft at the time) IN A FREAKING KAYAK.
Yosemite Falls
Yosemite Valley, California
At a majestic 2,425ft, Yosemite Falls is the highest waterfall in North America, and the fifth tallest on the planet (the tallest is Venezuela's Angel Falls, at 3,212ft). Technically three waterfalls in one (Upper Yosemite Fall, the Middle Cascades, and Lower Yosemite Fall), YF is active from November through July and approximately 2,400 gallons of melted snow/water rush over it per second.
Pro tip: Prefer see what you're getting into before you arrive? Watch the waterfall's webcam, right here.
Manawaiopuna Falls
Kauai, HI
Known for its cameo in Jurassic Park (and often called Jurassic Falls, as a result), this stunning, 360ft-high beauty's situated in Hawaii's scenic Hanapepe Valley, where miles of rolling forest stretch out against the mountains.
Pro tip: Though it's located on private property, hardcore JP fans/waterfall nerds can view Manawaiopuna Falls from above on this helicopter tour.
Niagara Falls
Niagara Falls, NY
Sure, it's become something of a tacky tourist trap, but that's what happens when a national treasure is insane to look at (see also: The Grand Canyon). Located in New York's Niagara Falls State Park (the country's oldest national park), the falls stand 167ft-tall, and, like Yosemite, are also comprised of three distinct waterfalls -- American, Bridal Veils, and Horseshoe Falls. Discovered in 1678 by French explorer Father Louis Hennepin, it's estimated to be 12,000 years old.
Fun fact: A staggering 700,000 gallons of water are thought to fall every second through the summer and fall months.
Bridal Veils Falls
Valdez, AK
Located near the ocean alongside Keystone Canyon, Bridal Veils Falls is both a masterpiece and a monster -- at least to those intrepid ice climbers who scale its 800ft frozen face in the winter. The "Killer Pillar" is renowned for being tricky to get past.
Fun fact: The first ice climb was completed in 1977, supposedly with the aid of "recreational stimulants".
Havasu Falls
Grand Canyon, AZ
While not the tallest on this list at almost 100ft, Havasu Falls is easily one of the most spectacular. The high levels of travertine (limestone) make for a striking stream of azure-blue water, which ultimately winds up in the Colorado River.
Pro tip: Averaging a toasty 70 degrees year-round, the pool of water underneath Havasu's a perfect spot for swimming/bathing.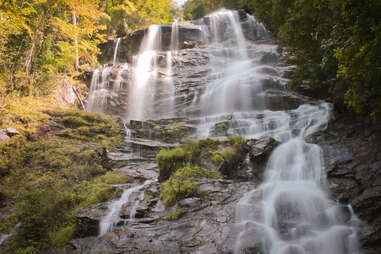 Amicalola Falls
Dawsonville, GA
Appropriately, the word Amicalola means "tumbling water" in Cherokee. But this isn't just any old tumbling water -- no, at 729ft, it's the highest waterfall east of the Mississippi. And in 1832, local surveyor William Williamson (great name) declared it "perhaps the greatest in the World" and "the most majestic scene that I have ever witnessed or heard". So, there's that.
Fun fact: A group called the Canyon Climbers Club often meet at Amicalola Falls State Park to scale the tricky series of winding staircases that lead to the top, offering spectacular views of the waterfall along the way.
Blackwater Falls
Davis, West Virginia
Located in the state's idyllic Blackwater Falls State Park, the waterfall measures 54ft tall and is the highest in West Virginia. While it courses through an eight-mile gorge during warmer months, BF freezes completely over in the winter.
Fun fact: The fall's eponymous black water comes from high quantities of tannic acid, released from surrounding plants.
Multnomah Falls
Columbia River Gorge, OR
Native American folklore has it that Multnomah Falls was a romantic gift bestowed upon a princess in need of place to bathe. Unfortunately, you won't find any princesses bathing under this Oregon waterfall today; nope, instead expect an ungodly number of out-of-shape tourists huffing and puffing their way from the bus to either the viewing bridge or the top of this 611ft behemoth.
Fun fact: A huge boulder fell (thanks to erosion) from the upper falls on Labor Day 1995, spraying a wedding party on the bridge with rocks. Ironically, the groom even took a stone in the stones but was, reportedly, still able to consummate his marriage.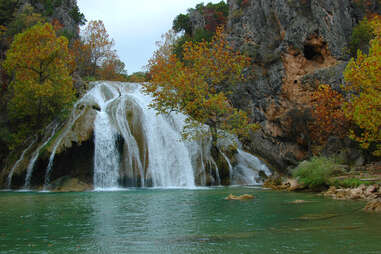 Turner Falls
Near Davis, OK
As well as being one of Oklahoma's tallest waterfalls, it's one of the state's most popular -- probably because it's set against the picturesque Arbuckle Mountains, and near a series of caves perfect for exploring. Also, you can take a relaxing dip in the natural swimming pool and let the falls topple down on you from 77ft above.
Pro tip: Want to spend more than one day at Turner Falls? Well, you can!! There's an RV-accessible campground nearby.

Chloe Pantazi is an editorial assistant on Thrillist's travel team. One of her favorite '90s groups taught her never to chase waterfalls. Follow her on Twitter at @ChloePantazi.