Sometimes all you really need for the perfect summer vacation is a little sun, some sand, and a pup tent. Few getaways rival a relaxing beach camping escape: roaring bonfires, gorgeous ocean sunrises (or sunsets), and the soothing sound of waves crashing on the beach while you sleep. All while spending your days chilling in the sun or playing in/on the water. You see what we're saying, right?
The only problem is that so few beaches around the country actually allow camping. Which is why we decided to track down the ones that do, and figure out the best of the group.
Assateague Island
Assateague State Park, MD
Assateague is all about the wild horses, since they roam free on the island; just try not to go all Black Stallion while you're there. Camping's only permitted on the Maryland side of the state park but is available year-round, and there are over 300 campsites (reservations are required from April 15 - October 15).

Little Tybee Island
Georgia
Accessible only by boat or kayak, Little Tybee Island is twice the size of the more popular and crowded Tybee Island. With rich coastal salt marshes, natural dunes, and subtropical forests, Little Tybee Island is an uninhabited nature reserve and there are NO accommodation fees. So... free private beach anyone?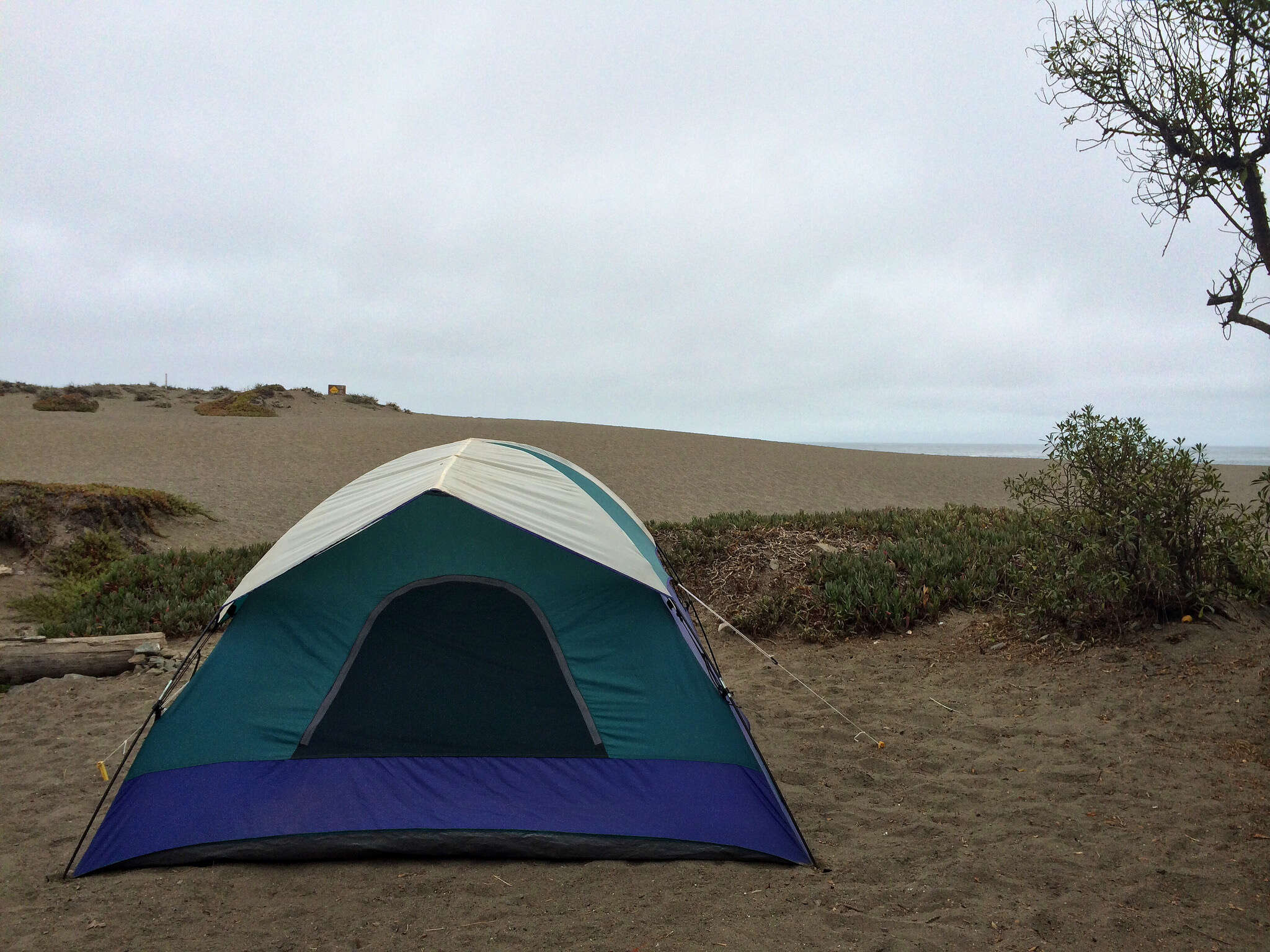 Wright's Beach
Sonoma Coast State Park, CA
SCSP offers sandy beaches, rock bluffs, headlands, and a sick sunset over the Pacific to cap off your day. There are 27 campsites available at Wright's Beach and each has its own picnic table and fire ring.

Second Beach Trail
Olympic National Park, WA
Camp along the almost mile-long Second Beach Trail, and you'll get the best of two worlds: coastal forest and the beach. Which means you'll have plenty of chances to spy bald eagles, seals, and even whales during their migration from March/April to October.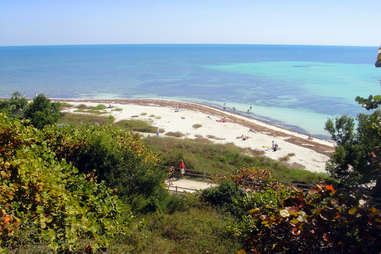 Bahia Honda State Park
Bahia Honda Key, FL
With white sand beaches and turquoise waters, this 500-acre park in the Florida Keys is a paradise. And loaded with activities. So whether you want to hike, snorkel, or just read the latest Fifty Shades book while evening out your farmer's tan, you've got plenty of options here.

Scusset Beach State Reservation
Sandwich, MA
While this Cape Cod reserve just over the canal is popular with RV campers, there are also a handful of tent-camping spots available. And the best part? You don't even have to sit in traffic on the Sagamore Bridge. Or, if you're looking for some beach camping IN Boston, take the ferry out to the Harbor Islands.
Bird Island Basin
Padre Island National Seashore, TX
Situated on the waters of the Laguna Madre near Corpus Christi, TX, this hotspot for boating and windsurfing offers RV and tent camping, and both are available on a first-come, first-served basis; so no pesky reservations required.
Homer Spit Campground
Homer, AK
With insane views of both the mountains and the ocean, this base campground South of Anchorage on Homer Spit is usually full of kite surfers and horseback riders.
Wai'anapanapa State Park
​Hana, HI
Can you really go wrong setting up camp anywhere in Hawaii? Of course not, but if you want to keep it legal, Wai'anapanapa is your spot. Located on the quieter side of Maui, we're talking coastal mesic forests, lava tubes, and gorgeous black sand beaches.

Bear Island
Hammocks Beach State Park, NC
Located near Swansboro, NC, the island is accessible only by passenger ferry or private boat. Just don't forget your fishing rod, as there are plenty of flounder, trout, and red drums to be caught.

Andrew Villagomez is a freelance writer and blogger who covers travel, men's fashion, and other lifestyle topics. Along with Thrillist, he has also contributed to Travel + Leisure, Details, Passport, and Essential Homme. Check out his blog, and follow him on Twitter and Instagram at @VeeTravels