Home to the City of Light, dudes in berets, and endless croissants, France is a nation that -- like a wheel of stinky cheese -- can be cut many different ways. Thankfully, there are loads of Instagram accounts that slice through the stereotypes to capture the country from all angles, which is why we scoured the photo sharing site to find the best French 'grammers for your vicarious la vie en rose.
From pastries in Paris to Merlot in Bordeaux, here are 10 Instagram accounts that need to be in your feed.
Paris-based designer and photographer VuTheara Kham takes incredible photos of the City of Light, including shots of patisserie storefronts, beret-wearing painters setting up their easels, and street scenes along the Seine.
Dramatic Alpine views dominate this Instagram account, which'll make you want to ski and snowboard France's slopes. Follow for snow-covered peaks and rugged mountain landscapes sprinkled with wood cabins.
If there's one thing France is known for, it's surrendering. And no. 2 on that list is cheese. So any true Francophile would follow this Instagram account for platters of mouthwatering fromage wedges. Its Brie and Camembert selections will make your deli drawer's selections look like crap singles by comparison.
Photographer Joanna Lemanska's feed is a delightful assortment of iconic Parisian cityscapes and little-known spots around the French capital. Expect photos of Montmartre rues (like the one above), colorful houses, and tucked-away cafes, as well as attractions like Notre Dame and Pont des Arts.
Drool over food and travel writer Lindsey Tramuta's delicious shots of fancy tiered desserts and patisserie offerings. Her feed is like Homer Simpson's French dreams come true, with snaps of crepes, eclairs, and fondants, mixed in with plenty of coffee and street shots.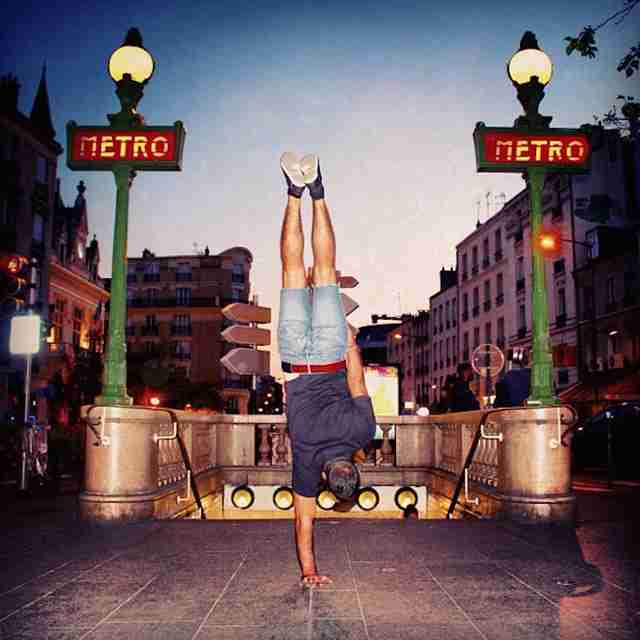 This Instagrammer combines his love of break-dancing and photography to offer adventurous images of him doing a handstand everywhere he goes. The Frenchman's account sees him stick his head near the ground in and around Paris at the Musee d'Orsay, Arc de Triomphe, and by the metro (above). Check out more of his upside-down work here.
You don't need to speak a word of French to understand this account. While it's based out of the US, the account captures gorgeous Rosé-fueled pics of wine, vineyards, and stunning landscapes in and around Provence.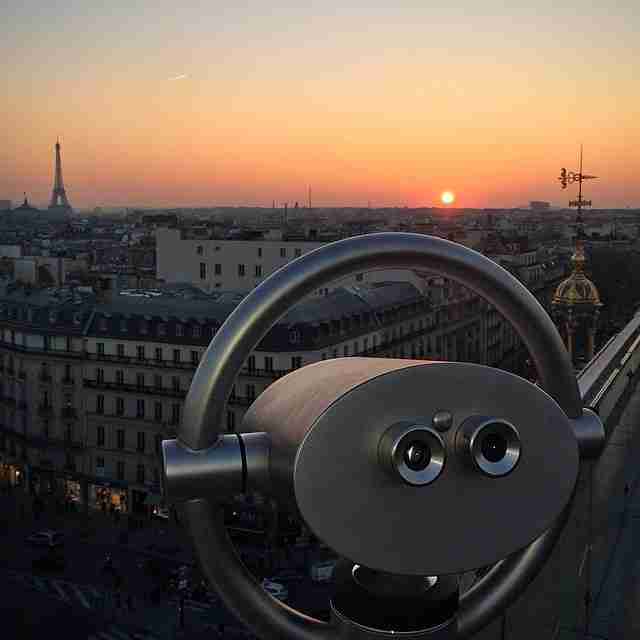 When in Paris, Shannon Ferguson takes striking, stylish snaps of the city from above and at street level, as well as symmetrical shots of museums and subway stations. You'll also get a dose of her travels around Europe, with similarly styled shots.
Architect and photographer Juan Jerez takes his unique vision to even the most photographed subjects, like the Eiffel Tower (main image), and make them appear in an entirely new light. Follow for unexpectedly awesome, experimental pics of the city from original and creative angles.
From pics of the city's retro Metropolitan signs to landmarks like Cleopatra's Needle, artistic director Nathalie Geffroy's feed delivers a heady mix of classic and modern Paris life. Her captivating outlook on the city makes even dreary rainy days look fresh and bright.

Chloe Pantazi is an editorial assistant on Thrillist's travel team. She's British, but she doesn't have anything against France. Follow her NYC adventures on Instagram and Twitter @ChloePantazi.