Need a Break? Here Are 10 Destinations You Can Visit for Under $25 a Day.
<strong>Santorini, Greece |</strong>&nbsp;Patryk Kosmider/Shutterstock
Do you need a vacation immediately? Do you not have the sort of budget that usually accommodates immediate vacations? Believe it or not, there are still plenty of global destinations where you can get by on $25 a day or less -- and yes, we're talking both accommodations and food (lunch and dinner, since a lot of hotels and hostels will feed you breakfast).
Sometimes you have to be creative and sometimes you just have to follow the strength of the USD. But if you're willing to use your room as a lily pad rather than a crash pad and forgo your trendy bougie resto proclivities, you can stretch your dollar to illogical extremes. Just try to use points to fly there.
Phnom Penh, Cambodia
Cheapest night accommodation: $3
Cheapest daily food cost: $10
As a country, Cambodia is shockingly cheap, even by Southeast Asia standards -- we're talking cheap cheap. Luckily, the country once synonymous with the Killing Fields under the 1970s Khmer Rouge regime is now quite safe -- well, safe enough -- and fascinating, as well. The capital city is a sensory assault: stunning architecture, including the Royal Palace; bustling markets; and speeding vehicles aplenty. Soaking in the atmosphere is free of charge, but simple pleasures should include a sampling of the local delicacy: deep-fried tarantula, chased with a sub-$1 local draft beer. To learn more about the country's dark history, you can take a Killing Fields tour, including a visit to the Tuol Sleng Genocide Museum, and then attend one of the daily screenings of, yes, The Killing Fields at the Empire Movie House. (A new memorial and museum dedicated to the country's dark history opens in 2017.)
But what's it gonna cost to get there? $630 roundtrip from LAX
Kampala, Uganda
Cheapest night accommodation: $16
Cheapest daily food cost: $3
Kampala is a passed-over African capital for one obvious reason: President Idi Amin Dada, aka Forest Whitaker at his most terrifying. But the hilly city abutting Lake Victoria continues to come into its own, especially culturally. New clubs, theaters, and restaurants keep cropping up, although when it comes to eating, you'll want to investigate the mysterious entity known as the "pork joint."
Once you've gotten your bearings, Kampala also serves as a strong jumping-off point to other adventures: touring the Nile, taking a safari, hitting a Lake Victoria beach, or our favorite: a trek to Ngamba Island Chimpanzee Sanctuary, where -- ye gods -- you can spend a day feeding and caring for the little (ch)imps. Yes, this will break your budget. Yes, this is what budget travel is sometimes for: the singular splurge.
But what's it gonna cost to get there? $790 round trip from NYC
Panama City, Panama
Cheapest night accommodation: $13
Cheapest daily food cost: $8
Central America attracts a lot of budget travelers, most of whom cluster around the beaches of Costa Rica. But far cheaper and less-explored spots abound, among them Panama City. Here you get city and beach (via day trip), history and modernity, and you get it all for a low-low price (if you're looking). Yes, there's a Miami/Dubai feel about the city center, and yes, chichi wine bars abound, but head to the older colonial area of Casco Viejo for the cheap dining and shopping and free people watching. To get your nature fix, stroll through the central Parque Recreativo Omar, then take a day trip to Taboga Island for your vitamin sand and sea.
But what's it gonna cost to get there? $290 roundtrip from NYC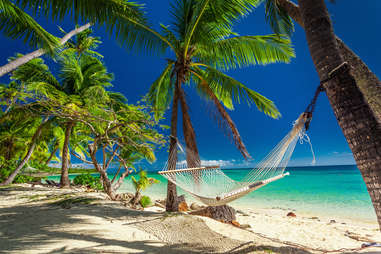 Fiji
Cheapest night accommodation: $6
Cheapest daily food cost: $12
Can anyone afford to stay in Fiji? Actually, almost anyone can do it if you're truly committed. You won't get to island hop, you'll have to settle for a dorm room, and you'll be amongst the party set, but it absolutely can be done. (We learned this during a semester abroad to Australia years ago, when students would use their return-trip layover to hit the beach for a week.) The cheapest method is to stay in a hostel on the main island of Nadi and to nab meals from snack stands lining the roads. Bring your books, find a chair or a hammock, and commit to doing as little as possible. And remember that just like J. Lo's love, sunsets and swims don't cost a thing.
But what's it gonna cost to get there? $1,070 roundtrip from LAX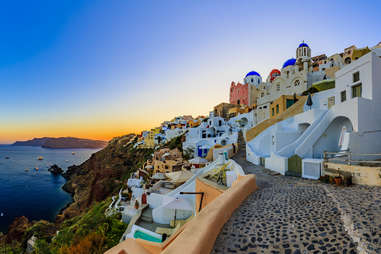 Santorini, Greece
Cheapest night accommodation: $15
Cheapest daily food cost: $10
Yeah, it feels kind of dirty to exploit Greece's economic crisis. On the other hand, tourism dollars have never been more important. See? Guilt solved. Hostels aren't always the cheapest option here; instead, look for pensions, room rentals, and tiny hotels. Eating on the cheap means gyros galore (you'll survive), and alcohol might be confined to a tasting at one of the Santorini vineyards. But why does everyone come to Santorini, in the end? For everything that's free, from the views to the architecture to the dark sand beaches to the sunsets. Hike the caldera path, photograph the doors, check out the Tomato Industrial Museum (totally a thing), and otherwise soak in the fact that the Tomb Raider sequel was filmed here.
But what's it gonna cost to get there? $1,140 roundtrip from NYC
Medellín, Colombia
Cheapest night accommodation: $6
Cheapest daily food cost: $4
Medellín is currently one of the world's great success stories. The onetime "most dangerous city on Earth" (thanks, Pablo Escobar) is now a safe, forward-thinking urban hub with cool public transport and an exciting art scene to boot. The dollar is incredibly strong against the Colombian peso right now, which makes bargain-basement accommodations plentiful; spring for a $12 hostel and you're suddenly talking plunge pool and screening room. Beers are cheap, coffee is cheaper, and the foodie scene continues to ascend. Besides, who doesn't want to visit the former murder capital of the world?
But what's it gonna cost to get there? $400 roundtrip from NYC
Hội An, Vietnam
Cheapest night accommodation: $9
Cheapest daily food cost: $4
A onetime port city, Hội An stays serene today thanks to the fact that its water source, Thu Bồn River, depleted to the point that boats could no longer dock. Against a temple backdrop, you're going to walk and eat as you sample every street food imaginable (and bánh mì is an obvious must). Cooking classes are also a big deal here, especially at the Green Bamboo Cooking School, but you also have your requisite $10 massages and spa treatments. And you get your beach time too, with An Bang most easily accessed (though too crowded for some).
But what's it gonna cost to get there: $910 roundtrip from NYC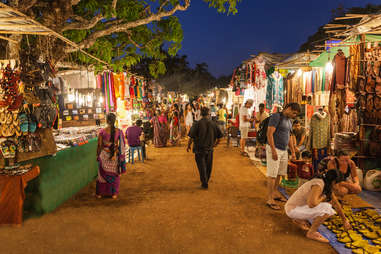 Goa, India
Cheapest night accommodation: $3.50
Cheapest daily food cost: $5
Food will likely run you more than accommodations here, which is pretty much all you need to know budget-wise. Everything else-wise, this might be the most unexpected beach vacation you ever take. Basically you just need to decide what beach is your beach. Completely isolated? Try Agonda. Looking for a funkier vibe? European hippies invaded Anjuna Beach in the '70s, where a flea market still remains. Looking for the current-day hippie scene? All the dropouts now hang at Arambol. Want to be among Indian tourists? Colva is your best bet. Wherever you go, you'll find a budget hotel and no reason to do much of anything except chill. Which is how that whole hippie thing probably started here in the first place.
But what's it gonna cost to get there? $890 roundtrip from NYC
Sofia, Bulgaria
Cheapest night accommodation: $11
Cheapest daily food cost: $6
One of the oldest cities in Europe is also one of the least explored by tourists, owing to that pesky Eastern Bloc thing. But the post-Soviet capital now beckons with a chill, provincial vibe unique among other European hubs. Local beers are cheap and legit tasty (read up on Bulgarian brewing history to see what we mean), and Bulgarian cuisine veers nicely toward the Greek and Turkish (kebabs, salads). Simply walking the cobbled streets is a delight, but you can also take in a cheap daytime opera performance and hike (or ski, if the timing is right) the super nearby Vitosha Mountain, once a Soviet vacation spot. And you have to love a city that has ancient ruins buried beneath, including a colosseum visible from the subway.
But what's it gonna cost to get there? $660 roundtrip from NYC
Lombok, Indonesia
Cheapest night accommodation: $8
Cheapest daily food cost: $9
When people want to go cheap and exotic, they go to Bali -- and usually end up in Kuta, which is disintegrating into one enormous, distasteful T-shirt shop (thanks, Aussies). But Lombok is the island that Bali's tourism forgot. Pristine white beaches, lush hiking trails, covetous surf breaks, and Indonesia's second-highest volcano. You'll still get your $3 chili crab and pennywise Bintang beer, but you also have diving, a sea turtle sanctuary, and a blissful lack of crass.
But what's it gonna cost to get there? $730 roundtrip from LAX (plus a five-hour ferry ride from Bali)
Sign up here for our daily Thrillist email, and get your fix of the best in food/drink/fun.
Meaghan Agnew is a Boston-based writer who pets strange dogs with impunity. Follow her on Twitter @meaghandeth.