Ingeniously located at the intersection of "I want a drink" and "I don't want to put on pants", the drive-thru liquor store may very well be the pinnacle of American convenience.
Yes, they do exist, in all their contradictory glory. Yes, they are legal, at least in some towns and counties. And, yes, nothing beats the ability to buy a keg of Red Dog without actually getting out of your Neon.
With that in mind, here are 10 drive-thru packies worth a detour on your next road trip.
Best for that real convenient store feel
Alta Dena Drive-In Dairy
San Diego, CA
The best part about this drive-thru? It's actually a drive-through -- as in, you drive INSIDE THE STORE, right up to the cash register. Plus, in addition to alcohol, they sell all your basics – from milk and ice cream, to chips and condoms.

Best for... winning awards?
Henry's Liquors
Phoenix, AZ
Voted "Best Drive-Thru Liquor Store" by the Phoenix New Times, this no-frills oldie is a definite goodie, and has been family run for over a decade.
Best for babes
Beer To Go Drive Thru Beer Barn
Dallas, TX
As if booze delivered right to your car isn't enough, at BTGDTBB, it's handed to you by women wearing bikinis and sexy costumes. And if women in bikinis and sexy costumes still isn't enough, they also serve daiquiris and margaritas to-go.

Best hybrid
O'Neill's Pub and Liquor
Superior, WI
This cozy Irish pub with a fireplace and leather chairs features a walk-in beer cave, a jukebox, and a handy on-site liquor drive-thru, you know, in case you're too busy to come in for a pint to say hi.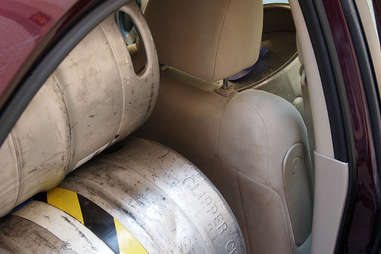 Best for kegs
Hoboken Beer and Soda Outlet
Hoboken, NJ
In addition to a solid selection of craft suds, this place also peddles an inordinate array of kegs (from Hofbräu München Oktoberfestbier, to Sapporo, to Peroni), all which they'll dump straight into your trunk.

Best for brown booze
Liquor World
Bardstown, KY
Located on the Bourbon Trail and in the "Bourbon Capital of the World", it's no surprise that this un-imaginatively named drive-thru sells an insane selection of... local vodka!!! Just kidding. Bourbons and ryes, of course. They even offer custom single-barrel bottles, hand-selected by the knowledgeable owner.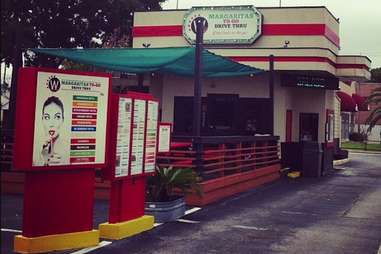 Best for keepin' it classy
W Grill to Go
Houston, TX
Six margarita flavors, piña coladas, beer and wine to go, and pants are optional. How is this not in Florida?

Best for daiquiris
Cajun Daiquiris
Shreveport, LA
Louisiana is famous for its drive-thru daiquiri shops but this joint is a must-hit, local fave. In addition to featuring two happy hours a day (one conveniently during lunchtime), they also pour naughty-named drinks like the Freak-N-U, Pimp Juice, and Shake the Haters Off. Customers in the know, however, roll with the off-menu concoctions named for Michelle and Barack Obama.
Best double duty
Double Shot Liquor and Guns
Schulenburg, TX
Liquor and guns! Liquor and guns. Now if that's not American, we don't know what is. Somehow, this place is now closed, but we felt it warranted a mention.

Best for late-night
Big Daddy's Liquor Store & Carry Out
Newport, KY
The after-party friendly Big Daddy's stays open until 2.30am (later than any of the bars in the area), and it's not uncommon to see taxis snaking around the block after the bars throw everybody out.


Sophie-Claire Hoeller is Thrillist's associate travel editor, and used a drive-thru liquor store once, in Australia, to fill the trunk with VB. Follow her @Sohostyle