10 of the best/craziest runs in five iconic american cities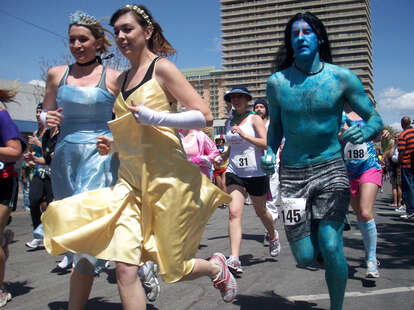 There are two kinds of runners: the kind who appreciates the heart-pounding beauty of their surroundings as they methodically will themselves onward, and the kind who loves dressing up in tutus, or possibly a Ben Franklin costume. Good news: we picked one jaunt ideally suited for both in five great American cities. And because even if you're crazy you're not dumb, we recruited two stud athletic trainers who work alongside McDavid -- the champ in sports medicine products and protective apparel -- to teach you how to preserve your body while giving it your all.
Chicago
The Loop
The buildings you'll see on this trek are so beautiful there's actually a school of architecture named after them (the Chicago School? Come on man, college wasn't that long ago). Worried about the Windy City's, er, wind? Slap on a pair of these compression arm sleeves. As Jay Sedory, president of the Virginia Athletic Trainers' Association at the United States Marine Corps in Quantico, notes, "They're warm and breathable. Because if you're just wearing a lot of layers, you'll catch the wind and blow up like a parachute and drag". Which would be a drag.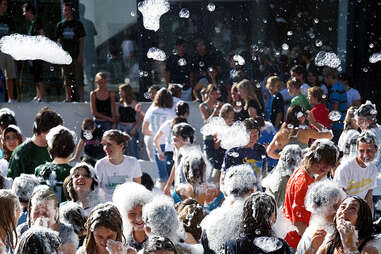 5K Foam Fest
Don't worry, no need for warm layers for this wet and wild 5K that's a combination of Double Dare and Wipeout. With obstacles like a 50-foot slip-n-side and a free beer at the finish line (not much of an obstacle, really), your main concern will be finding time for the bouncy castle, because one must always find time for the bouncy castle.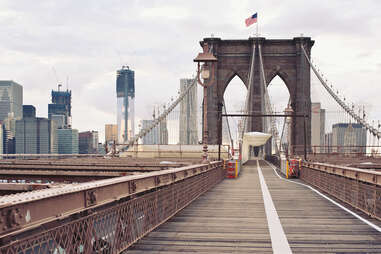 New York City
The Five Bridges
Just as many bridges as the NYC Marathon, with none of the hassle of getting peed on. The shortest route takes about 16 miles and hits the 59th Street, the Pulaski, the Williamsburg, the Manhattan, and Brooklyn bridges. Concrete can be brutal on your feet, so strap on a Level 2 Plantar Fascia Support. While it can't prevent injury, Marcie Fyock, an instructor for George Mason University's athletic training education program, says, "It will help support and keep the fascia in the ideal position". (FYI: "Plantar Fascia" is a strap of connective tissue that runs along the bottom of your foot and not a new dance all the cool kids are doing.)
The NYC Pizza Run
An annual 2.25 mile romp around the East Village's Tompkins Square park, the Pizza Run is entering its fifth year of challenging endurance, both cardio and cheese related. Totaling of three laps around the park, each lap finishes with a slice of local heaven -- a piece of pizza from a rotating cadre of pie joints. Hopefully a piece of local antacid is also included at some point.
San Francisco
Big Sur
Whether you choose a half-marathon, 5K, or even an ultra marathon, nothing can beat the splendor of the Pacific coast or the Los Padres National Forest. But keep an eye on more than the scenery. "Shorten your stride", advises Fyock. "Keep your gaze down and slightly ahead of you and try to strike with your midfoot". This, in conjunction with McDavid's handy (legy?) Level 2 Ankle Sleeve, can help avoid a sprain should you hit a rock, branch, or snoozing hippie.
Ragnar Relay
A multi-day, overnight, occasionally costumed (super heroes, cartoon characters, and more are common) race with teams of 11 people conquering 200 total miles, the Ragnar attracts a surprising cadre of the hardcore, amateur, and those willing to travel long distances in questionably smelling vans (it's a relay, so while one guy runs the rest drive to the next handoff).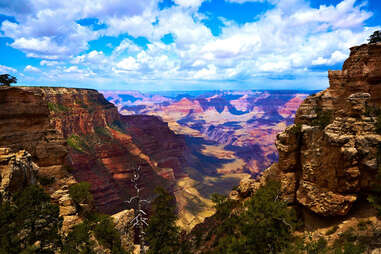 Las Vegas
Grand Canyon Rim to Rim
From the South Rim to the North Rim of the Grand Canyon is a good 40+ miles round-trip. The two trail options, The South Kaibab and Bright Angel, offer differing challenges: the former is rockier but shorter, the latter is smoother and longer. Either option is more grandiose than a bald eagle wearing 50 American flags, but definitely watch the mercury. "Carry water and take frequent breaks when running in extreme heat", says Sedory. And prepare for your recovery before you even take your first step with McDavid's Rebound Compression Socks. They'll increase blood-flow to your feet, helping heal your dogs after this epic journey.
Color Vibe 5K
Because it's not Vegas without a party, the Color Vibe has participants running, jogging, hopping, or ambulating however they want… all while pelting each other with multicolored paint. The party with food, drink, and music that caps the race features a multi-hued horde of racers high on fun… and non-toxic, biodegradable dyed cornstarch.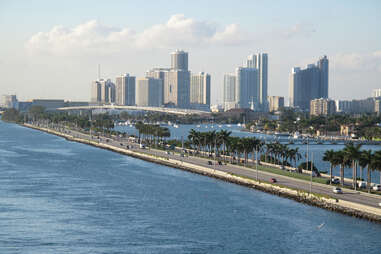 Miami
Miami Beach Boardwalk
Because beautiful sites are good, but gazing on the beautiful people of South Beach definitely also has its merits. From 21st street to 46th, it's about two miles of beaches, bodies, and, if you choose to leave the boardwalk, sand… which has its own challenges. "If your heel goes in, it can create a vacuum effect", says Sedory. "You'll see people jumping in with their heels first and losing shoes when they try to come out." So try not to heel strike. Instead, distribute the weight from the midfoot and keep those kicks where they belong -- on your feet.
Electric Run
This is Miami. So this is 5K of hard beats, black lights, furry costumes, DJs, and enough functionless glasses to put Kanye West to shame. All those laser lights are bound to get you hot, so equip up with a Compression Calf Sleeve (available in bright, reflective colors this summer). It'll keep you cool and dry and (since it's on your leg) let those South Beach pythons breath. Okay, maybe not pythons. Garden snakes? Small, emotionally damaged garden snakes.