Contrary to popular belief, Amazon has not officially conquered the world. At least, not yet.
No, despite its best efforts to drive a Kindle through the heart of the printed page, there are still indie bookstores across the country that are putting up the good fight, weathering the onslaught of $0.01 books (and free shipping?) with scores of titles, author readings, and beer bars at which to sit and feverishly scribble in your idea journal.
But which ones are worth visiting, even if it means taking a plane to get there? From the biggest and most historic, to the ones with staff dogs that like to blog (okay, there's only one of those), here are 10 of the top bookstores in the United States.
Portland, OR
Billed as the largest new and used bookstore IN THE WORLD, this multi-level Mecca to words takes up an entire city block and reportedly houses a whopping one million books; in fact, they claim to buy an estimated 3,000 books a day. Founded in 1971, Powell's is now up to six locations, but you'll want to hit the flagship store at NW 10th and Burnside (Powell's City of Books), and download their iPhone app to help get around.
Nashville, TN
Saddened by the closure of indie bookstores in her hometown, award-winning novelist Ann Patchett decided to do something about it, like open her own. Located inside an unassuming shopping strip, this cozy Nashville spot (with a name taken from Greek Mythology) emphasizes local authors and is run by a team of canine associates. Ok, maybe not run, but there are several shop dogs who reportedly maintain their own blog. Because animals doing human things is funny.
Denver, CO
Tattered Cover has been holding down the local book scene in Denver for 40 years, and everyone who's anyone has spoken here, including Hunter S. Thompson, Margaret Atwood, and Kurt Vonnegut. In fact, they average 400 live speakers a year. Though it started in a tiny storefront with two employees, Tattered now maintains three brick-and-mortars scattered around the city.
Los Angeles, CA
Born out of pure book-love in a downtown loft, the Last Bookstore's already moved twice since opening in 2005. It's current location, inside a 100-year-old former bank, is visually stunning with tall ceilings, giant pillars and cool artwork made from repurposed books, not to mention a tunnel running through the store built entirely of books. There's a coffee shop, a record store, and mezzanine level stocked with over 100,000 books, all priced at a buck.
San Francisco, CA
A list of the country's best bookstores is simply not complete without City Lights, iconic both for its history and inventory. Affectionately dubbed the "literary landmark" of alternative culture, CL was the brainchild of poet Lawrence Ferlinghetti and opened in 1953 as the nation's first all-paperback book shop.
Open until midnight, this three-story bastion of books located next to Kerouac Alley boasts photos of famous beatniks (Allen Ginsberg, Richard Brautigan, etc.) integral to its history, as well as off-beat sections like a "Stolen Continents", which feature books about/from writers of imperialized countries.
Oxford, MS
Arguably one of the coolest local finds in Oxford, Square Books is located in three different buildings, each set 100 feet apart and offering something different. While one is dedicated entirely to children's books, the others -- including a two-floor main building with cafe -- are chock-full of new arrivals, history, poetry, and of course, works by Oxford's own, William Faulkner.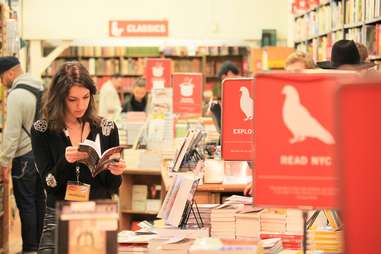 New York, NY
A New York City institution since 1927, Strand Books' claim to fame is its famous "18 miles of new, used & specialty books". 18 miles! If you can't find a book you love here, perhaps you're more of a TV person.

Seattle, WA
With gorgeous shelves built from old cedar, and inventory that runs north of 150,000 books, and author events almost every night, what's not to love about Capitol Hill's The Elliott Bay Book Company? A Seattle book spot for 40 years, it's not surprising that this 20,000sqft store also rocks a top-notch café.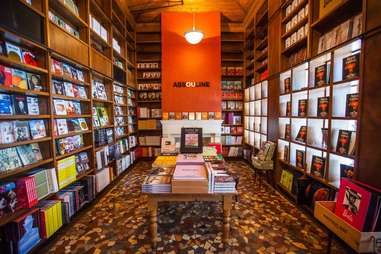 Miami, FL
Opened in Coral Gables in 1982, Books & Books is South Florida's little literary darling and now boasts three locations about town (including one in the works). They host over 60 author events a month, and the flagship spot, which is built in a historic "Mediterranean-style" 1927 building, maintains a full-service cafe and open-air courtyard. Even better than all of that though -- and jot this down -- B&B offers FREE SHIPPING on ALL orders in the U.S. via their website. Yup, totally free.
Phoenix, AZ
A socially responsible new and used bookstore with two locations (Tempe and Phoenix), Changing Hands originally opened in 1974 as a worker-owned collective. While no longer employee-owned, proceeds from book sales are still donated, namely to local teachers, public radio, and a host of other charities. But enough of all that do-gooder stuff, you should know that the Phoenix spot has an awesome coffee and beer bar, they take trade-ins, and that Billy Idol and Aerosmith are coming to the Tempe location next month.