10 of the world's most bizarre festivals
Because we've already told you about the country's best beer fests and BBQ competitions -- and filled you in on the world's naughtiest carnivals of kink --- we figured it was time to just get straight-up weird. As in, climbing-a-mountain-of-Chinese-steamed-buns weird.
From racing coffins and strumming the underwater ukulele (not even a euphemism), to grubbing on gonads and interviewing aliens, we've scoured the globe to bring you the world's 10 most bizarre festivals. Get ready to embrace your inner freak.
July 30-August 3, 2014
Top Oddity: The Ball Eating Contest is exactly as billed: contestants have four minutes to down as many fried animal gonads as possible.
The Weird Factor: Fondly referred to as Testy Festy, this annual ode to the male anatomy is totally nuts, and includes everything from a Big Balls Contest (again, animals) to an underwear-only tricycle race called the Undie 500.
March 13-15, 2015
Top Oddity: The coffin races play out like a morbid bobsled competition. Six "pallbearers" slide, roll, drag, and carry a coffin through a snow-and-mud-covered obstacle course. The catch? One team member, the corpse, must ride inside the coffin.
The Weird Factor: Commemorating the death of some dude's grandpa (whose body has has been kept on dry ice/liquid nitrogen in a Colorado shed for the last 25 years), this arctic celebration includes a polar plunge, frozen T-shirt contest, hearse parade, and a salmon toss.
April 5, 2015
Top Oddity: The festival culminates in the parading of a six-and-a-half-foot wooden penis to the Kanamara Shrine, followed by a procession of men and women carrying wooden phalluses.
The Weird Factor: "Festival of the steel phallus". Obviously, you get the idea on this one. Legend dates this Japanese bonanza back to the 17th century when prostitutes would pray for protection from STDs. Like a bachelorette party gone horribly awry, expect penis-shaped everything -- from hats and puppets, to vegetables and "lucky" charms.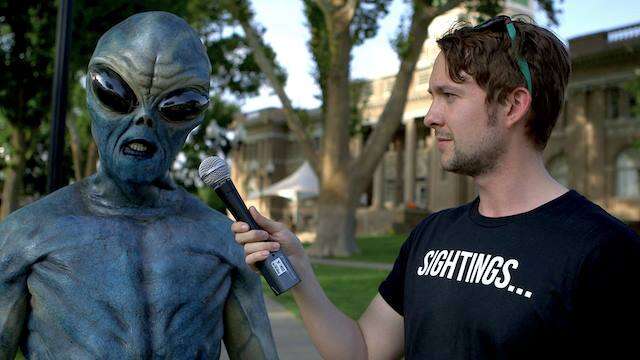 July 3-6, 2014
Top Oddity: Serious "UFOlogists" descend on this desert town to debate the extraterrestrial experience and to offer their take on everything from abductions, to crop circles, to the ending of ET.
The Weird Factor: In 1947, a "flying disk" crashed on a ranch 30 miles north of Roswell, New Mexico. Now the city suits up in Reynolds Wrap to commemorate the world's most renowned UFO incident. Events include the Alien Mudder 5k, a UFO Light Parade, and the CosmiCon film festival.
June 7, 2015
Top Oddity: Grown men dressed as devils leap over infants laid out on mattresses. How's that for a zany tradition?
The Weird Factor: It's infant exorcism at its finest. In the obscure Spanish village of Castrillo de Murcia, red-and-yellow-clad men wielding whips and truncheons have been hopping over babies since 1620. Their acrobatic acts are assumed to rid the tots of evil spirits.
July 24-25, 2014
Top Oddity: A Marilyn Monroe lookalike contest calls for cosmopolitan contenders to sport their best beauty marks, platinum tresses, and Monroe's trademark sex-kitten smile.
The Weird Factor: What better way to boost public spirits and a sluggish economy than a crowd of blondes in bikinis? In 2009, that was exactly what the Latvians were thinking. Now billed as the world's biggest blonde festival, the celebration boasts beach parties and a Harley Davidson bike parade.
July 24-26, 2014
Top Oddity: Not all mosquitoes suck. Meet Willie Man-Chew: A 26-foot pest clad in cowboy hat and boots inflated just for the occasion.
The Weird Factor: Clute, Texas, opted to embrace the dubious distinction of being the mosquito capital of the world by dedicating a day to its blood-sucking nuisance. So don the DEET and your favorite "malaria sucks" T-shirt, because this insect fiesta includes everything from the Mosquito Calling Contest to the more sexy, but mostly skinny, Mosquito Legs Contest.
July 11-12, 2014
Top Oddity: Watch aqua musicians rock out underwater with nautical instruments ranging from the manta-lin to the clambourine.
The Weird Factor: It's a music festival for merfolk. Snorkelers and scuba divers descend to the depths of the ocean and enjoy four hours of piped-in music. Expect to hear aqua-themed throwbacks like "Yellow Submarine" and "HonkyConch Woman."
August 7-10, 2014
Top Oddity: No psychedelic trance party here, but you will find the world's largest mushroom pizza.
The Weird Factor: In a salute to botany's bastard stepchild, the town of Crystal Falls dedicated a poorly rhymed day to the Armillaria gallica -- a 38-acre, 1,500-year-old fungus that weighs more than 100 tons.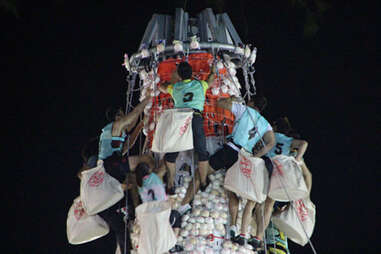 May 22-26, 2015
Top Oddity: "Bun-Grabbing" takes on new meaning in this contest where village "mountaineers" scale 50-foot bun-covered towers and snatch as many lucky plastic-wrapped mounds of dough as they can in three minutes.
The Weird Factor: While Cheung Chau island throws this annual party as a collective thank-you note to the deity who saved their population from a plague some 100 years ago, you don't have to pay homage to appreciate a parade of kids eerily suspended in midair, stilt walkers, and Chinese acrobats.