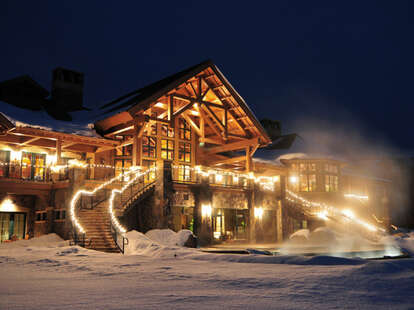 The nerds over at the National Oceanic and Atmospheric Administration (NOAA) have spoken, and apparently 2012 was the warmest year on record for the continental U.S. The average temp for '12 was 55.3°F, a full degree above the previous 1998 record and 3.2°F above the 20th century average. Since our nation is heating up, now is the time to start planning some trips to awesome places sure to perish in the heat and crazy tidal patterns. Book your tickets to these destinations now, and make your sweded version of The Day After Tomorrow later
Ritz Carlton at Lake Tahoe, CaliforniaThis 5-star resort doesn't just offer trails that can't be beat. Other on-site amenities include three restaurants and a spa with luxury treatments like the glow/facial/manicure "Bear Paw" -- unlike the Bear Pa, will not complain about missing porridge before devouring her
Montage Deer Valley at Park City, UtahMDV's an ultra-luxury ski-in/ski-out resort (near the top of the Deer Valley's Empire Canyon), which boasts 220 private balcony/patio-equipped guest rooms luxed via stone bathrooms with deep soaking tubs & gas fireplaces, also the BP boardroom when Donald Trump inevitably takes over
Iditarod Adventure at Wasilla, AlaskaBecause Alaska is just normally kind of ho-hum, forcing Jack London to make up a bunch of crap, adventure travel outfit Black Tomato decided to oomph it up a bit with a four-day excursion built around the 1000-mile Iditarod dog-sled race, which'll see you not only being a part of the action, but also have you flying, snowmobiling, and mushing across the Alaskan backcountry's vast unpeopled expanses, where you can basically stop anywhere to answer the Call of the Wild
Silver Star Mountain at British Columbia, CanadaSince hellaskiing is just what your Cali frat brothers always said when you asked what they planned to do once Steven's opened, opt instead for heliskiing at Silver Star, a sweet Victorian village-style destination in the Monashee Mountain range, collaborating with pros at a company called Eagle Pass. You get six to eight runs on over 270k ski-able acres between 11k and 17k feet, in small groups led by guides who'll provide helicopter safety lessons, as well as beacon training, which usually just means pointing at a map between I-5 and Rainier Ave.
Three Forks Ranch at Denver, ColoradoThe 200000-acre resort (just 40mi north of Steamboat on the CO/WY border) has crafted twenty beautiful beginner-to-expert runs which're only available to guests of their 15 rooms, meaning you'll be able to really stretch out on the trail (note: stretching out before the trail is also a good idea). The resort also offers snowmobiling on 100mi of guided trails, cross country, snowshoeing, sledding/ tubing, ice fishing, and even sleigh rides, just in case your bucket list has a Santa Clause
Expedition Cruise at AnarcticaKensington Antarctica offers a seriously baller, customizable one- to 11-day luxury safaris guided by world-renowned polar explorers to ensure an "intimate experience for every guest", so...get ready for some beard burn! Departing Cape Town via private jet, visitors get shuffled via beastly 4x4s to "camp", a series of heated sleeping domes surrounding a communal tent flush; you can also spend a night in a remote igloo, aka why nobody in the world permanently lives in Antarctica
Bimimi Bay Resort at North Bimini, The BahamasHop a boat or 20min flight from Miami to just-53-miles-away Bimini Bay Resort & Marina, which boasts the picturesque, Mediterranean-style Sakara Beach Club to fill you with cocktails and locally caught seafood
W Retreat & Spa Vieques at Vieques, Puerto RicoW's property sits on the north shore of Vieques, a sparsely populated island eight miles off the east coast of Puerto Rico that used to be a US Naval bombing range, and now boasts a villa-ish resort with 157 rooms overlooking the Atlantic and 30 acres of shoreline surrounded by rolling hills, a saw-toothed coast dotted with small beaches, and a National Wildlife Refuge filled with mangroves, lagoons, and wildlife, so that the animals used to bombs won't be disturbed by your fanny pack
Hotel Refugia Chiloé at Chiloé Island, ChilePerched atop a hill on a remote, rugged, "magical" island off an archipelago north of Patagonia, the lodgings look like a tail fin wrapped in warm wood, with 12 exclusive rooms -- each boasting breathtaking views of the inland sea -- situated in a row atop an enormous, glass-walled communal living room.
The Berkeley River Resort at Kununurra, AustraliaMany folks dream of living in an idyllic waterfront community, though The Beach reminds us that you could be eaten by a shark, shot by drug farmers, or worst of all... sex Tilda Swinton. Thankfully, there's little chance she'll be on the isolated stretch of Australian coastline where you'll find Berkeley River Resort, as it's only accessible by seaplane or helicopter.