Let's be honest, even when they're not spinning around wildly in gale-force winds, cable cars can be kinda friggin' scary. And whether you call it a gondola, an aerial tram, or a cableway, the fact remains: It's still just a small box dangling from a thin wire attached to the top of a giant mountain. No big deal.
Cable cars do, however, offer spectacular views. Like, insanely gorgeous, 360-degree, panoramic views of some of the world's most beautiful scenery. But which ones offer the most visual bang for your blood-pressure buck? Here are 10 of the world's most captivating cableway crawls.
Hua Shan Cableway
Shaanxi, China
Max. height: 6,845ft
Total length: 13,816ft
One of China's Five Great Mountains, Hua Shan also rocks a total of five peaks, two of which (North and West) can be reached via cable car lines. Or if you're looking for something even more extreme, Hua Shan's notable for its Plank Walk, where visitors strap into a harness and shimmy along boards that've been bolted into the side of the mountain.
Yea, it's as crazy as it sounds; watch this dude walk it like it ain't no thang, and then feel bad about whatever you did today.
Grindelwald-Männlichen Gondola Cableway
Switzerland
Max. height: 7,300ft
Total length: 19,918ft
Connecting the village of Grindelwald to Männlichen Mountain in the Swiss Alps, the view from this cableway can either be majestic and snowy, or lush and green, depending on the time of year. Each gondola takes 30 minutes to reach the summit, giving you plenty of time to scope your surroundings and amuse fellow passengers by shouting "Riiiicolaaaaa".
Table Mountain Aerial Cableway
Cape Town, South Africa
Max. height: 3,500ft
Total length: 2,310ft
More than 20 million people have used this aerial cableway to reach the top of Table Mountain since it opened in 1929. In 1997, the cars were updated to feature a revolving floor, offering passengers a 360-degree view of Cape Town, Table Bay, and the Atlantic seaboard.
Masada Cableway
Masada, Israel
Max. height: 951ft
Total length: 2,953ft
With a bottom station located nearly 850ft below sea level, the cableway that transports passengers to Masada, an ancient, plateau-top fortress, is the lowest in the world. While it's customary to hike to the top when visiting this UNESCO site, temps can often top 100 degrees during the day so nobody's judging you for taking the easier, scenic way up.
Sugarloaf Mountain
Rio de Janeiro, Brazil
Max. height: 1,732ft
Total length: 8,340ft
One of the most iconic cableways in the world, the tram running from the 721ft Morro da Urca to the summit of Sugarloaf Mountain offers passengers an expansive look at the sprawling metropolis below, the sands of Copacabana Beach, and Christ the Redeemer atop Corcovado Mountain in the distance.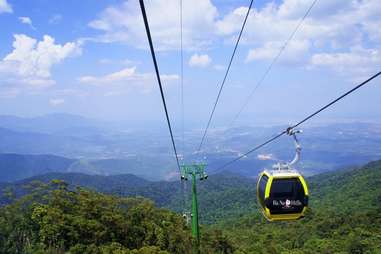 Ba Na Hills Station
Truong Son Mountains, Vietnam
Max. height: 4,230ft
Total length: 16,500ft
At a total cost of $39 million, this tramway just outside Da Nang snagged numerous Guinness world records upon its opening in 2013, including longest and highest non-stop, single-track cable car. Each gondola fits up to 35 passengers, and passes over a waterfall at the base station before zipping up to Vong Nguyet Hill at a top speed of nearly 20ft per second.
Téléphérique de l'Aiguille du Midi
Chamonix, France
Max. height: 12,605ft
Total length: 53,478ft
Until Venezuela's Mérida Cable Car reopens, the tramway to the top of the Aiguille du Midi Mountain is once again the highest in the world. The trip to the summit takes a full 20 minutes and is divided into two stages; from the top, though (provided the weather's clear), you'll get a panoramic view of the entire French, Swiss, and Italian Alps.
Stanserhorn Cabrio
Nidwalden, Switzerland
Max. height: 6,233ft
Length: 7,612ft
The Cabrio cars on this cableway are the first of their kind, featuring an open-topped upper deck that offers up to 30 passengers a hair-raising, 360-degree view of the surrounding countryside. If you'd rather remain fully enclosed in steel and glass, though, the lower deck's got room for another 30 folks.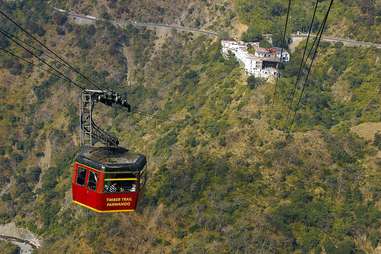 Timber Trail Cable Car
Parwanoo, India
Max. height: 5,000ft
Length: 5,906ft
This tramway moves guests of the swanky Timber Trail Resort to the even swankier Timber Trail Heights, perched high up in the nearby mountains. The view of the verdant Shivalik Hills is decidedly grand, and should take your mind off the fact that 11 passengers were trapped inside a runaway gondola here for nearly two days in 2012. Just look at those hills!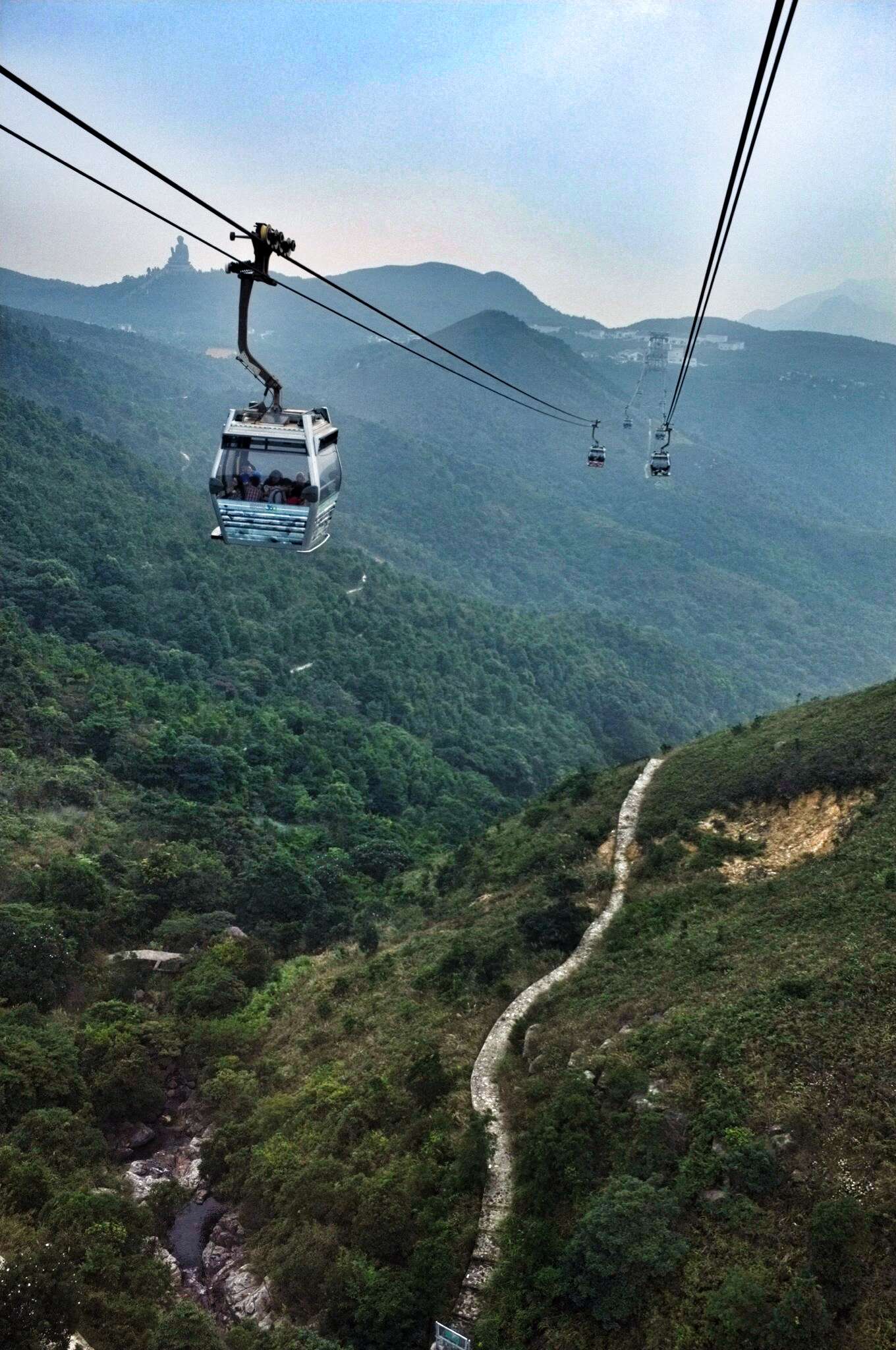 Ngong Ping Cable Car
Lantau Island, Hong Kong
Max. height: 904ft
Total length: 18,700ft
As if the killer view of the Tian Tan Buddha -- at 112ft, it's the tallest outdoor seated Buddha statue in the world -- wasn't enough, Ngong Ping 360 got even crazier in 2009 by introducing glass-bottomed gondolas known as "Crystal Cabins".
Gianni Jaccoma is an editorial assistant for Thrillist Travel, and his scariest cable car experience was on the one from Roosevelt Island to Manhattan. Some things can't be unseen. Follow him to a crippling fear of heights on Twitter @gjaccoma