10 Tricks to Save Tons of Money When You Travel
There you are in a new city, eager to explore everything it has to offer. You want to dine at all the hot restaurants, hit all the sites, and drink alllll the local beer. There's just one problem: your wallet isn't as big as your dreams.
You've arrived on a budget and suddenly need to figure out how to make your money last, while still checking everything off your to-do list. Luckily, there are plenty of tricks that can be used in any city around the world to get more for less. And here are 10 to tuck away for your next big trip.
Rent an apartment
Renting an apartment through websites like Airbnb, HomeAway, or HouseTrip provides the benefits and spaciousness of home, but at a price better than a hotel. For example, the average hotel room in NYC is $300; to rent an entire apartment, less than $200. Math. Even private rooms are less than $70! Moreover, apartment rentals are especially great for groups, as the per-person cost works out to be lower than at hotels or even individual beds in a hostel. Added bonus? You'll have a kitchen, which means you can save a bundle on food by cooking your own meals. And there's a table to play flip cup.

Take free walking tours
Want to learn about the city, get your bearings, and see the major sites? Take a free walking tour. A simple Google search can give you the names of the major walking tours in your destination, or you can stroll into the local tourism office for more info. Just don't be cheap -- tip your guides. That's how they survive! Or, if you don't like the idea of following a dude dressed like Samuel Adams all about town, download an audio walking tour to your phone.
Eat the street food
Dumpster diving is the easiest way to eat for... just kidding. Not that kind of street food. If you're in a place with a lot of food trucks/stalls (think Portland, Southeast Asia, India, Peru, or Austin), eat there. Dining on a park bench is, for obvious reasons, cheaper than dining in a restaurant (fewer overhead costs!), but equally as good (if not better).

Eat the local food
In the same vein, eating local not only contributes to your understanding of the culture, but it's also a great way to keep your budget down. Non-local dishes/restaurants require imported ingredients (which usually get taxed) and cater to foreigners, so prices are higher. Did you come to China to eat a hamburger? Maybe, if you collect Hard Rock Cafe pint glasses, but I doubt it. Stick to what the locals eat and drink. You can satisfy your cravings for Wendy's when you get home.
Research before you go
Don't go in blind -- get a better sense of prices, deals, and free attractions before you arrive. Read blogs, follow locals on Twitter, and don't be afraid to ask questions of the Peruvian coworker who works in accounting (assuming you're traveling to Peru). Some good resources for learning about your destination are BootsnAll, Nomadic Matt, Travelfish, Rick Steves, and Lonely Planet. Remember, when you go in prepared, you reduce the likelihood of getting scammed or overpaying.

Visit the local tourism office
Local tourism boards have their finger on the pulse of what to see and do in each their cities. Not to mention what the most beautiful attraction is in an area. Hit 'em up when you arrive for info on free events -- and don't forget to grab the flyers, as they frequently offer discounts.

Ask your hostel for information
Hostel employees interact with budget travelers every day and keep up to date with what is going on. Even if you aren't staying there, stop in and pick their brain; they usually keep a running list of activities and are happy to share/talk to somebody who's NOT playing Wonderwall on a guitar in the lounge.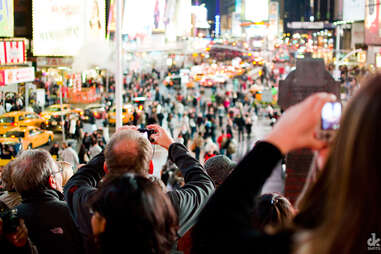 Avoid the tourists
Where there are tourists, there are high prices. It's pretty much a fact. So, when you see them, walk the other way. Don't hang out in Times Square, eat near the Louvre, drink on La Rambla, or get a hotel in Phuket. In fact, you'd be wise to follow my "never eat within five blocks of a tourist area" rule because the food is almost always double the price but half as good. Avoid the crowds, save money, and have a more sane holiday.

Although... you should get a tourist card
If you plan to see a lot of sites in a city, obtain a city tourism card, which offers discounted and free access to the major attractions and museums, as well as free public transportation. I saved more than $100 with the London pass, $80 with the Paris Museum card, and $50 with a Helsinki card -- yeah, we're not talking chump change here but substantial savings. And you can purchase these cards at any tourism information booth.
Stick to public transportation
Kind of a no-brainer, but it's always good to be reminded that taxis are where budgets go to die; they should be avoided unless it's late at night, you're alone, or you don't know where the hell you're going. Instead, experience local life by taking the bus or metro. Be sure to get an unlimited ride transportation pass too. Even if you are going just for a few days, if you plan to zig-zag across a city, it can still save you money.

Matthew Kepnes is a travel writer and author of The New York Times best-selling book How to Travel the World on $50 A Day and the creative force behind Nomadic Matt, a website that provides detailed information on how to travel cheaper, better, and longer. His advice has appeared in Time, CNN, The Wall Street Journal, The New York Times, Lifehacker, Buzzfeed, National Geographic, BBC, and many other publications.