You need a vacation, but all you can afford is an Internet connection. And you don't live in Buffalo, Cincinnati, or Pittsburgh, three of America's top staycation destinations. Well relax, we've got you covered. Kick your feet up, crack open a cold Summer beer, and stretch out your index finger – Google Street View (GSV) is about to take you on a 360-degree adventure to some the world's most exotic destinations.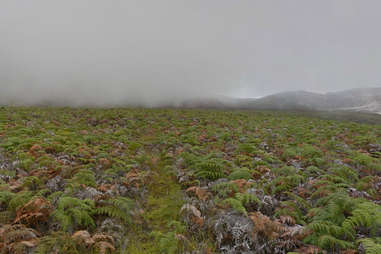 Home to some of the most ancient and exotic species in the world – including the giant Galapagos tortoise and hilariously named blue-footed booby – the Galapagos Islands cost a pretty penny to visit but absolutely nothing to explore virtually. GSV offers tours of the islands' pristine beaches, mangrove swamps, and volcanic rock formations, plus a peek inside the Charles Darwin Research Station if animal bones is more your thing.
Christ the Redeemer stands a whopping 98ft tall atop Rio de Janeiro's Corcovado mountain, and -- despite being struck by lightning and visited by Kimyé -- remains strong. While you won't be able to behold the full splendor of Corcovado on screen, you also won't have to climb a 2,300-foot mountain. Or scale to the top to take a selfie, like this insane dude.
This U.S. landmark and bonafide Wonder of the World is breathtaking to behold even from the comfort of your home office. Between the photos of hiking trails with sweeping canyon views, wide-open craters, and a quaint ranch nestled into the valley -- not to mention shots of exhausted hikers carrying backpacks the size of ten-year-olds) – you may well feel like you're trekking the trail yourself.
No scuba certification is required to go diving with Google's series of ocean tours. Explore a shipwreck that's been chilling in Davy Jones's Locker since 1864 and coral reefs that glow in Technicolor; or just swim with the sea lions -- the virtual ocean is your oyster.
If you thought climbing Corcovado looked exhausting, you'll probably want to stop planning next year's trip to Nepal. While you won't summit Everest on GSV, the views from Base Camp might leave you light-headed.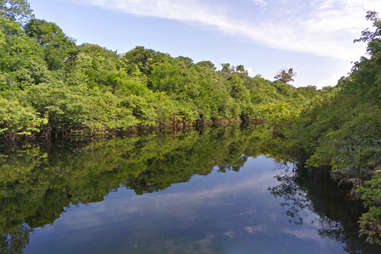 Love the thought of exploring the rainforest but hate the thought of fending off spiders the size of house pets? You're not alone, although you should be -- seriously, toughen up! You are, however, in luck: With placid views of the Rio Negro, the Amazon River's largest tributary, as well as the dense underbrush of the rainforest, Google tends to your nature side without the attendant insects.
The South Pole is an awfully long way to travel to become a human popsicle, but it also affords some one-of-a-kind views that Google has helpfully imported to your desktop. On your tour, you can check out Scott's historic, snow-clad cabin, an assortment of world flags planted in the ice, and scores of frolicking penguins. Narration courtesy of Morgan Freeman is not included.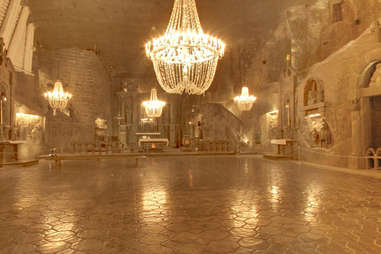 This 13th century salt mine features a cathedral carved out of rock salt and an underground lake; contemporary artists have also contributed to the landmark with statues and other artifacts made of salt.

"Supercollider? I hardly know her!" Okay, so jokes like that are probably keeping you out of CERN'S genius-only facilities in Switzerland, where the Large Hadron Collider has confirmed the existence of the Higgs particle. Thanks to Street View, however, IQ is no longer a prerequisite for glimpsing this miracle of modern science.
The opulent Sheikh Zayed Grand Mosque is the eighth-largest mosque in the world -- roughly the size of five football fields -- and it bears the unique honor of being the only mosque to censure Rihanna (for a series of "provocative" photographs taken on site). With its white marble façade and plazas inlaid with gold and precious stones, we can see why they'd want to do a photoshoot there.