Forget everything you know about youth hostels -- the squeaky bunks, the communal baths, the dude from Poughkeepsie who's been backpacking for two weeks but has totally seen the world, man, and U.S. imperialism has, like, got to be stopped.
Sure, 10-to-a-room, all-bunk-bed, is-that-f&#k*ng-Danish-dude-really-gonna-listen-to-techno-all-night hostels still exist. And there are at least 18 reasons why you should never stay in one again. But times have also changed, and today's sexy new class of luxe hostel pimps concierge service, airport shuttles, and rooftop pools. Essentially, they offer swanky accommodation without the swanky price.
Some, we dare say, are nicer than staying in your average hotel. Like these 10.
Jumbo Stay
Stockholm, Sweden
Cool factor: Bringing a whole new meaning to the term "jetsetting", Jumbo Stay is a hostel located inside an actual decommissioned 747-200 jetliner at the entrance of the Stockholm-Arlanda Airport. For just $54 a night, you can watch flights take off from one of 27 sleekly designed rooms complete with flat screen TVs and Wi-Fi. Want an upgrade? The cockpit suite on the upper deck has the only private shower and bathroom with panoramic views of the runway. Take a full tour of the plane, right here.
Plus Berlin
Berlin, Germany
Cool factor: If not for the dorm-style rooms, you'd have no idea this place was even a hostel! An on-site restaurant, indoor pool, yoga classes, sauna, garden, and laundry facilities sound more like amenities offered at a five-star hotel, but are available to all guests starting at $13/night. If you're looking for a little more privacy, there are even en suite rooms available in the "hotel" wing of the hostel.
Hlemmur Square
Reykjavik, Iceland
Cool factor: Duvet covers, quality linens, and food service sound more like the makings of an upscale hotel rather than a hostel, right? Reykjavik's Hlemmur Square provides all of that in their comfortable and stylish dormitory-style rooms, plus added traveler-bonding bonuses like free concerts, tix to art gallery installations, guest kitchens, and communal lounges -- all for $108/night.
The Bowery House
New York, New York
Cool Factory: The Bowery Hotel is known for its high-end accommodations and celebrity clientele, so budget-friendly prices don't typically come to mind. But, the Bowery House offers cabins and bunk rooms starting at $69/night for those discerning (and in-the-know) travelers looking for the benefits of luxury hotel; think rooftop garden, mahogany bars, and a prime location -- all for a fraction of the cost. The one trade off? You'll be sleeping in a closet-sized room.
Hostel Equity Point
Marrakech, Morocco
Cool factor: Situated in the heart of Marrakech, this hostel takes great care to incorporate the exotic aesthetic of the area into its décor. Large white arches and bright tiles surround the central pool while the rooms (which start at $11) offer full bathrooms, fine furnishings, sofas, and custom art. If you're looking to relax after a long day of lowballing vendors in the bazaar, a spa offering a traditional Hammam and massages are waiting.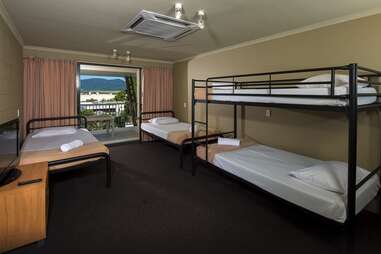 Gilligan's Backpackers Hotel and Resort
Cairns, Australia
Cool factor: "Stay, play, and party in style" is the motto of this Down Under hostel that boasts a large pool area, music, drinks, beach volleyball, and outdoor movies to keep the party going 24/7. The massive complex offers both dorms and private rooms (for around $23/night) that come complete with TVs, kitchens, air conditioning, and balconies.
YHA Castleton Losehill Hall
Derbyshire, England
Cool factor: Living like a king is usually hard to do on a budget. Easier, though, if you stay in Castleton Losehill Hall, a legitimate castle-hostel in the English countryside. Stone walls, a grand staircase, and 27 acres of gardens provide the perfect backdrop for your royal stay without the regal price. With beds starting at $30/night, you'll feel like you're living in a fairy tale.
Posh South Beach
Miami, Florida
Cool factor: Coining the term "poshpacking," this dorm-style hostel situated in the heart of South Beach on Collins Avenue offers A-list amenities like concierge service, a rooftop pool, airport shuttle, and a continental breakfast, all for just $65/night.
Generator Hostel Venice
Venice, Italy
Cool factor: Located on the waterfront of the Giudecca, this converted grain house oozes Venetian elegance with mosaic flooring, Murano glass light fixtures, and a 16th-century inspired fireplace. For $20/night, you get a stylish dorm room complete with ocean views, en-suite bathrooms, and access to the communal lounge, laundry, and guest DJ sets.
The Wayfarer
Santa Barbara, California
Cool factor: Defined as a person who travels from place to place, a wayfarer is always on the hunt for socializing, and that's exactly what The Wayfarer offers. Home to 31 luxe private and shared rooms, this stylish hostel located in Santa Barbara's Funk Zone has a community kitchen, swimming pool, library, complimentary breakfast, and on-site laundry all for $169/night.