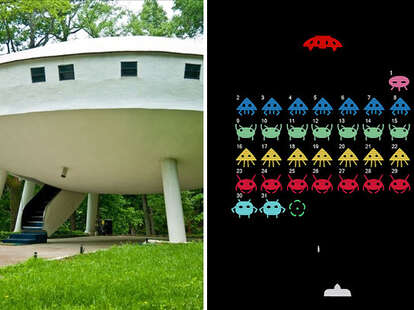 <a href="http://HomeAway.com" target="_blank">HomeAway.com</a> / Taito Corporation
Spend enough time playing video games and eventually it's gonna feel like your living inside one. Let's just hope you're not playing Shaq Fu.
But why waste all of your time in a virtual world when you can visit similar places in real life, and without having to help Shaquille O'Neil rescue kids using mixed martial arts. Better deal, right?
To help you do just that, we rounded up 10 one-of-a-kind vacation rentals that -- if you didn't know any better -- appear to be taken straight from classic video games.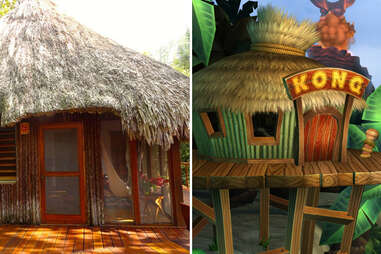 Donkey Kong Country Returns
Riverside Villa
Cayo Region, Belize
The jungle provides the perfect backdrop for both video-game and real-life adventure. This luxury one-bedroom villa overlooks the gorgeous Privassion River (where the Mountain Pine Ridge and the jungle meet), and for $295 a night, you can keep an eye out for spider monkeys while relaxing in the hammock or dining on the deck.
Mario Kart 64: Koopa Troopa Beach
Glover's Atoll Island Lodge
Long Caye, Belize
With kayaks, sailboards, and surfboards (but, unfortunately, no go karts or turtle shells) at your disposal, this private island in Belize offers plenty of opportunities to jump, swim, and fly your way through vacation. Sadly, there aren't any boosters or ramps to get you there quicker, so you'll just have to fly there in a plane like everyone else.
Pac Man
Golden Bay Farmhouse
Orinoco Valley, New Zealand
Complete with its own Pac Man-esque hedge maze (sans ghosts, of course), this charming countryside farmhouse near New Zealand's Kahurangi National Park comes with three bedrooms, fresh spring water, and stunning views of the Orinoco Valley -- all for just $72 a night.

Donkey Kong
Bryant Barn
Walla Walla, Washington
While wooden barrels are the key in defeating enemies in Donkey Kong, in real life this 1,000-gallon wine drum is the key to defeating... fatigue? You know, 'cause it's a bed. For $200 a night, Bryant Barn boasts a swimming pool, fire pit, and, of course, a 'Barrel Bed' that sleeps two. Just don't press your luck in trying to hoist it over your head.
Mario Kart 64: Princess Peach's Castle
Capel Mawr
Caernafon, Wales
The final destination in Mario Kart 64, Princess Peach's Castle power-slides into real life as the final destination on a tour of the United Kingdom. This converted chapel showcases incredible masonry and stained glass windows, as well as an awesome circular main room. Gold, silver, and bronze medals are, however, not included.
Prince of Persia
Riad Dar Kaotar Guest House
Marrakesh, Morocco
The location: Ancient Persia. The enemy: The evil wizard Jaffar. The objective: Escape the dungeon and save the girl. Relive the adventures of the "Prince of Persia" (minus the dungeon, and the evil wizard, and the "actually saving the girl" part) as you explore this gorgeous Moroccan villa in Marrakech. Located in the city's ancient historic district, this four-bedroom home starts at just $192 a night.
Space Invaders
The Spaceship House
Chattanooga, Tennessee
If the Spaceship House on Tennessee's Signal Mountain doesn't bring back fond memories of the extraterrestrial fun you had playing this classic video game, well, we at least tried. With three bedrooms, two baths, and an entrance that mildly resembles boarding the Millennium Falcon, you'll have everything you need for an out-of-this-world experience. Or at least a nice place to sleep whilst exploring Tennessee.
Donkey Kong 64
Hummingbird Treehouse
Bozeman, Montana
Enjoy spending time in the trees without the hassle of Kritter, Zinger, or Klobber knocking you down. Nestled among Montana's Cottonwoods and Aspens, this one-room tree fort at the Gallatin River Hideway sleeps two and features a kitchenette and large deck. You can probably ask for bananas for all your meals, too, if you're really gung-ho.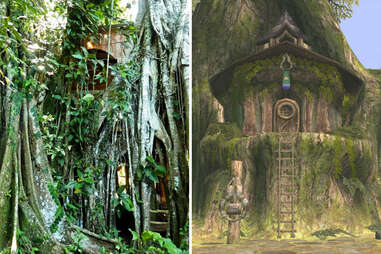 The Legend of Zelda: Ocarina of Time (Link's House)
Topo's Tree House
Cahuita, Costa Rica
Live out your fantasies of the Kokiri Forest without having to deal with the specter of Ganondorf or that annoying Navi constantly giving unsolicited advice in Costa Rica's Limon Province. For $260 a night, you can watch parrots from the hammock inside a giant coniferous tree, sit by the frog pond, or kick back on one of two decks overlooking the trees. And you don't even need a magic flute to get there!