Travel
Sponsored By
10 Tips to Make Group Travel Easier Over the Holidays
Sponsored By
Spending the holidays on a group vacation can make the season more memorable… but not always for the right reasons. Multiple personalities increase the odds of arguing over which hotel's jacuzzi is better or whose turn it is to pay for bagels -- and quickly derail the vacay vibes. To make your next group trip as seamless (and enjoyable!) as possible, keep these tips in your back pocket -- right alongside the Venmo Mastercard. With it, you'll avoid the annoying financial challenges that come with traveling in a big group, like splitting the cost when you stop at a drive-thru or keeping track of who owes you for the hotel, and you'll cash in on a few extra perks along the way.
Get hyper-organized with the itinerary and budget 
Sure, having a neat, color-coded spreadsheet may garner a few laughs and jabs from the family, but they'll thank you for it later, when you have a detailed itinerary and budget that saves everyone time and money. It's especially helpful during the busy holiday season when you're already paying hefty prices for  airfare and hotel stays. To keep the budget transparent, set up a shareable document that lists not only hotel and travel expenses, but group dinner reservations and activities -- as well as how much they're likely to cost. Make sure everyone has editing access to write in their preferred activities with pricing details, too, so the group can decide on the itinerary together. This ensures everyone knows what to expect on the trip, and can save accordingly beforehand. Of course, you'll want to set aside a small discretionary fund, too, for those unexpected extras that pop up along the way (looking at you, small-town hot chocolate festival).
Use a card that rewards you on the road 
Pit stops are unavoidable on a road trip, but you can get more out of them than just filling up the gas tank with a rewards card that gives you cash back on everyday purchases, like the Venmo debit card. The rewards change over time, but some popular current offers include 4% cash back at Dunkin'* when you're grabbing breakfast and coffee, 5% while fueling up at Chevron*, and 5% at Sephora* (if you need to pick up some personal care minis for your carry-on.) And because you can automatically start earning rewards when you shop, your travel purchases can give you extra spending money for once the vacation really begins. Bonus: All those group purchases and gas fuel-ups will get automatically logged in the Venmo app if you use the Venmo debit card, so you can easily keep track of them and divvy 'em up accordingly.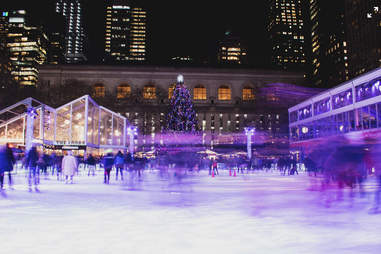 Stocksy
Check out free holiday activities
It's the season of giving -- and towns all over the world give back with free entertainment throughout the holidays. These can go beyond light displays, too (although, those aren't to be missed, either.) You can often find local artisans showcasing their wares at gift markets and craft fairs, usually with live entertainment to check out between browsing. Fancy window displays can compete with tree lightings, too, if you're traveling to a larger city -- and perusing them with a cup of hot chocolate won't put much of a dent in your available balance. If you feel like volunteering your time on vacation, look into local charities before your trip. They often need to staff events this time of year, which is an easy way to experience a new place and give back this season, without spending extra cash.
Remember to spend time apart 
After sitting squeezed in a car for a few hours, everyone will need a break from one another. So, when the group starts arguing about how to spend downtime, suggest flying solo for a bit. Splitting up to do your own thing for an afternoon can keep everybody happy -- and means you won't have to pay for activities you really don't feel like doing. Once you've had your fill of alone time, set up a place to meet back up for dinner, drinks, or an activity. And since everyone will have different stories about what they found or did that afternoon, you'll have plenty to talk about together, too.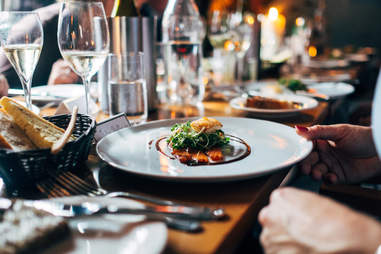 Unsplash
Book restaurants as early as possible 
Nothing derails a trip faster than a group of hangry friends trying to decide where to have dinner. To help guarantee seating (and even temperaments), include restaurant options in your shared group itinerary, then, once a consensus is found, make your reservation as early as possible -- at least a week ahead, but if you're planning to go out on New Year's Eve, you'll want to make them even earlier. Keep in mind that restaurants can be especially busy as the holidays approach, and sometimes offer limited menus and hours. Send menus around in your group chat beforehand, too -- that way the vegans in the crew will have the chance to veto that barbecue joint well before they're sitting next to the smoker.
Use a card that makes splitting the bill easy
Once your group has had their fill of tapas and cocktails comes the point of the meal everyone hates: splitting the check. Some want to pay with their cards, some want to pay with cash, then there's the whole tip thing to figure out. It's a mess. Luckily Venmo, whose app made it infinitely easier to pay back friends, has a debit card (accepted everywhere Mastercard is in the US) that makes group dining easier. After you pay, you can go into the app, share the purchase on your feed and easily split it amongst your friends. Then, the app automatically sends payment requests accordingly. So breathe a sigh of relief and order that extra batch of mozzarella sticks to go knowing you won't be stuck footing the bill alone.
Always ask about group discounts 
Traveling in a group can make smart financial sense -- if you aren't shy about asking for group rates. Check online or with your hotel's staff to see if local holiday attractions you're interested in offer discounted pricing for big groups. Whether you're just shaving a few dollars off the ticket price for a Christmas show or can lock in your hotel rooms for a significant discount, any deal you can take advantage of keeps more money in your pocket for the rest of the vacation activities. And if there aren't any group discounts explicitly advertised on the website or menu, don't be afraid to call and ask when booking.
Set up a vacation emergency fund 
Just like you want to be prepared for unexpected bills at home, you should have a little buffer for surprise costs on vacation, too -- like when those theater tickets weren't as cheap as your buddy said they would be, or your flight is delayed and you need to book another night at a hotel. Research suggests the average American end up overspending on vacation by about $200, so keep at least that much available for surprise costs. The Venmo debit card can make handling these extra expenses easy, too, since the card is linked to your Venmo balance. If you don't have enough in your balance to cover the charge, the card will "auto-reload" in $10 increments from your bank account -- without you having to manually make the transfer. (Just make sure the feature is enabled and available before your trip.) If you want to be proactive about those extra expenses though, just use the "add money" feature in the Venmo app to transfer any amount to your Venmo balance from your bank account -- so those surprise holiday expenses won't stand in your way. 
Stocksy
Create a group playlist for the road
Having a soundtrack of good jams is key to making a long road trip enjoyable. Before you set off, create a shared playlist on a music sharing app where everyone can choose a few songs to play along the way. This will substantially decrease the chances of that one friend stealing the aux cord to play "better stuff." If a shared playlist isn't possible, divvy up the round-trip drive between each person in the car and award each driver DJ status -- that way you can kick off and end the trip on a high note.
Expect the unexpected
Murphy's law doesn't take vacations, unfortunately -- so prepare for the fact that you may misplace important possessions while on the go. For example, if you realize that you forgot your Venmo card at that barbecue restaurant in the last city, fear not: With the Venmo app, you have the ability to instantly disable your lost or stolen card so no one will have access to your funds. Found that "lost" card way at the bottom of your backpack two days after reporting it missing? No problem there, either. Simply enable the card again, and you're ready to go. One less thing to worry about on vacation.
Each Venmo Rewards Offer Powered by DOSH is available for a limited time only at participating merchants on qualifying purchases (as stated in the particular offer and subject to the full program terms). By participating, you agree that DOSH may create a wallet for you on its system in order for you to earn and redeem Venmo Rewards. Any Venmo Rewards that you earn will be transferred to your Venmo account. All offers made available to you may become unavailable without notice. Additional terms and exclusions apply. See full Venmo Rewards Powered by Dosh Terms of Service and Privacy Policy here.

The Venmo Mastercard is issued by The Bancorp Bank pursuant to license by Mastercard International Incorporated. The Bancorp Bank; Member FDIC. Card may be used everywhere Mastercard is accepted in the U.S. Mastercard is a registered trademark, and the circles design is a trademark of Mastercard International Incorporated.

All trademarks and brand names belong to their respective owners. Use of these trademarks and brand names do not represent endorsement by or association with this card program. All rights reserved. Standard data rates from your wireless service provider may apply.

*Terms Apply, Limited time offers. Check app for availability