The first rule of travel is that everyone wants their journey to be mo' luxe, but no one wants to drop mo' bucks. Fortunately, not having suitcases full of cash isn't always an impediment to getting yourself some perks. Whether you're low on dough or just a frugal feller, here are 10 ways to upgrade without spending a dime.
1. Get a direct flight by booking yourself an impossible connection
Book impossibly tight connecting flights, then call the airline in a polite pre-flight panic, and you can often nab a direct flight. If you get push back, say how you're a longtime customer; that you've always been very happy with X Airline; and that it's very important you arrive at your destination on time. Remember: you love this airline, and you're not angry, you're just disappointed. It's a dice roll, but it's worth a shot if it means flying straight from JFK to SFO, instead of laying over in Philly and arriving in Oakland (not that we've, you know, done this before).
2. Book "from" your destination to fly better for the same price
If you're heading somewhere with a relatively lower standard of living, the cost to fly is often cheaper if you book tickets "from" that location. Let's say it's Jamaica. Start by using the domain for the regional website (whatever.ja instead of whatever.com). It also helps to have a Jamaican IP address, which is easy enough to fake with free online proxies. Follow these steps, and you're usually able to buy your tickets in a foreign currency and with rates set for that region's market, saving hundreds you can then use to avoid a red-eye or upgrade to a direct flight.
3. Make your car rental reservation for their busiest time
Just like with airlines, the bottom line is to get butts in seats, so rental outfits often overbook their most popular models (READ: the cheapest ones). Reserve for early Monday morning or Friday late -- when places are slammed, with some of their auto arsenal tardy or in need of repair -- and you're more likely to get a free upgrade to a nicer car.
4. Use industry terminology to get early check in
If you ask for "early check in," hotel staff might have a kneejerk "no" ready, as it seems like you're requesting something extra. Instead, call the morning of and say you'd like to "pre-register" -- hospitality industry jargon that means that your reservation is assigned a particular room, not that you plan to arrive early. Here's the upshot: whatever room they assign you will likely be ready when you arrive, as the hotel is inclined to pick a room they know to be available. Even if you're booked for 3 PM, you can often get access at 10 AM, because when you're there in person, it's unlikely they'll deny you access to a room they've already set aside for you. Even if you aren't pre-registered, the hotel might upgrade your room, as they overbook just like airlines and car rental companies.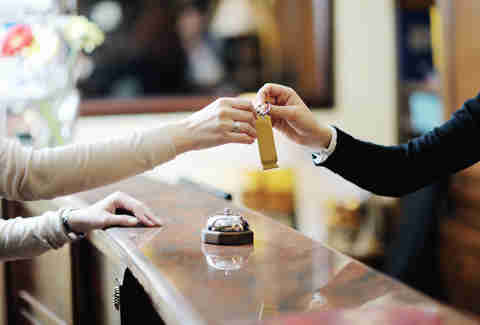 5. Book lodging through the hotel's local listing
You've got a better chance of getting what you want if you call the hotel directly. Obviously this means not going through a travel website -- but it also means calling the hotel's local number instead of its national 1-800 number. Generally speaking, whomever you reach at 1-800-Whatever, is not going to have the authority or the incentive to give you a discount. But the hotel's on-site staff can discount your room, or offer you a better one, depending on vacancies -- which they have an immediate incentive to fill. It helps to have done your research, so you can bring up a competitor's rate.
6. Get the VIP treatment for your luggage by packing a paintball gun
Or scuba equipment, or any other restricted items. Once you declare the item at check-in, it'll ensure that your bag gets extra attention, is handled carefully and arrives at its destination when you do.
7. Sign up for the same credit card again (and again)
Certain banks allow you to sign up for the same card more than once. With cards that come with bonus sign-up miles, you can rack up the rewards with each card issued, thereby stacking up hundreds of thousands of no-cost travel miles. Don't worry, it won't hurt your credit score, and it might even help boost it, so long as you make all your payments on time.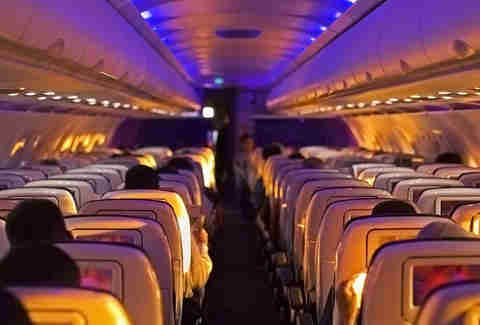 8. Swipe your gym membership card to pay for your inflight movie
Allegedly, you can swipe anything with a magnetic strip, and then enjoy the show, as an airborne plane lacks any sort of connection to verify your purchase. This tactic sometimes goes belly up if the plane has WiFi, but it's always worth a shot.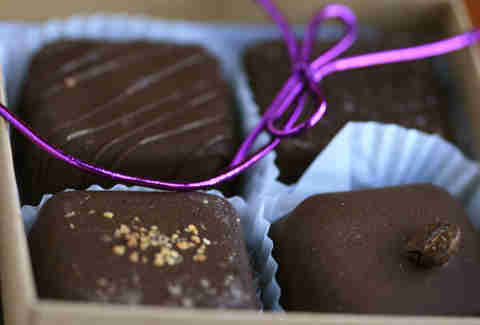 9. Give flight attendants chocolate for preferred service
Why? For one, they have a pretty thankless job, and whose day does chocolate not brighten? Secondly, when flight attendants fly on a plane they're not working, it's customary for them to bring chocolate for the crew. Save them a sweets run, and they'll be more amenable to you sliding into a better seat.
10. Roll back your clock for free WiFi
Want to extend your allotted inflight (or in-airport) Internet time? Just before your session expires, change the time on your device to reflect an hour earlier. Presto, more free Internet. Just don't forget the time on your device is wrong, or you'll be mo' late.