100 Ways to Save a Ton of Money When You Travel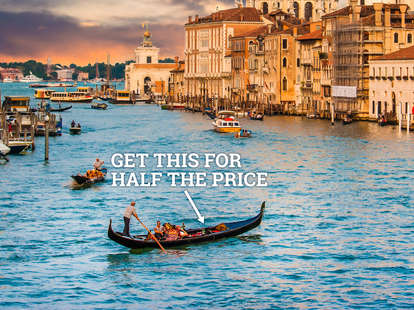 canadastock/shutterstock (edited)
canadastock/shutterstock (edited)
The biggest excuse people make for not traveling is that it costs too much money. And, sure, spending hundreds of dollars to fly to a place only to then spend even more money on a bed and food isn't always in everyone's budget. But travel doesn't have to be expensive, and we don't want that to be your excuse.
So to help you plan your next trip on the cheap, we compiled a list of our best money-saving travel tips. From rental car steals and airfare hacks, to cruise secrets and the cheapest Caribbean paradises, here are 100 ways to navigate the globe for pennies on the dollar.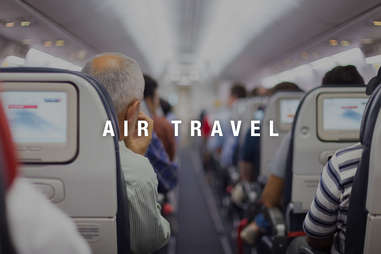 1. Don't use US-based search engines exclusively to book flights
US-based search engines, like all search engines, have blind spots -- they miss budget, foreign, and smaller regional airlines. To get a better picture of who flies where and for what price, be sure to search multiple airfare websites. Two of the best are momondo.com and Skyscanner.com.

2. Don't book your flight too early
The best time to book an international flight is four to six months before you fly, as that's when the airlines have a better idea of how quickly (or slowly) a flight will start selling out -- and they raise or lower fares accordingly. For domestic tickets, it's between one to two months.

3. Use our step-by-step guide to hack cheap airfares using foreign websites and currency
Going straight to a foreign airline's website, pretending you're in that country, and booking with the local currency can sometimes save you hundreds of dollars. And the best part: all of the currency conversions are done by the credit card company. Here's how you do it. (Note: Make sure the foreign airline site you're using accepts US credit cards before you hit "Buy" -- or whatever "Buy" is in that language.)

4. Use hidden-route ticketing when booking your flight
We explain it in more detail here, but essentially, search engines rarely check every combination of connecting flights to a destination, and you can often get there much cheaper by flying through a "hidden," less popular airport. Tripdelta is one site that puts together hidden-route tickets, and on international flights, it can make a huge difference.

5. Fly off-peak hours and days
And that's not just flying between 5-7am or after 8pm, but also on days when people don't traditionally travel. Tuesdays, Wednesdays, and Saturdays are typically the best days for cheaper fares.

6. Buy two one-ways on different airlines
When flying domestically, it can often be cheaper to mix-and-match airlines or buy two one-way flights instead of a single round-trip ticket on the same airline. Look for one-way deals on Airfarewatchdog.com or TheFlightDeal.com and use the American Express travel site to combine one-way flights on airlines.

7. Clear your browser's cookies before buying a flight
According to Min-Jee Hwang of Wiser, a firm that analyzes pricing strategies, airlines use browser cookies to help track your flight search; it's called "dynamic pricing," and it means that prices change based on demand and conditions. While no airline has ever fessed up to doing this, best to play it safe and clear your search history and your cookies before each flight search. Or better still, use an incognito window.

8. Use a credit card that covers checked-bag fees
You can avoid an airline's baggage fees by simply applying for that airline's branded credit card! Though these cards come with annual fees ranging from $65-$95, if you fly even just a few times a year (or as a large family) on that airline, the money you save more than pays for the card. Plus: bonus miles, priority check-in, security, boarding, and even lounge access! Or, if you want a more general travel card with similar benefits, check out our rundown of the best five here.

9. Fly budget airlines
While we have only a few budget airlines in the United States, the rest of the world is awash in low-cost carriers selling tickets at rock-bottom prices (though be sure to follow their ticketing rules exactly so you don't get hit with a ton of fees). From WOW, Norwegian, and Ryanair in Europe, to Air Asia, to Tiger Airways in Australia, and GOL and Sky in South America, you have lots of options. In fact, Air Asia once ran a 10 countries in 30 days for just $160 deal.

10. Use these tips to score cheaper tickets on Kayak
From fare forecast and three-day flex search to scoping out the Travel Hacker for popular destinations, here are six ways to turn Kayak into your new flight-booking bestie.

11. Sign up for email alerts and use last-minute deals
If you don't mind traveling last minute, The Flight Deal, Airfarewatchdog, and TravelPirates.com are three of the best sites to sign up for to score immediate flight deals. Careful though: they may end up in your "Promotions" folder so be sure to check that regularly.

12. Join this all-you-can-fly airline service
Sure, you gotta fly a lot to make it worth it, but if you find yourself traversing coasts (or within your region) multiple times a month, OneGo offers unlimited flights on major airlines for as little as $1,500 per month.

13. Fly into cheaper, alternate US airports
As long as the cost of getting from the airport to where you're going doesn't negate the airfare savings, flying into places like Oakland (SF), Ft Lauderdale (Miami), Burbank (LA), and Baltimore (DC) can be a lot cheaper. Here's a good list of alternate airports.

Europe is hip to the off-airport discount game too. If you're planning to visit multiple countries on your big Euro vacation, chances are one of these 12 airports will be somewhere on your itinerary.

15. Use our step-by-step guide to finding deals on Google Flights
Between the lowest-fare graph, tips on alternate flight dates/airports, and the "I'm Feeling Lucky" function, this guide to Google Flights should tilt things in your favor.
16. Visit Panama, Fiji, or another country where you can get by on less than $25 a day
Did you know you can stay in Medellin for $6 a night? Or eat in Uganda for $3 a day? You can. Getting there may cost a bit, but once you arrive, you won't be spending much.
 Here's our full list of under-$25-a-day destinations.

Yeah, if you wanna go a little more upscale, Portugal, Cambodia, and much of Central America are calling.

18. Descend upon some of the world's cheapest paradises
The Pearl Islands, Guanajuato, Ksamil Beach. Never heard of them? Exactly. That's why they -- along with the mountain paradise of Las Trancas in Chile or remote Avarua in the Cook Islands -- don't cost that much; there aren't nearly as many tourists to gouge. Here are 12 spots that must be on your travel bucket list.

19. Or get a great deal staying on one of these Caribbean islands
Caribbean vacations don't have to break the bank and/or involve sitting next to Jay and Bey on the beach in St. Barts. Hotel rooms in Barbados go for $50 a night and they sell beer in Grenada for 56 cents! Here is our shortlist of the cheapest destinations in the islands.

The Iron Curtain was pretty lousy, but there's an upside to Eastern Europe being new to the tourism game -- the countries are just as historic and beautiful, but much cheaper. Check out Romania, Poland, the Balkans, and other Eastern European spots for a Euro trip at a fraction of the cost.

21. Or experience Europe for less in one of these alternatives to the more popular vacation spots
Not only is the beer in Prague just as good as in Munich, but it's actually cheaper than water. And the party scene in Riga, Latvia, is right up there with Ibiza. Trust us. Point is, you don't need a famous name to have a fantastic time. Here's our rundown of cheaper alternatives to popular European destinations.

22. Better still, maybe just stay close to home
And visit one of the 25 best American cities for a weekend.
23. Use BlaBlaCar and other ride-sharing websites
A growing trend in the travel world is ride-sharing, where locals driving from point A to point B take on passengers to share gas and potentially awkward conversation. Drivers are vetted and verified, and it's a good way to avoid stuffy trains and buses, meet interesting characters, and take a mini road trip. It will also save you a ton of money, and you'll have a much more interesting experience.

24. Take public transportation and avoid cabs
Unless, of course, it's late at night or you're traveling with a group. In general though, cabs in other countries are easily the most expensive way to travel. If you've got time, the public transport is not only cheaper, but a great way to meet and learn from locals.

25. Even better, walk or rent a bike
A lot of cities today have easy-to-use bike-sharing programs where you can pretty much grab two wheels and go. Here are the most bike-friendly cities in the US -- and in the world -- as well as the easiest US cities to navigate without a car.

26. Don't discount the bus, even in the US
BoltBus can get you from DC to New York for $20. Beat that, Amtrak! Suck it, Delta! Other countries often have even larger disparities between bus and air/train travel, especially regions where locals typically can't afford flights.

By now we all know about the new-rider discount, right? But did you know there are apps that can show you which ride-sharing services are cheapest in your area? Or ones that predict when surge pricing will hit?

28. Hitchhike
One of the best ways to travel cheap is to not pay for it. Hitching is common all over the world, even in the US, and there's no evidence that it's inherently unsafe. Just use your head and be smart -- also follow our guide to hitchhiking.
29. Couch surf
One of the best ways to get free accommodation is by staying with someone who lives where you're going. Naturally. Couchsurfing and similar sites like Global Freeloaders and Hospitality Club are the best ones out there to find a local willing to give you a free place to rest your head, as well as insider information and -- If you're lucky! -- maybe even someone to hang out with.

30. Swap your house
Another way to get cheap accommodation abroad is through a home exchange. Just as it sounds, you switch homes with a family from another country for a set amount of time. They live in your home with your spouse, and you live in... just kidding. But, no, you do switch homes. The best resource is the website Home Exchange.

31. Volunteer to stay for free via WWOOFing or HelpX
If you're up for volunteering your time in exchange for room and board, you can find farm and other work across the globe. With WWOOFing (World Wide Opportunities on Organic Farms), you'll mostly be a farm hand, but HelpX.net has all sorts of odd jobs (some of which are even paid).

32. Don't book hotels online, always call the non-800 number instead
Online-booking platforms are a middleman, so calling the hotel directly cuts them out -- and can cut your rate down. Just be sure to call the local reservations number, as the national reservation agents rarely have the power to offer discounts.

33. Stay in a hostel
They're cheaper than hotels (and many Airbnbs) and, contrary to what you might've heard, your stay won't end like a horror movie. Believe us, hostels are NICE these days. Here are our recommendations for the best hostels in every major European city, the United States, and everywhere, assuming you like to party (and even more party hostels, here). Also, these upscale hostels are better than most hotels.

34. Stay in one of these five-star luxury hotels for under $100 a night
That's right, here are 11 five-star properties across the globe with nightly room rates under a C-note. You're welcome.
35. Camp
Hit one of these beach camping spots, and you're guaranteed an ocean view, every time. A night of camping usually costs a fraction of a room rate, so even if you're not sticking to the sand, here are some of the best campsites in the US. And just think, you even get to learn how to cook on a Coleman stove!

36. Book an Airbnb/rent an apartment
Apartments are the go-to here if you're traveling as a group, as they're almost always cheaper than getting multiple hotel rooms. But even flying solo, a private room can offer significant savings. If you're looking for the cheapest Airbnb in 25 US cities, we've got you covered. HomeAway, HouseTrip, and VRBO are also good options.

37. Use Facebook/social media to find people to stay with
There are tons of travel and local community groups on Facebook that can be an invaluable source of local knowledge, travel partners, and potential friends! Just post a message to the group and see which friendly Swede offers to tour you around Oslo.

38. Road trip with an air mattress
If you're going the "staying with friends" route, it's a lot easier to find someone to give you a roof over your head than a bed to sleep in.

39. Check out the eight nicest budget hotels in North America
They're nicer than you think! Motel 6 has come a loooong way from being the roadside inn of last resort. Many budget chains are in the process of morphing their locations into sleek, mod properties -- but ones that are still priced for the budget traveler. Don't believe us? Take a look here.
40. Use WhatsApp for everything communication
Using WhatsApp and Viber will allow you to text and call people for FREE around the world. Or use Google+, Skype, or Vonage cards for phone calls.

41. Use local SIM cards
In many countries, the 3G service is far better than what you'll find trying to connect to local Wi-Fi. And it allows you more flexibility in terms of where you're connected and what you can do.

42. Tell your mobile provider you're going abroad
Most carriers have international plans that aren't prohibitively expensive (T-Mobile offers calls at 20 cents per minute, and AT&T's Passport plan starts at $30). But even if you don't want to change plans, follow these tips to avoid a $1,000 phone bill.

43. Turn off data roaming and roaming assist
Or, more simply, just put your phone in airplane mode when you take off and leave it there. If you connect to Wi-Fi, make sure your data assist is turned off too; otherwise, your phone might automatically use your data to boost a lagging Wi-Fi signal.

44. Hack into free Wi-Fi at the airport
Easy enough with these six tips.

45. Get the monthly, all-airlines Gogo subscription
If you take more than two flights a month, the $49.95 monthly subscription is the cost-saving play. Otherwise, you could be dropping $29.95 a flight.
46. Bring your own food onboard the plane
Instead of buying expensive airport food or eating horrible airline food, or making a healthy meal from only things available at the Hudson News, just pack your own lunch. As long as you aren't traveling outside the country, you can still take food with you on airplanes.

47. Cook for yourself
The best way to save money on the road is to cook all your own meals. If you're crashing on somebody's couch, you should have access to a kitchen. Same if you're in a hostel, campsite, or guesthouse. No kitchen? Pack your own container and plasticware and make sandwiches and salads on the go. Just because you're traveling, that doesn't mean you need to eat out every meal.

48. Take extra food from your hostel's breakfast spread
If you're staying in a hostel, take extra fruit, meats, cheese, and bread and make yourself a sandwich for lunch. It covers an extra meal and while not the most gourmet déjeuner you've ever eaten, it will be free!

49. Learn how to spot a tourist-trap restaurant
Simple, don't eat anywhere near tourist sites. Even three blocks away, the price of everything drops considerably. Also, most restaurants in tourist locations are terrible. Here are 12 ways to tell if you're eating in a tourist trap.

50. Drink water and only water
Those eight Diet Cokes you down every day are more expensive than beer in some countries, and no other country gives you free refills. Kick the soda (and juice) habit and avoid snacking -- all those gelatos and chips add up. Plus, you'll be thankful you stayed hydrated.

51. And speaking of water, bring an empty bottle to the airport
This not only saves you money on water at the aforementioned Hudson News, it also saves you from being that guy who asks for water as soon as he gets on the plane.

52. If you are drinking beer, though, go local
You know how Heineken is marked up in the US because it's an import? Well guess what Bud Light is overseas? That's right, an import, and the national beer will probably be half the price. And speaking of cheap beer, here are the world's cheapest.

53. Eat street food and visit the local markets
In most places around the world, the streets are lined with food stalls. You grab a plate, sit down in a little plastic chair, and enjoy a delicious meal. Meals at street stalls (different from street vendors, who have a slightly more permanent setup) usually cost less than a dollar, and are a way to really experience the local cuisine. Many places -- like Thailand, for example -- wouldn't be the same if the street food disappeared.

54. Have a picnic or cookout
Even if your hotel room isn't equipped with a kitchen, you can probably find a public park with outdoor grills. It's a more authentic experience than most restaurants and is as easy as hitting the local grocery store.

55. Make your own mid-flight cocktails
Though mini-bottles of liquor CAN legally be taken through security, airlines do NOT allow you to open them onboard. So, you've legally been warned, you should not do this. That said, here are some recipes (and more recipes) for making tasty inflight cocktails. Note: You can, obviously, also use these recipes with the bottles of booze you buy from the flight attendant.
56. Get a Charles Schwab bank account to avoid paying ATM fees
ATM fees range from $2.50 to $5 abroad, not counting the fee the overseas bank may charge. However, the best way to avoid all ATM fees is to get a Charles Schwab checking account, which comes with reimbursed ATM fees (and no, Chuck's not paying us to say that). They won't charge you a fee and WILL reimburse any that are charged by the bank! Win-win! (More ways to save on overseas banking fees can be found here!)

57. Take out larger sums of money at once to avoid bank fees
Assuming you don't have a CB card, minimize your ATM trips by taking out more money at once. Just keep it locked in the hostel locker or hotel safe. And follow our guide to avoid getting pickpocketed.

58. Don't exchange money at the airport
They typically offer the double whammy of the worst exchange rates and highest fees.

59. Get one of the best travel rewards cards
We run through five of the best credit cards for travel perks here, including the Capital One Venture Card and Chase Sapphire Preferred. Many come with double miles/points, no foreign transaction fees, and rental car coverage, etc. Also, this is kind of a no-brainer but it's worth a reminder: use your damn miles or points! Even if they don't expire, it's not like you're getting interest on them by letting them sit in your account. You racked them up for a reason, don't be afraid to spend them.

60. Now pay with that credit card whenever possible to get the best exchange rate
Your credit card will probably give you the best exchange rate of anyone, just make sure you get a card that doesn't charge international transaction fees. Simply, if a vendor accepts credit, use it!
61. Download/take free walking tours
They're far less cheesy than ones you'll pay for, might teach you more, and are FREE. Seriously, Rick Steves has got some solid ones.

Or use any of our under-$10 city guides. We've been in the "fun things to do in your city" game for over a decade. We know some stuff. In fact, here are the absolute best 15 free things to do around the world: from a full-moon rave in Thailand to the Smithsonian museums in DC, you'd be surprised how many great attractions -- like J. Lo's love -- don't cost a thing.

63. Always get the city tourism card
If you plan on seeing a lot of sights in a city, you should get a city tourism card, which offers you discounted and free access to the major attractions and museums, as well as free public transportation. We've saved over $100 with the London pass, $80 with Paris Museum card, $50 with a Helsinki card, and tons more with other city tourism cards. They are an amazing way to save money on attractions and not enough people use them.

64. Visit the local tourism office
Local tourism offices exist to provide travelers with advice. Be sure to visit them to find out what the current deals, discounts, and free activities are. They have events calendars and are tremendous resources travelers don't use enough! Also, they'll give you a heads-up on when any of those free local walking tours are going down.

65. Similarly, ask the hostel staff for advice
No, not about your dating life, about deals around town. Even if you're not staying there, pop into the hostels and ask for information. They're usually incredibly friendly folks who enjoy helping people, and they will often give you a lot of advice. They work with budget travelers all day, every day, and they have their thumb on the pulse of the city.

Before you take off on your big trip, make a list of all the museums you want to hit while you're away. Then go online and see if any of them offer free days, and plan accordingly.

67. Tap into Meetup.com groups
Love jazz? Dancing? Archery? Chances are people in the destination you're going to love your favorite hobby too! Use a website like Meetup.com to find locals who share your interest and cheap events to attend. Couchsurfing even offers event boards where you'll find inexpensive/free meet-ups, outings, and concerts to attend with other travelers and locals. And you don't even have to sleep in their living room!
68. Book cruises and tours within the last few weeks before departure (or really far in advance)
Because cruise ships or tours don't want to depart with half-empty boats or tours, the price of both get cheaper the closer to your departure date. There are almost always last-minute deals for cruises. Another option is to book really far in advance, as cruise and tour operators try to hook in people early to ensure they'll have enough confirmed guests aboard. Also, here are a bunch of other things nobody tells you when you book a cruise.

69. Always buy the travel insurance
For cruises, this is especially critical. Not only does it cover you when you're sick, your bags get stolen, travel plans are interrupted, luggage is lost, and a whole lot of other things, but also if for some reason your flights get delayed/cancelled and the boat sails without you, you can get your money back.

70. BYOB on cruise ships
Yes, it is against regulations. Which is why we're absolutely NOT advocating you do this. But, if you're not opposed to dying your vodka green to look like mouthwash or transferring all your booze into plastic sleeves, this can cut your cruise's party bill by 80%.
71. Always use a rental car discount code
There are car rental discount codes for seniors, AAA members, corporations, and everyone in between -- and most can be found online. Simply Google discount codes for the rental service you want to use or hit RetailMeNot, it's usually a good site to find them as well.

72. Rental car relocations
Car relocation is when you take someone's car and drive it across the country. You are usually paid, and gas is covered. The downside is you don't often have much leeway on timing, so stopping to see the sights along the way might be limited. While car relocation services are pretty limited, two companies worth checking out are Transfercar and HitTheRoad.

73. Use your credit card to cover the insurance
Remember, many credit cards provide car insurance on rentals, as well as consumer protections and refunds for any cancellations on products made with their card! Don't pay for the insurance if you're already covered. And speaking of insurance, here's a rundown on the different types.

74. Never prepay for the gas
That 15 cents a gallon the rental car company says it'll save you over outside stations is tempting, but it's only worth it if you manage to run the car completely out of gas. Otherwise, you're just paying for gas the next person gets to use.

75. Rent a car from the airport (vs. a cab or Uber), even if just to get you to your hotel
If you're traveling to a city where the airport is a long way from your destination, and you can drop it off near where you're going, often the $30-or-so the car costs for a day is half (or more!) than the price of a taxi. And it saves your friends and family the inconvenience of coming to pick you up at 5am at the off-airport.

76. Never, EVER fill up at the station next to the airport
Did you ever notice how in your hometown, there's that one station by the airport where gas is like 80 cents-a-gallon more expensive? It stays in business thanks to nervous tourists who don't know if anywhere else nearby is cheaper.

77. Use GasBuddy to find the cheapest gas
Near the airport, or anywhere really.

78. Take whatever car the agent needs to get rid of
If you're not renting a car to attend your high school reunion (and don't care what you drive), ask the agent what cars he or she needs to get off the lot. You may end up in a Kia Soul, but it'll probably be cheap.

79. Reserve the cheapest car and pick up during peak hours
A clever trick designed to score a free upgrade. By picking up during the busiest time, you're wagering that they'll be out of the cheap class you reserved (not at all uncommon) and will be forced to upgrade you to the next class. According to rental car agents, it works more often than you'd think.

80. Use another company's quote for leverage
Bring in a printout of another rental car company's quote (or, you know, maybe show it on your phone) and ask them to match it -- there's a good chance they will. And without even verifying that it's legit.

81. Find the lot that has the most cars
If you have the time to hit a few rental car lots, find the one that's got the most cars, and go in ready to negotiate. If they're sitting on inventory, they're more than likely willing to cut you a deal.

82. Refill the gas tank with the key in the "on" position
Why would you want to pay for the next renter's gas? Leave the key in the "on" position when refilling to ensure you NAIL the exact amount you drove off with.
83. Travel during low season
Hotels are desperately looking for ways to fill rooms when the glut of tourists aren't in town. September is the slowest season pretty much everywhere, and deals on hotels and even food are easily found.

84. Look at local newspapers for coupons
Your grandma doesn't do it because she enjoys playing with scissors. Or, maybe she does, but since you probably will never be back at the local grocery store in Madrid, there's no need to worry about pissing off the entire line so you can save 45 cents on a can of Spanish SpaghettiOs.

85. Ask people on Twitter where the deals are
Twitter is a wonderful resource for picking people's brains. Even if you don't have a lot of followers, all you need to do is ask the experts! Simply tweet your questions at travel brands and personalities and you can get a lot of your questions answers. Moreover, follow hashtags for destinations and ask the people you find interesting for tips and advice on saving money.

86. Use an ID card that might get you a discount
Even if you're not technically still a student, if your student ID still looks like you it's probably good enough for a discount. Same goes for military IDs, AAA memberships, and AARP cards; all can save you cash.

87. Subscribe to Groupon in your destination city
It's not only a way to discover things to do in a new city that you might not otherwise have thought of, it'll save you money when you do them. Just remember to unsubscribe after you leave or you'll be saddled with two-for-one drink deals in Portland for months.

They can help you score last-minute hotel deals, track your trip finances, and find free Wi-Fi and cheap parking, among other things. And all are designed for travelers on a budget.

89. Bargain for everything possible
In some countries, you're expected to bargain for everything from food in local markets to taxi rides. Learn what's negotiable and never take their first offer.

90. Avoid these scams and you'll save money by not losing it
Though hopefully you're too bright to end up with a suitcase full of meth, you should still watch out for overcharging cab drivers, fake attraction tickets, and pickpockets. It's a tough world out there. Be careful.

They still exist! And they can get deals you can't find online.

92. Fly to the cheapest destination, wherever it is
If you've got some flexibility in your schedule and are the adventurous type, use Google Flights to search airfare from your home city to find the cheapest fares worldwide. Find the best deal and go there!

93. Join the AARP
You don't need to be old to get a membership, and it comes with a lot of travel discounts -- including big saving on flights that can often be used in conjunction with other offers and sales. We saved $400 on a flight to London using an AARP membership.

94. Hit a ton of these cheap activities from our European backpacker bucket list
From taking the Alternative Berlin Tour to drinking in the ruin bars of Budapest, here's something to do in every major European city.

95. Find theme park discount tickets at Costco
It's true, you can get anything at a Costco, including discounted tickets to tons of theme and water parks. Also, giant bags of cashews.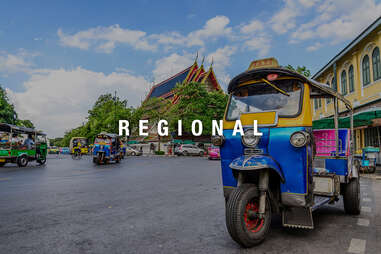 96. In Europe, get a European rail pass
Getting a rail pass is a good option if you are going to be traveling longer distances. The European rail system is very good and very cheap over short distances; however, when you start boarding night trains across multiple countries, the rail system becomes a bit more expensive. Fares can cost well over $100. European rail passes are a great way to save a lot of money and are a must for anyone looking to take the trains extensively.

97. Or, at the very least, buy your train tickets in advance
Trains in Europe have moved towards the airline pricing model, which means the closer to your date, the more expensive the ticket. It's better to book early and directly online with the train companies. They often have special online prices that are cheaper than booking at the train station.

98. And don't forget to claim your VAT tax refund when you leave
Remember, you're paying an additional tax on items you buy in Europe that, as a non-resident, you shouldn't have to pay. You are eligible to receive a 19-25% cash refund on all purchases with minimums that range from zero (Germany, Ireland & the UK) to $195 in France (check this website).

99. In New Zealand, take the Naked Bus
You don't need to strip down to take this bus, but you do need to take it if you want to save money. The company offers tickets as cheap as 67 cents ( $1 NZD) if you book at least a month in advance! It also offers multi-ticket bus passes where tickets can be as low as $6.70 ($10 NZD) per ride.

100. Buy a Japan Rail Pass
This pass is indispensable for travel in Japan. It costs $250 (28,300 yen) for seven days, $400 (45,100 yen) for 14 days, and $513 (57,700 yen) for 21 days. Even if you just get the seven-day, it's the same price as a round-trip train ticket from Osaka to Tokyo ($125, 14,250 yen each way!) Moreover, these JR trains also serve local city areas and can be used intra-city. So even if you aren't going to do much travel around Japan, buying a pass is better than buying individual tickets.
Sign up here for our daily Thrillist email, and get your fix of the best in food/drink/fun.
Matt Meltzer is a staff writer for Thrillist who saves money on costly photo development by posting his vacation pictures on Instagram. Follow him: @meltrez1.
Matthew Kepnes is a travel writer and author of New York Times bestseller How to Travel the World on $50 a Day and the creative force behind Nomadic Matt, a website that provides detailed information on how to travel cheaper, better, and longer. His advice is often featured in Time, CNN, The Wall Street Journal, The New York Times, Lifehacker, BuzzFeed, National Geographic, BBC, and The Guardian, among other publications.