Oberoi Hotels & Resorts
What's the point of trekking out to the middle of nowhere if the accommodations are so shabby you immediately want to decamp for somewhere else? These 11 hotels all prove that you can get lost without sacrificing the luxurious lifestyle you've grown accustomed to ever since [inheriting vast sums of cash] [becoming the youngest CEO in the history of the natural beef industry] [whatever you did to be able to afford a vacation like this].
Praslin, Seychelles
932 miles east of mainland Southeast Africa on a remote archipelago, these 30 lushly green acres offer secluded beaches and sweeping views of the turquoise Indian Ocean. But with that come plenty of opportunities to snorkel, sail, and kayak. Once you fly into Mahé, you'll still have to take either a 15-minute private plane or helicopter ride, followed by a 30-minute drive (or you can catch a 45-minute ferry to Praslin, followed by a 20-minute drive to the property).
Lijiang, China
Declared a UNESCO World Heritage Site in 1997, Lijiang is known as the Venice of the Orient despite being located 6,561ft above sea level, with knockout views of the sacred Jade Dragon Snow Mountain. The gorge between Jade Dragon and Haba Snow Mountain extends nine miles and is one of the longest, deepest, and most treacherous in the world. Expect a four-hour flight from Hong Kong (usually with a layover) to Lijiang Sanyi Airport, plus a 45-minute drive. Weirdly, gondola is not an option.
Islas Secas, Panama
After flying into Panama International Airport, transferring to a regional flight, and driving for an hour, you'll hop on a ferry to get you to this entirely private volcanic island that's part of a chain of 16 in the middle of the Gulf of Chiriqui. Only 20 guests are allowed at time, all of whom you can avoid as you go fishing, kayaking or spa…ing.
​
And while it's usually reserved for bad mob-movie dialogue, swimming with the fishes at Secas Archipelago and its neighboring islands offers some of the best adventure diving in the world, with more than 800 species of fish and 33 species of sharks, including Bull, Tiger, and Guitar sharks. Guitar sharks are actually a thing. Sadly, Keytar sharks aren't.
Sonora Island, British Columbia
Like the idea of camping, but hate the bugs, tents and threat of wild animals? This Relais & Chateaux property provides all the luxurious comforts of home while still being so deep into the wilderness that you're likely to see more bears than humans (from a comfortable distance of course). Instead of hiking for days, you'll actually take a boat, helicopter or seaplane to get here.
If you actually want to see bears, though, you can just take an Eco Tour boat about an hour from the resort to witness Grizzlies catch salmon in the wild. Or, if that version of nature is too tame, the resort will helicopter you to a mountain glacier where you can eat a gourmet picnic. Yup, a picnic on a glacier. Sure beats your backyard.
Chiang Rai, Thailand
This five-star resort AND ELEPHANT SANCTUARY offers tents that rival any luxury hotel room. You'll have to fly into the local airport, then drive 45 minutes to a boat that will then take you down the river to the camp, and it isn't cheap, but all your meals, spa sessions, ELEPHANT RIDING, and a few day trips are included in the room rate. When you get to choose between watching TV in your room or riding Asian elephants bareback to watch the sun rise over the Laos mountains, you always go with riding Asian elephants bareback to watch the sun rise over the Laos mountains.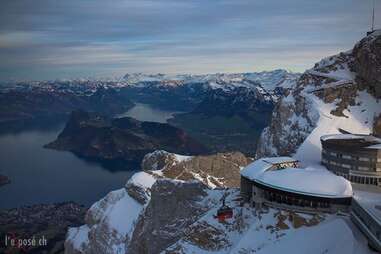 Kriens, Switzerland
Opened in 1890 and recently restored to its historic grandeur, Queen Victoria once used this mountaintop hotel as her personal hideaway. To reach it, you'll need to first drive, take a train, ship, or bus to the base of Mount Pilatus, followed by a 30-minute trip on the world's steepest cogwheel railway that takes you up a breathtaking route from Alpnachstad straight to the property (Victoria actually rode up on horseback, because what 70-year-old woman wouldn't). For a literal trip, try airboarding down a hill. Airboarding is to inner tubing what skeleton is to luge, where you lie face down – except you don't have to be insane to go airboarding or inner tubing.
Costa Rica
The full-time members of this treehouse community nestled in 500 acres of jungle are so protective of their way of life (living off the land… in a tree) that they won't reveal their exact location until you confirm your stay. It all sounds very rustic, but they do offer massages, chiropractic care, and yoga, while outdoor activities include ziplining over and diving into waterfalls, coming face to face with kinkajous, and learning what the hell a kinkajou is.
British Virgin Islands
This private island is said to have been inhabited by both Christopher Columbus and Blackbeard, who'd be so happy to know his grooming habits have totally come back around. While the clientele has changed, it's still pretty difficult to get to (ferry, helicopter, and private yacht are your options). Once there, a 1,800-acre oasis awaits with five beaches, kayaking, windsurfing, sailing, and snorkeling. If you're really into the food and drink, you can even learn how to prepare all of it, like the Anegada lobster. Or, you can just kick back and eat and drink without thinking about how to properly cook an ugly crustacean.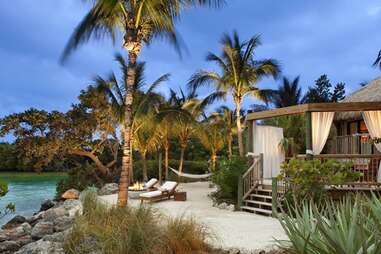 Little Torch Key, Florida
Who knew that the good ol' U S of A boasted a destination worthy of the word "paradise"? Reachable only by seaplane or boat, this private island has 30 thatched-roof bungalows tricked out with four-poster beds, claw-foot bathtubs and outdoor showers, but no TVs, because you're supposed to be out kayaking, sailing, fishing, or outdoor showering (hey, it's an activity). For more adventure, take a boat to the Flats to go kiteboarding, because it's not like you can go kiteboarding just anywhere.
Shimla, India
Situated among pine and cedar forests at a height of 8,350ft, the former residence of Lord Kitchener rests atop a knoll overlooking a backdrop of the high Himalayas and beautiful rolling foothills. Those hills offer an amazing bike trail, which spans all the way from the resort to the Sutlej river over 2.5 hours, winding through remote village trails before meeting the tarmac road to Chaba.
Be prepared for either a scenic four-hour drive from Chandigarh Airport, or an eight-hour drive or four-hour train ride from Delhi -- just to reach Shimla. After that, you still have another 45-minute drive up the mountain, by the end of which you'll have grown a mustache as fantastic as Kitchener's (really, it was a big bushy beautiful thing).
Abu Dhabi, United Arab Emirates
Actually a two-hour drive from Abu Dhabi, this oasis is so isolated it's situated in a region called the Empty Quarter where there are only sand dunes in sight for miles. Elegantly designed rooms provide a comfortable starting point for adventures like desert biking and camel trekking -- so basically you're paying top dollar to cruise around on an uncomfortable animal that hates people. Try out dune bashing if you're after thrills; it's like off-roading in a 4x4, except in a desert, where there really aren't roads. Plus, telling your friends you went dune bashing will just sound cool.