Shutterstock
Shutterstock
No, that singing crab wasn't just trying to talk up underwater life so that Ariel would stick around. Anybody who's ever donned a scuba mask and a BC knows that below the water's surface lies a special world full of colors you thought only existed in Gatorade bottles. Sure, you've gotta spend a couple hundred dollars and wake up early, like, eight Saturdays in a row to get certified to do it. But once you do, you've opened up a seemingly limitless world of exploration.
And since we've already told you the best dive spots in the world, this time we're focusing on the US. Specifically, on the only state in the lower 48 with hundreds of amazing scuba destinations: Florida. But which of the Sunshine State's many scuba spots are tops, singing crabs or not? These 12, of course.
Biscayne Maritime Heritage Trail
Biscayne National Park
There is no better site in Florida for a group of snorkelers and divers than Biscayne National Park. Not only is there a mapped out trail of six wrecks to spend your day exploring, but many of them are in clear water and highly visible from never very deep. The area around the Fowey Rocks Lighthouse is a must-hit, as colorful marine life congregates close to the shore.
DEMA Trader
Key Biscayne
It's rare that anyone not at a well-timed car auction gets to benefit from a major drug seizure in Miami, but when this 165ft freighter was caught smuggling drugs, US Customs thought it would be best used as a tourable deep-water vessel. And while Florida is about as short on diveable ships as it is on actual drug smugglers, this one has holes cut into the side so you can safely tour the boat's interior -- like the galley and sleeping areas -- without much danger of getting stuck.

Half Moon Preserve
Biscayne National Park
If Instagram had been around in 1908, you can bet there would have been plenty of Miami's finest snapping selfies from the bow of this beast. Originally called the Germania, it was among the top racing yachts of its day and even won the Kaiser's Cup race across the Atlantic. Fast as it was, though, it wasn't able to outrun British warships; the boat was in England for a race when World War I broke out, and it was the first German ship captured. It now sits in the shallow waters of Biscayne National Park, a historic and fascinating first wreck for novice divers.
Molasses Reef
Key Largo
Possibly the most popular reef in the state, the spur-and-groove Molasses Reef is a perfect shallow dive for those who want to see live coral and don't have a ton of underwater experience. And since it lies right off John Pennekamp Park, it's the certification dive spot of choice for many locals in South Florida. You only have to swim down 25-45ft to see lobsters, moray eels, and nurse sharks.

Looe Key National Marine Sanctuary
Big Pine Key
Much how Key Biscayne (near Miami) isn't an actual key, neither is this coral reef named after the HMS Looe, a British ship that ran aground here in 1744. This non-island sits about five nautical miles off Big Pine Key in Bahia Honda State Park and -- with 35ft rock ledges, colorful tropical fish, and miles of coral reef -- is one of the best spots in the Keys to dive.

Army Tank #1
Miami Beach
Much like how the population of Miami has exploded since 1994, so too has the population of this 21-year-old man-made reef; except, instead of people of questionable character, it's become a popular home for numerous species of lobsters, spiny oysters, and coral sponges. This spot contains one of two sunken M60 tanks (which look antique thanks to the saltwater) along with 1,060 limestone boulders to create one of the area's most interesting local dives.
Devil's Den
Williston
While there are countless jokes to be made about Central Florida (and Orlando!) being the gateway to hell, once upon a time there were settlers who actually believed it -- at least when they came across the steam billowing from this dry cave near Gainesville. This warm-water underground spring is home to 2 million-year-old fossils and the remains of a 7,500-year-old man, who if he were alive today would probably still have a driver's license under Florida law.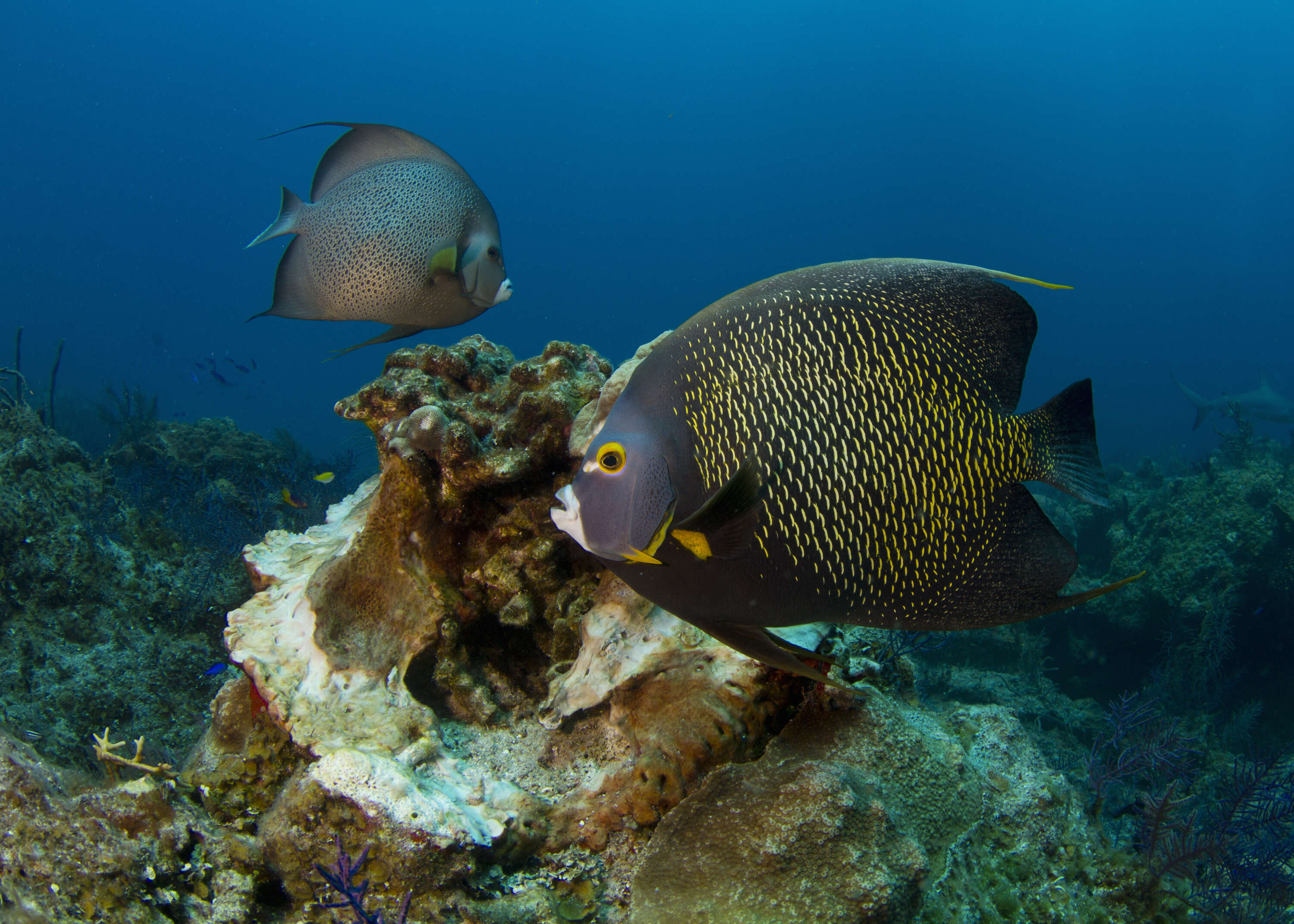 Blue Heron Bridge
West Palm Beach
The best shore diving in Florida can be found at Phil Foster Park near the Lake Worth Inlet in Palm Beach County, where both snorkelers and divers can enjoy a diversity of shallow-water marine life that's unrivaled in other parts of the state. A trip just 20ft down will find you face to face with octopus, angel fish, seahorses, lobsters, and, when the water is warmer, manatees. Its shoreline accessibility and relatively shallow depth make it one of Florida's easier dives.

Tenneco Towers
Ft. Lauderdale
If you've ever wanted to see an oil rig without that whole "living on an oil rig" experience (or staying in an oil rig hotel), the largest man-made reef in Southeast Florida is the spot for you. Back in 1985 -- when you could do stuff like sink decommissioned oil platforms without causing a nationwide boycott -- the Tenneco Oil Company sank six of them off the coast of Ft. Lauderdale. While three of the platforms aren't accessible within recreational diving limits, you can catch the shallowest of them at 65ft and the deepest at 195ft.
Blue Grotto
Williston
Probably the coolest grotto you'll ever visit that doesn't require an invite from Hugh Hefner, this 80ft cavern in the heart of Florida's spring country boasts some of the clearest water in the state, and even has a dive bell at the 30ft mark so you can stop to chat with your dive buddy before continuing down to the deep-water cavern lined with fossils. You can also dive the Blue Grotto Cave, which is filled with untouched underwater rock formations.
Copenhagen Wreck
Pompano Beach
You may find it hard to believe while sitting on the white sands of Pompano Beach, but there's a massive rock ledge about a half-mile offshore. The crew of the Copenhagen, a 325ft steamship carrying coal to Havana, however, learned the hard way in 1900 when it ran aground. In fact, the water's so shallow there that for 40 years you could spot the wreckage on the surface. Despite being used as target practice for training cadets during World War II, the Copenhagen was made a Florida Archaeological Preserve in 1994.

Gunsmoke
St. Petersburg
Try as we do to defend Florida, sometimes you run across stories that you know couldn't happen anywhere else. Take the Gunsmoke, an old shrimping boat that was allegedly used to smuggle marijuana back in the 1970s. One evening as smugglers were unloading its cargo near Panama City, FL, two teenage girls and two men were unfortunate enough to witness the unload. Rather than be caught, the smugglers shot one of the guys before taking the other three witnesses 150 miles away and dumping their bodies in a sinkhole. The ship was allegedly found adrift among bales of marijuana near Edgemont Key in 1977 (we have no idea why they wouldn't have at least saved their shipment), where government divers found a dead man below deck with a single gunshot wound to the head. Only in Florida!
Sign up here for our daily Thrillist email, and get your fix of the best in food/drink/fun.