Even the most travelled Americans have a few gaps in the "where I've been" map, especially when we're talking about missing states. It's a big country out there and clocking all 50 is a bucket list accomplishment. But which ones get passed over the most? We pulled data from each state's tourism board to determine the 12 with the fewest number of annual visitors, and then polled locals as to what we're missing out on by not spending more time there.
12. Arkansas
Annual visitors: 25.8 million
Why you should visit: Let's start with the obvious: the opportunity to make endless Monica Lewinsky/cigar jokes as you stand in a replica of the Oval Office at the Clinton Presidential Library. After that, you can visit Bill's boyhood home in Hope, or Johnny Cash's in Dyess.

If Civil War reenactment is more your jam, Historic Helena on the Mississippi Delta was occupied by Union soldiers and was the site of an 1863 battle; it was also a safe haven for runaway slaves. Or, if you're more interested in civil rights than civil war (although they're obviously connected), Little Rock High School was home to the first public-school integration in 1957.

But since Arkansas is the Natural State, the biggest reason to visit is the outdoors. Hot Springs National Park is one of the 20 most visited in the country and home to Bathhouse Row, where you can get your aromatherapy on in a natural hot spring. Past that, there's America's first national river, the Buffalo, where you can whitewater raft through limestone bluffs, as well as the caverns at Devil's Den and Blanchard Springs.
11. Alabama
Annual visitors: 24.3 million
Why you should visit: You gotta figure that the 14 annual home football games played at Auburn and Alabama keep the Iron State out of the bottom 10 in terms of visitors. But SEC football and crazed fans aside, there are plenty of other reasons to visit.

Starting with the fact that you can drink in two states at once at the Flora-Bama bar near Orange Beach. Or participate in its famous annual mullet toss (fish, not hair). Or, if you're not into throwing fish and/or drinking on the beach, you can explore 35 miles of gorgeous coastline, most notably, Gulf Shores -- it's the prettiest place in the state and home to the annual Hangout Music Festival.

In terms of history, there are landmark sites from the Civil Rights movement all across Alabama, including the Civil Rights Institute and the famous 16th St Baptist Church in Birmingham, and the National Voting Rights Museum in Selma. There's also baseball history -- the oldest stadium in America is Rickwood Field in Birmingham.

Finally, any idea where the largest space museum in America is? Cape Canaveral, Houston, Washington, DC? Nope... it's in Huntsville! The U.S. Space & Rocket Center is the best attraction in the state and home to the famous space camp.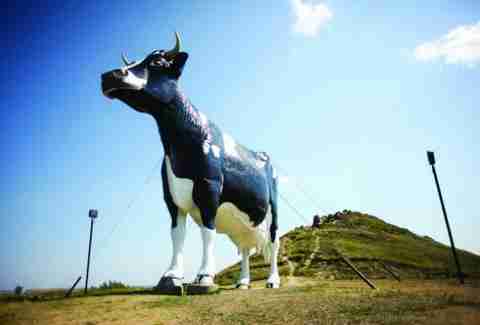 10. North Dakota
Annual visitors: 24 million
Why you should visit: While most of the visitors to North Dakota these days are in the oil industry, 120 years ago the state had one very important guest: Theodore Roosevelt. And he loved his time on the badlands so much he: a) bought a ranch and moved there, and b) was inspired to grow our national park system by signing the Antiquities Act. Eventually, his property became part of Theodore Roosevelt National Park. Today, North Dakota has 63 national wildlife refuges and 13 state parks, and offers visitors the chance to see not only an albino buffalo, but the world's largest buffalo in general -- Dakota Thunder -- at the National Buffalo Museum in Jamestown.

But buffalo aside, we know what you really want to talk about: college hockey. Perhaps the only sport in the state that's nationally relevant -- unless you consider fracking a sport -- the University of North Dakota Fighting Sioux are among the top programs in the country. And they play in perhaps the most lavish arena in the college game. The marble-floored, leather-seated Ralph Engelstad Arena cost $104 million and might be the best atmosphere in the sport on a college level.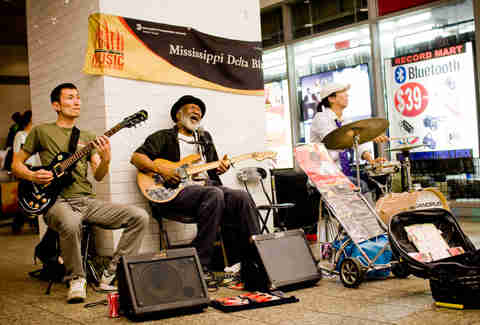 9. Mississippi
Annual visitors: 22 million
Why you should visit: Tupelo's Neon Pig Cafe's Smash burger straight-up won our Best Burger in America tournament. But if ground-beef tourism isn't your raison d'etre, there's still plenty to do in the Magnolia State.

Let's start with Elvis' birthplace, it's also in Tupelo. From there, you can walk up to three different music trails -- through cotton fields, churches, train depots, and nightclubs -- to learn about the roots of blues and country music. And finally, Mississippi is also home to three of the five driving trails on the Americana Music Triangle, a 1,500-mile highway route through five states with historical stops related to pretty much a million types of music from the region, including blues, jazz, country, rock & roll, R&B/soul, gospel, Southern gospel, Cajun/zydeco, and bluegrass.

When you can't talk about Buddy Guy anymore, there are also 26 miles of pristine water and white sand beaches in Mississippi, without anywhere near the number of tourists or tacky T-shirt shops you'd find in Florida. And, unlike the other beach towns on the Gulf, Biloxi and Gulfport have casinos. While you're there, hit the Beau Rivage for the best nightlife in the state, or head to the Walter Anderson Art Museum in nearby Ocean Springs.
8. Nebraska
Annual visitors: 19.1 million
Why you should visit: "Sure," you say. "The College World Series might be the best multi-day event in sports. But they use aluminum bats and my alma mater barely even had an intramural softball team." It's still worth hitting, without a doubt. But for reasons to visit Nebraska other than college baseball or Warren Buffett, allow us to suggest...

Football. The redded-out Memorial Stadium in Lincoln has sold out every game since 1962 and, despite the program's recent struggles (see ya, Bo!), the fans remain some of the most intense and spirited in the sport. Also, unlike in most big-time stadiums, they're polite to visitors.

If you'd prefer to participate in sports rather than watch them, Nebraska is one of the top destinations in the world for quail and pheasant hunters; the annual One Box Hunt in Broken Bow draws celebrities and top hunters every October and is considered one of the most revered hunts in the country.

Finally, you can't exit Nebraska without a visit to Chimney Rock or Scotts Bluff National Monument. Both are tall million-years-old stone monuments created when prairie winds carved away the natural rock.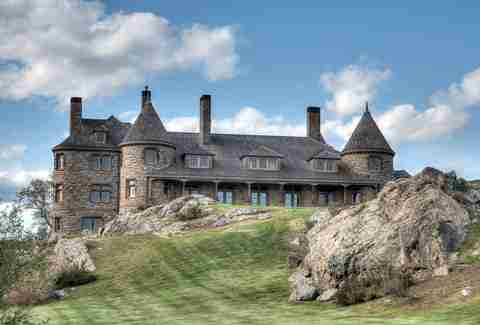 7. Rhode Island
Annual visitors: 19.2 million
Why you should visit: Quahog isn't real, before you read any further. So your dreams of visiting Spooner St will have to be put on hold until some theme park decides to erect its own version -- like Universal did with Springfield.

Peter Griffin aside, you should still visit Rhode Island. Not only can you venture back to a day when the 1% did cooler things with their money than making it rain by taking the cliff walk through Newport's historic mansions, but during the summer you can ironically dress up like F. Scott Fitzgerald and tailgate at the weekly polo matches. Seriously. It's a scene.

Rhode Island also boasts 40 miles of coastline (it's not called the Ocean State for nothing), and some of the warmest water in New England. If you're still hanging in Newport, Second Beach is your move for a day at the beach.
To round things out, you've got the Pawtucket Red Sox (or Pawsox) -- a fun minor-league alternative to Fenway -- 10 breweries and distilleries (remember, it's the smallest state), a burgeoning, underrated restaurant scene in Providence, and, oh yeah, Del's Frozen Lemonade. Do NOT leave without trying a Del's.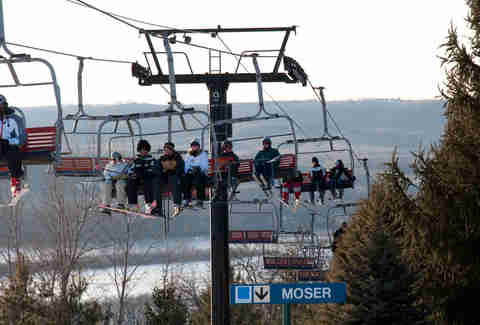 6. Iowa
Annual visitors: 16 million
Why you should visit: Though the only reason you might think to visit the Hawkeye State is to run for president and/or the off chance of seeing a dead baseball player wander out of a cornfield, well, obviously neither is going to happen.

If you're a novice snowboarder and don't feel like learning on the side of a black diamond, the gentle slopes of Sundown Mountain near Dubuque are an inexpensive alternative to big ski states. Yep, we just told you about skiing in IOWA!!!

The party lake scene in the Midwest is legendary, and it's not just limited to Minnesota! Outside Iowa City you can visit Coralville Lake and Devonian Fossil Gorge; a 1993 flood washed away tons of soil and exposed an ancient ocean floor and all the cool fossils that come with it.

For the active traveler, there's also the RAGBRAI -- the Register's Annual Great Bike Race Across Iowa -- where you start with your back wheel in the Missouri River and end, one week and 468 miles later, in the Mississippi. For a cyclist, it's one of the most sought-after rides in the country and definitely worth the trip.

There's also, of course, the state fair. But we told you about that already.
5. West Virginia
Number of annual visitors: 15.2 million
Why you should visit: Strip clubs, apparently, do not equal tourists. West Virginia boasts the most strip clubs per capita of any state in the Union, yet somehow also has the fifth-fewest tourists. Go figure.
However, if you prefer to NOT breathe in secondhand smoke and glitter, the Mountaineer State is all about outdoor beauty; they don't call it "almost heaven" because it's close to Pittsburgh. No, it's because of attractions like the 25-mile North Fork Mountain Trail (one of the few trails labeled as "epic" by the International Mountain Bicycling Association) where you can ride backcountry ridges whilst soaking up the views over Seneca Rocks.

If you're into water sports, brave the Gauley River, one of the five best whitewater rivers in the world and home to a 14ft raftable waterfall. And if none of that sounds appealing, catching a West Virginia football game (especially at night) at Mountaineer Field in Morgantown is, if nothing else, one of the most unique experiences in college football.
4. Vermont
Annual visitors: 12.8 million
Why you should visit: Sure, it's only got one strip club. And no Arby's. But those aren't reasons to avoid the Green Mountain State on your next vacation.

First, it's the only state in America where you can go to an opera in Canada. The Haskell Free Library and Opera House in Derby sits right on the US-Canadian border and the building lies in both countries.
Vermonters are maple obsessed, so grab a maple creamy along the Lake Champlain bike path in the summer. It's also got more breweries (and distilleries) than a state this size rightfully should, so you can do a proper crawl through Citizen Cider, Switchback, Hill Farmstead, and the taproom at American Flatbread.

There are those ice cream guys, Len and Gary or something. They've apparently got a factory there where you can try flavors that either haven't hit the market yet, or never will. And finally, if you're an outdoor type, nobody in New England does skiing better than VT. But this you know. There's also an annual naked bike race at Jay Peak, in case you weren't aware.
3. Montana
Annual visitors: 11 million
Why you should visit: Montana? As in the state with Glacier AND Yellowstone National Parks is the third LEAST-visited state? Yep. Obviously, we don't need to sell you on why you should visit Montana, the aforementioned national parks and Big Sky country are reason enough to make the trip there. But if you've been to the parks -- or don't feel like going to the middle of the country to watch ice melt -- not to worry, Montana has something for everybody.

Check out Whitefish, what's become a trendy resort town outside of Glacier with first-rate skiing; it's not nearly as crowded or douchey as its counterparts in Colorado, Utah, or even Jackson Hole. If you're into fly fishing, there's no better place to do it than Missoula, where the Blackfoot River was made famous in A River Runs Through It. And in between Whitefish and Missoula, definitely make a stop at Flathead Lake.

And then there's the testicle festival. Held in Clinton the first weekend of August, it's a four-day celebration of Rocky Mountain oysters that features wet T-shirt contests and a coed underwear ("or less") tricycle race, plus a big-ball competition. Which is exactly what it sounds like.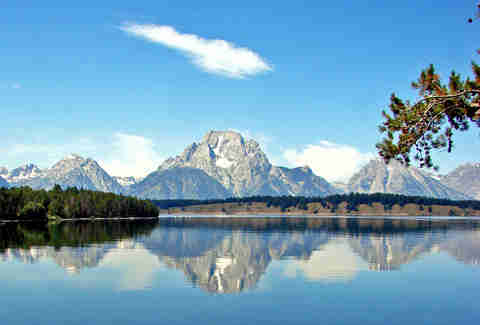 2. Wyoming
Annual visitors: 10.1 million
Why you should visit: Since the state with Glacier is the third least-visited, it shouldn't surprise you that the state with the best national park in America somehow can't get anyone to visit for anything else. Yellowstone brings in 3 million people a year (even though it covers three different states) but 7 million people came to Wyoming last year for other reasons -- so what were they?

Well, Jackson Hole is the obvious choice -- it's one of the most challenging ski areas in the nation and a popular luxury vacation alternative for the wealthy who are tired of Aspen. It also attracts extreme skiers and snowboarders, and is adjacent to Grand Teton National Park.

Even if you're not so big on nature, there's Cheyenne Frontier Days, which locals describe as a kind of Mardi Gras for cowboys -- although we're not sure the whole beads-for-boobs thing would be nearly as cool with a bunch of cowpokes. And if that event is just a little too played out for you, there's the Laramie Jubilee the weekend before.
1. Delaware
Annual visitors: 7.3 million
Why you should visit: Two words: tax-free shopping. It's like a statewide 8.5%-off sale EVERY SINGLE DAY!!! Beyond that, there are the beaches, routinely ranked the cleanest in the country, from the party-heavy Dewey Beach, to famous Rehoboth Beach, to the scenic Delaware Seashore State Park.

For those who live in modern suburbs, you can get a taste of historical America on the cobblestone streets of Old New Castle, miles of Revolutionary War battlefields, and the old confederate POW prison at Ft Delaware. And, of course, the Gilded Age DuPont mansions.

And for sports fans, you can watch a NASCAR race at Dover or experience a tailgate that's more like a family picnic before a University of Delaware football game. The tailgates outside UD's stadium are less of a huge frat party than a massive get-together where everybody knows your name.
Sign up here for our daily Thrillist email, and get your fix of the best in food/drink/fun.